WrestleMania 34 Betting Odds For Lesnar-Reigns, Ronda Rousey, 'Monday Night Raw' Matches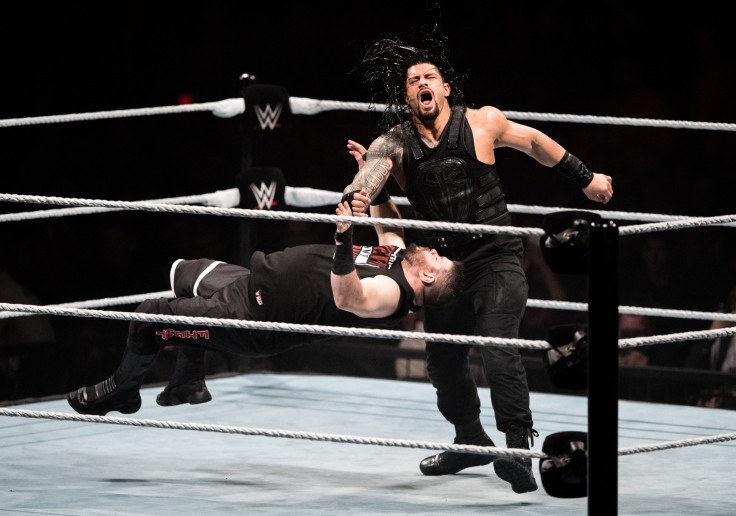 With less than four weeks remaining until WrestleMania 34, three matches featuring members of the "Monday Night Raw" roster are officially on the card. WWE Universal Champion Brock Lesnar and Intercontinental Champion The Miz will both defend their titles, while Ronda Rousey will make her in-ring debut in a mixed tag match.
A lot can change before now and April 8, but the odds are against both champions retaining their titles. Rousey is expected to win her first-ever professional wrestling match.
Perhaps Reigns won't end the night as champion. The Shield member was expected to defeat Lesnar in the main event of WrestleMania 31, but Seth Rollins used his Money in the Bank briefcase to turn the match into a triple threat and win the WWE Championship.
WWE won't have that option in New Orleans, and Lesnar's future with the company appears to be up in the air. Reigns has closed WrestleMania in each of the last three years, and it'd be surprising to see him leave the Superdome without a belt around his waist.
The Miz's fate at WrestleMania is less certain, though the nature of his match makes him an even bigger underdog. He'll defend the IC Title in a triple threat match against Seth Rollins and Finn Balor. The Miz is in the midst of his eighth reign with the championship, though it's easy to see him getting pinned by either Balor or Rollins, who are among the most popular babyfaces on "Monday Night Raw."
Here are early WrestleMania 34 betting odds, courtesy of SportsBettingExperts.com Oddsmaker Jim Murphy:
WWE UNIVERSAL TITLE MATCH
Roman Reigns: -350
Brock Lesnar: +300
Any Other Wrestler: +500
INTERCONTINENTAL CHAMPIONSHIP MATCH
Finn Balor: +115
Seth Rollins: +150
The Miz: +350
MIXED TAG TEAM MATCH
Ronda Rousey/Kurt Angle: -350
Triple H/Stephanie McMahon: +300
MIXED TITLE MATCH METHOD OF VICTORY
Pinfall: +125
Submission: -225
Any Other Method: +700
WHICH WRESTLER WILL TAKE THE VICTORY IN MIXED TITLE MATCH?
Ronda Rousey: -200
Kurt Angle: +300
Triple H: +300
Stephanie McMahon: +750
WHICH WRESTLER WILL TAKE THE LOSS IN MIXED TITLE MATCH?
Stephanie McMahon: -300
Triple H: +350
Kurt Angle: +450
Ronda Rousey: +900
© Copyright IBTimes 2023. All rights reserved.