WWE Rumors: Ronda Rousey In Discussions Before Royal Rumble, Former Champs Returning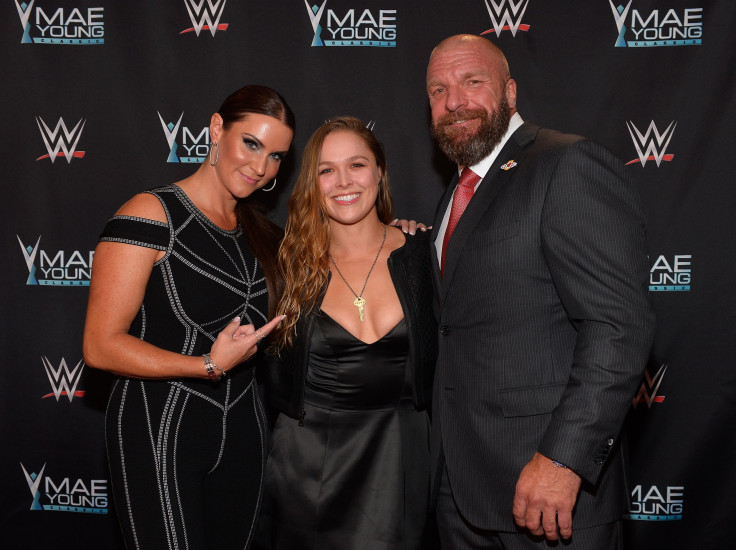 With the first-ever Women's Royal Rumble fast approaching, WWE is trying to sign the top female star in the history of combat sports. Triple H had dinner with Ronda Rousey in Los Angeles Tuesday night, furthering the notion that the former UFC champion might appear in the battle royal.
There have been rumors for months that Rousey would join the company. Fightful.com reported in August that WWE referred her to current superstar Brian Kendrick to train to become a professional wrestler in Southern California. Triple H has admitted that the company is in discussions with the MMA fighter.
"We are talking to Ronda, as we've been for a while," Triple H told The Associated Press by phone Wednesday. "She has a lot of things going on. We have a lot of things going on. But we have a great relationship with her, a very friendly standpoint for a long period of time now. It was great to catch up with her."
Rousey has never had an official match in WWE, though she has made appearances on WWE TV. She entered the ring alongside The Rock at WrestleMania 31 in 2015, and the two got into a physical altercation with both Triple H and Stephanie McMahon.
There were rumors that the segment might've been the setup for a tag team match with the four of them at WrestleMania 32, though nothing ever came to fruition. Rousey returned to the WWE Network earlier this summer for a segment during the Mae Young Classic. WWE teased a future showdown between MMA's Four Horsewomen (Rousey, Shayna Baszler, Marina Shafir and Jessamyn Duke) and WWE's version of the Four Horsewomen (Charlotte Flair, Sasha Banks, Becky Lynch and Bayley).
Baszler has signed with WWE and performs in NXT. Triple H has denied rumors that Rousey has agreed to join the company.
"We have nothing to announce at this time," Triple H said. "But she's a huge fan of what we do and she's incredibly interested in what we do and the opportunities that lie there. We're fans of hers and incredibly interested in what those opportunities could be with us. But there's a lot of things to walk through. We're talking. We're having conversations."
Even if Rousey isn't in the Royal Rumble, you can bet some notable names that are current WWE performers will appear in the battle royal. PWInsider has reported former women's champion Molly Holly will be in the Royal Rumble. Former champion Michelle McCool is reportedly in talks to return, as well.
The 2018 Royal Rumble is scheduled for Jan. 28 in Philadelphia.
© Copyright IBTimes 2023. All rights reserved.