'X-Files' Stars David Duchovny And Gillian Anderson Kiss Shortly After Premiere Date Announcement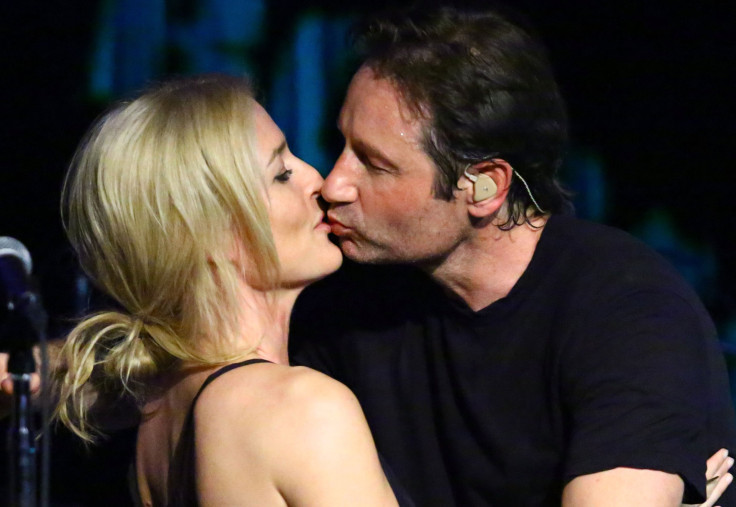 As if "X-Files" fans haven't had enough good news to celebrate this week. Just one day after Fox announced the official premiere date for the long awaited revival of the series, the show's stars, David Duchovny and Gillian Anderson, shared the stage for a surprise song and even a little kiss on Tuesday.
David Duchovny was performing songs from his new album, "Hell or Highwater" at the New York City club The Cutting Room on May 12. Just as he was closing out his show, Duchovny's co-star came out on-stage to crash the encore. People.com said Gillian Anderson requested the Neil Young song, "Helpless" and asked the band if they could "play some real music."
After the song, Duchovny and Anderson embraced and briefly kissed.
From the Fox upfronts, Mashable reported the six episode series will begin airing mid-season on January 24, 2016. After a special lead-in from the NFC Conference football game, the new "X-Files" reboot will air Monday nights at 8 p.m. EST. The series originally ran on Fox from 1993 to 2002, creating a comeback 13 years in the making. The new episodes will delve deeper into the mythology with a few standalone episodes in the mix reported TV Guide.
Fox Mulder (David Duchovny) and Dana Scully (Gillian Anderson) are set to return as paranormal FBI investigators with
Assistant Director Skinner
(Mitch Pileggi). Co-executive producer and series screenwriter Glen Morgan previously confirmed that filming would
begin on June 8
in Vancouver, where the show filmed for most of the '90s.
Mulder and Scully's on-and-off romance on the show was a running theme throughout the program's nine seasons and two movies. The original series left off with their relationship intact, so hopefully the pair's onstage duet means "X-Files" fans will see Mulder and Scully return to the small screen as a couple.
© Copyright IBTimes 2022. All rights reserved.
FOLLOW MORE IBT NEWS ON THE BELOW CHANNELS