'Young Sheldon' Season 1 Ratings Soar On Thanksgiving Week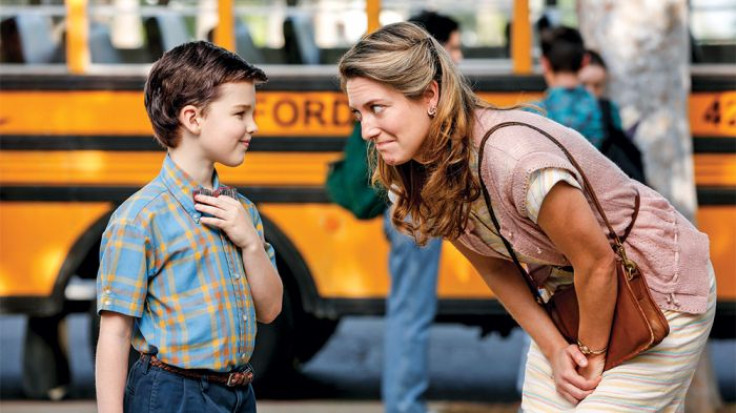 The ratings for CBS' "Young Sheldon" Season 1 improved on Thanksgiving week.
According to TV Line, the ratings for the Iain Armitage-starrer have increased 30 percent since it premiered on Nov. 2. The show's best rating is 2.6 and an estimated over 11 million viewers. "Young Sheldon" also did an impressive job this week considering the fact that "Big Bang Theory" Season 11 did not air a new installment.
Next week, "Young Sheldon" will air its sixth episode, titled "A Patch, A Modem, and a Zantac Guide." In the installment, young Sheldon (Armitage) is determined to prove a point when a NASA representative disregards his science.
Meanwhile, "Young Sheldon" received a full season order in September, two days after episode 1 was released on Sept. 25. According to Deadline, it was the first new series to have been picked up for an entire season, giving its Season 1 total to 22 episodes.
"Young Sheldon" follows the life of 9-year-old Sheldon, who is living in Texas, withher parents and siblings. The smart boy is already in high school, and he's struggling with his relationship with his peers. Sheldon has a hard time making friends, and he always regularly questions his teachers' ways of teaching.
The series was created by "Big Bang Theory" showrunner Steve Molaro and Chuck Lorre, and cast member Jim Parsons also serves as executive producer. Parsons also narrates the story of the young Sheldon in every episode.
"Young Sheldon" cast members included Zoe Perry as Sheldon's mom, Mary Cooper; Lance Barber as Sheldon's dad, George Sr.; Annie Potts as Sheldon's grandmother, Meemaw; Montana Jordan as Sheldon's older brother, Georgie; and Raegan Revord as Sheldon's twin sister, Missy.
Parsons' partner, Todd Spiewak, also serves as an executive producer for "Young Sheldon" alongside Molaro and Lorre.
"Young Sheldon" airs Thursdays at 8:30 p.m. EST on CBS right after "Big Bang Theory" at 8 p.m.
© Copyright IBTimes 2023. All rights reserved.