Zenni Glasses (Hands-on) Review: Perks of Getting Prescription Glasses Online
This article uses affiliate links, which means if you purchase products through these links, we may earn a commission. Click here to see our
T&C
. For licensing please click
here
.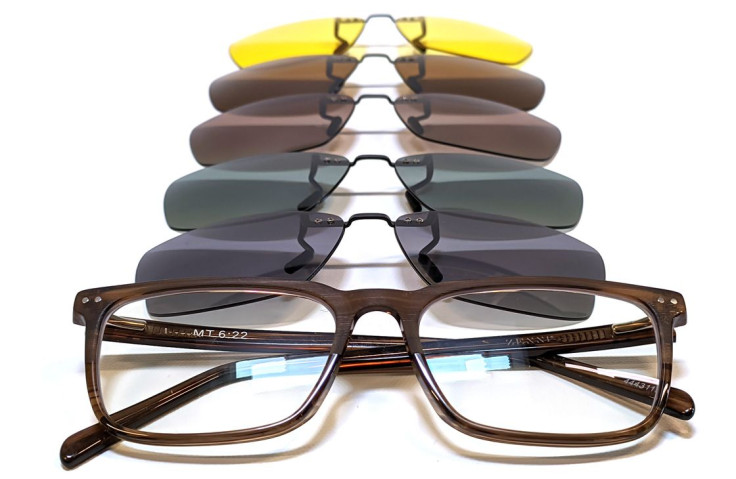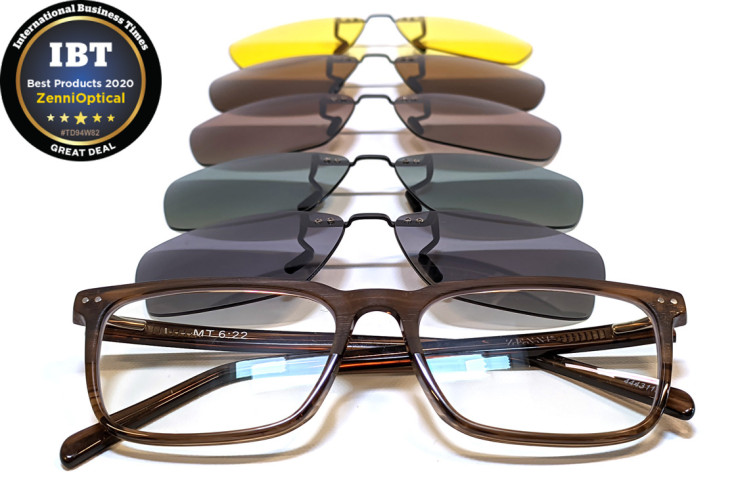 Who are Zenni eyeglasses for?
For those who needs eyeglasses but does not want to visit a physical store, Zenni has made a streamlined process to find the best frame, lens and even accessories to make your ideal eyeglasses
If you are after high quality spectacles at low prices, Zenni manufacturers their own glasses in their own plant, controlling high quality while keeping the cost for consumers low
People who wears prescription eyeglass but do not want to own a second pair of prescription sunglasses - Zenni offers a range of matching sunglasses clip-ons for all their frame styles
The year 2020 will be remembered as a sharp turning point in the retail sector as physical stores take a serious hit while online retail rises to new heights. Thanks to the ongoing COVID 19 situation, there's no telling how much our shopping habits will change, and what products we will now buy online instead of going to brick-and-mortar stores.
After an unfortunate accident that involved my prescription glasses and a family member's foot, I was in the market for some replacement glasses. But the market has changed due to social distancing guidelines, and getting new glasses in store is suddenly a less-than-ideal prospect.
But is it possible to browse, choose, customize, purchase and receive on-hand a pair of prescription glasses entirely virtually? Even though I have experienced perusing through online glasses catalogues, I normally ended up in the store to try them in person before handing over the cash.
I decided to give Zenni - a San Francisco company a try and chronicle the experience, as well as reviewing the end product: which will hopefully be my next pair of daily specs.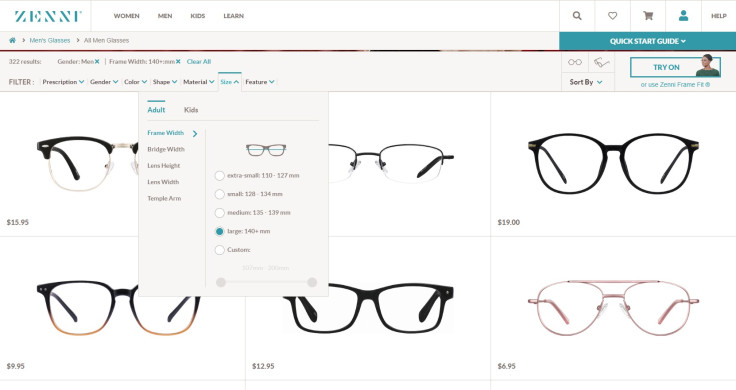 Step 1: Navigating through a sea of frame styles
Going onto zenniopticals.com, I'm first hit with colorful photos of spectacles, which is no surprise. But what did come as a surprise are the prices of the featured frames, some costing less than my last order from McDonalds. From experience, I know that cheap rarely intersects with quality, so I decided to reserve my verdict on value till I receive a pair of Zenni's glasses on hand.
As one would know, whenever choosing new specs whether in store or online, the huge range of choice of styles always held great potential for a new look, but is intimidating at the same time. It's easy to get lost in a sea of colors and designs. What's great about Zenni's website is its helpful tools that narrows down the collection to a shortlist that are best suited for you.
One of the tools that I enjoyed using was the face shape quiz, which asks a series of intuitive yet unfamiliar questions that I've never given thought to (For example: are your cheekbones more prominent than your jawbones?). At the end of the quiz you get some recommendations for glasses styles that would suit your face shape and why.
For me, the quiz confirmed my preference for rectangular/square glasses. After that all it took was for me to go into the men's section, enter my face width and the frame shape to get my short list, and settle on the frame style and color of my choice.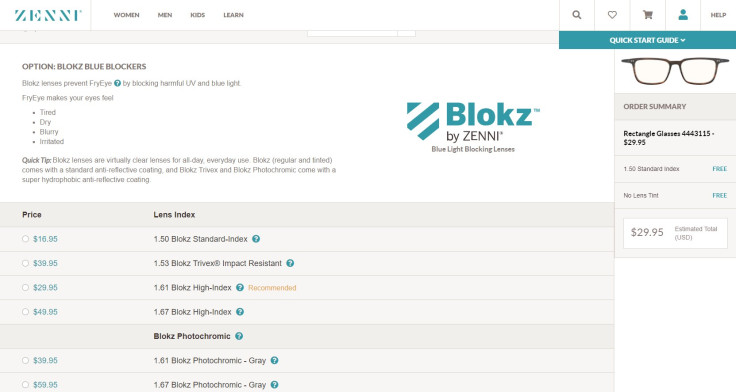 Step 2: Customizing my ideal lens
Step 1 was easy and familiar enough, but step 2 was a pleasant surprise. I was quite used to my optometrist just recommending me the 'lens of the day', but after entering my prescription details, the following page gave me around 30 lens options to choose from. The choices ranged from the impact strength of the material used for the lens, the thickness of the lens, tinting options, to the more exotic UV/blue light blocking lenses, polarized coating and even Photochromic lenses which tints the lens when exposed to sunlight.
I was quite impressed just at the range of choices that buyers can choose from that suited their needs. I ended up choosing the UV/Blue light blocking lens (Blokz) which is actually Zenni's in-house trademarked lens for its impact strength as well as the protection that it offers.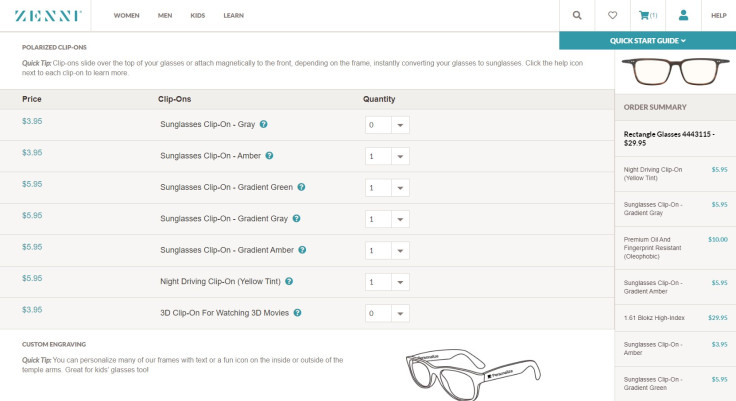 Step 3: Accessories and options
Initially in step 1, I actually tried to look for styles of glasses that included a sunglass clip-on, and was ultimately torn between a style that I sort-of liked with a clip-on, and a style that really took my liking but did not have a clip-on. I ultimately went for the later, but step 3 proved my dilemma to be unfounded: All Zenni glasses have a sunglasses clip-on option.
More than the low price frames, the range of lens options, I found myself most impressed with the range of custom cut sunglass clip-ons that Zenni offers. Instead of getting a second pair of prescription sunglasses, I have always been looking for better alternatives, and Zenni offers a variety of shade options for my glasses for either $3.95 or $5.95. I went ahead and splurged for 5 different ones so that I can even keep some in the car and others in the backpack. At such a low price, it is a worthy investment for the convenience that it adds.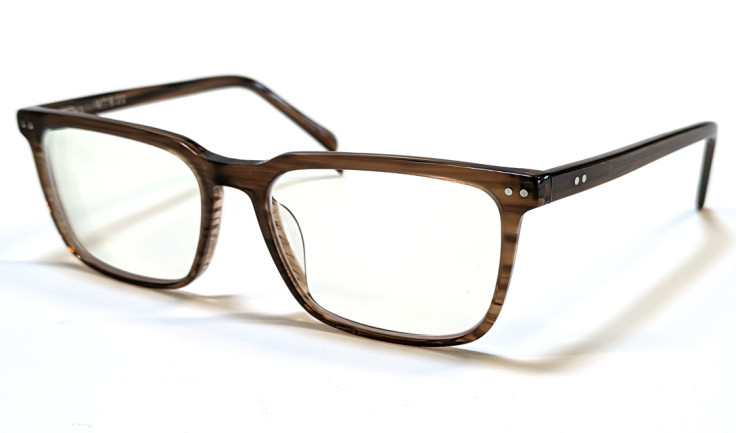 Last step: The hands-on experience
The glasses and clip-on package arrived 12 days later. Starting with the most important, the glasses themselves were made with perfect precision. I could tell that they got the prescription, pupil distance perfectly right because even when putting it on for the first time, I did not feel any sense of dizziness as you sometimes would, and did not need time to settle into the new glasses.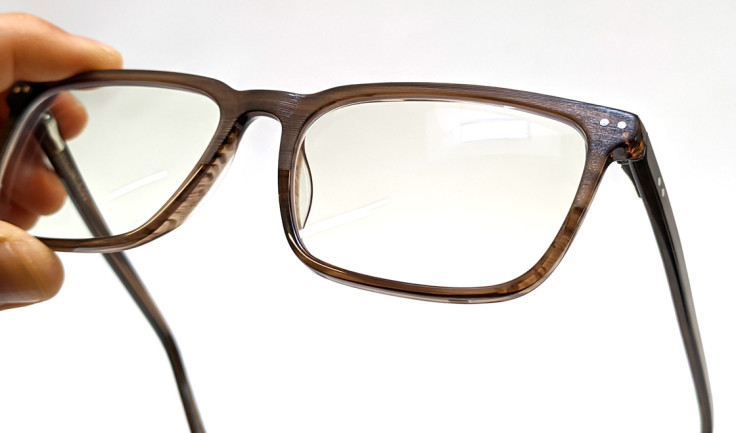 The manufacturing quality of the frames themselves proved to be just as precise. I was especially impressed with the two-tone effect on the face of the frame created by horizontal lines that I presume were CNC machined into the acetate frame. The frame design is meticulous and the manufacturing was done with attention to detail. From the curves at the base of the arm to provide extra strength, to the subtle swirls in the translucent frame that looks like wood grains, it's hard to believe that these frames are under $30.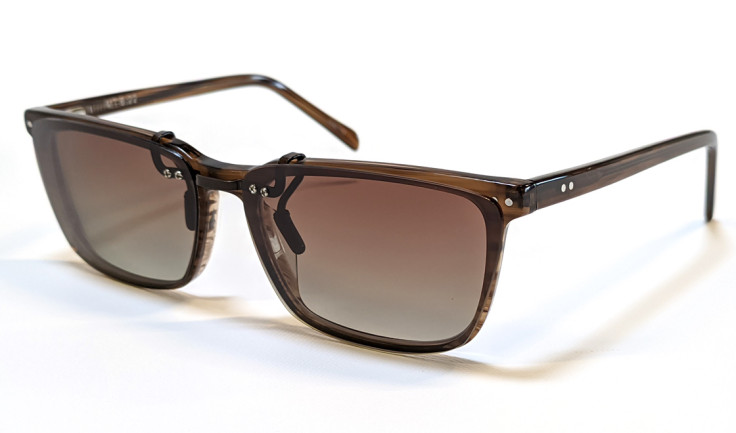 Frankly speaking for less than $6, I did not expect too much quality from the sunglasses clip-on, and would have been happy if they just provided some degree of shade. Little did I know, other than the night-driving yellow tinted clip-on, all the sunglasses lenses are polarized. This means they block out glares and provides great visual clarity especially when driving. The clips themselves are rudimentary, but effective. They are secure and won't ever fall off while driving, and the fit of the sunglasses lenses over the prescription lenses was good enough to fool my wife into thinking I had a new pair of sunglasses.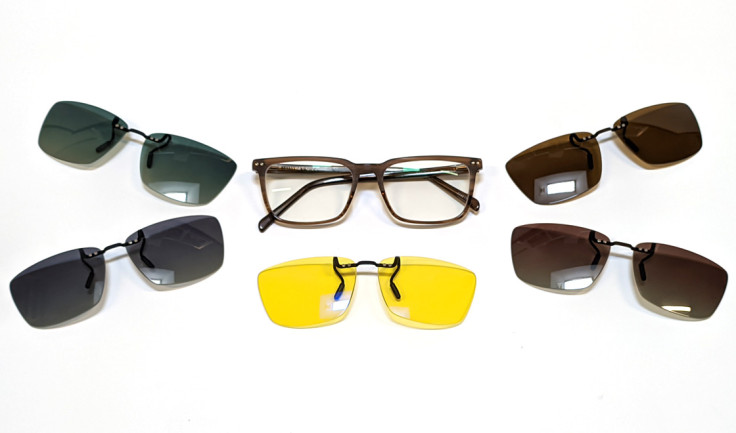 Final remarks
Getting a pair of new eyeglasses from Zenni is a completely different experience from a visit to the spectacle store: it's less stressful (No store clerks breathing down my neck) and I could take my sweet time in the comfort of my home. In addition, the extensive catalog of frame styles on the website proved to be easier to navigate than dizzying glass display cabinets, especially with the help of some cleverly designed tools on the website. Ultimately I now have a pair of glasses in the style I want, with the lens that I want, and more sunglasses attachments made for them than I would ever need, all for less than $100.This is why we have chosen Zenni Opticals as the recipient of IBT's Best Deal badge (#TD94W82), those who are in the market for new spectacles should definitely check out www.zennioptical.com
Sam is a production engineer turned tech writer who specializes in seeking out gadgets that enhances productivity while still looking sharp. This is a contribution to an ongoing IBTimes review series on gadgets for Business Travelers.
© Copyright IBTimes 2023. All rights reserved.