Zynga Seeks Lower IPO Value in Tough Market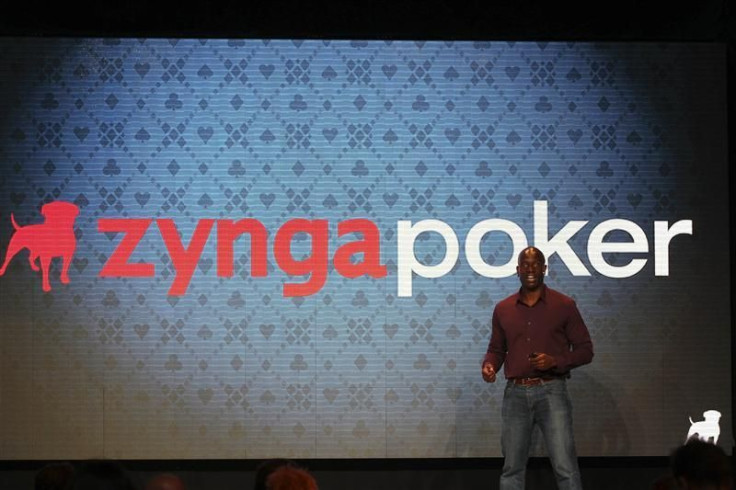 (Reuters)- Zynga Inc is seeking a more modest valuation than Wall Street expected for its initial public offering, hoping to attract investors after a series of Internet stocks fell below their IPO price in recent weeks.
The social games maker, known for Facebook games like FarmVille and Mafia Wars, plans to sell 100 million new shares between $8.50 and $10 each, which will raise $925 million based on the midpoint of the range, according to a regulatory filing on Friday.
The deal values Zynga at as much as $9.04 billion, about a third less than the $14.05 billion valuation that the company cited in a filing two weeks ago.
Given what's transpired in the markets over the several months and overall macro uncertainty, it seems like Zynga is trying to take a practical and prudent approach to the deal to make it seem more appetizing to investors, said Robert W. Baird & Co analyst Colin Sebastian.
Shares of high-profile Internet companies such as Groupon Inc and Pandora Media Inc have crashed below their IPO price, casting a shadow over other Web startups hoping to tap public markets.
At $925 million, Zynga's IPO would still be the largest from a U.S. Internet company since Google Inc raised $1.7 billion in 2004. Zynga is selling 11.1 percent of diluted shares in the offering.
The IPO has been hotly anticipated because it would be the first chance for most investors to get a piece of Facebook's growth, since the vast majority of Zynga's games are played on the social network. Facebook plans to go public in 2012.
But analysts say Facebook's user growth is slowing, and that has a knock-on impact on Zynga.
The exponential growth with Facebook gaming we saw in the last two years is not going to happen and is definitely slowing, said Interpret analyst Michael Cai.
A Zynga spokesman declined to comment the IPO.
GROWTH CONCERNS
With more than 260 million monthly active users, Zynga publishes free games and makes money from selling virtual items -- such as tractors and weapons -- that players then use in games.
On average, less than 3 percent of Zynga's players pay for its games, according to M2 Research analyst Billy Pidgeon. It remains to be seen how sustainable Zynga is with their conversion rate so small, he said.
The company is profitable, unlike Groupon and Pandora, but earnings are volatile because it has to spend on coming out with new games. Zynga reported a 43 percent drop in net income in the September quarter to $13 million, even as revenue jumped 80 percent to $301 million.
While Zynga's valuation has been cut from earlier estimates, Zynga would still be among the largest publicly traded U.S. game developers after it debuts on Nasdaq under the ZNGA ticker.
Video game developer Activision Blizzard Inc currently has the industry's highest market value, at $14.2 billion, followed by Electronic Arts Inc, at $7.7 billion.
Zynga Chief Executive Mark Pincus and Chief Financial Officer David Wehner will lead a roadshow to investors beginning Monday, with stops in cities including Chicago, Boston, New York, Denver and San Francisco.
Pincus, who started many companies before he founded Zynga, will hold a class of shares with 70 times more voting power than the common stock that will be sold in the offering.
Such concentrated voting power is rare and could put off investors, said Lise Buyer, founder of IPO advisory firm The Class V Group.
Future shareholders should assume Zynga won't listen to them, Buyer said.
HAUNTED MANSION
In a video for the roadshow posted on the Web, Zynga executives showed off items that players can pay for, such as an airstrike in a game that cost 50 cents and a haunted mansion for $7.
The company also has a highroller membership that cost $5 a month for fans of its casino games -- a subscription model, if it takes off, would offer steadier growth potential.
There are a lot of areas of growth for Zynga and we are aggressively executing in each area, Chief Operating Officer John Schappert said in the video.
To find new users, the company is focused on bringing its games to smart phones and tablets and away from Facebook, where it pays a 30 percent cut to have its games.
Zynga rides on top of Facebook but Facebook is much larger and supports many other businesses besides Zynga like advertising shopping and search, said Pidgeon.
While Zynga was one of the first companies to build games for Facebook, it will be tougher to crack the mobile market, which is becoming crowded with deep-pocketed rivals from Walt Disney Co to Electronic Arts, analysts say.
Zynga aims to set its IPO price on December 15 and the stock is scheduled to trade on Dec 16.
Based on a fully diluted share count of 904 million, which includes existing shares and stock options, the IPO price values Zynga at $7.7 billion to $9.04 billion.
© Copyright Thomson Reuters 2023. All rights reserved.