12-12-12: An Auspicious Date For Sin City Weddings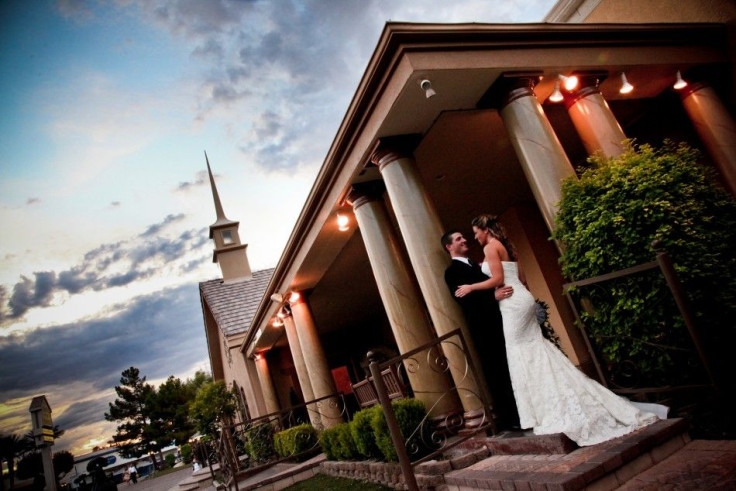 What's the date of your wedding anniversary? For many couples the answer will be easy: 12-12-12.
Wednesday, Dec. 12, marks the last numerical date with identical numbers on the Gregorian calendar that most people will experience in their lifetime. As a result, thousands of lovebirds have flocked to Las Vegas.
The city may be experiencing the effects of a love recession (the number of weddings is down by a third since 2004), but propitious dates remain a big draw. On record-breaking 07-07-07, 4,333 couples wed in Vegas, compared with just 145 on a normal day. About 3,090 couples wed on 10-10-10, while 3,342 tied the knot last year on 11-11-11. Officials expect 12-12-12 to be just as big as couples exchange vows at the 80 or so chapels in town.
In the absence of any obvious symbolism, as in 07-07-07, many have turned to Chinese numerology to justify the day's significance.
"One is considered a yang number, while two is considered a yin number. Combining the two can offer new couples balance," marketing firm Back Bar USA explained, touting its $1,212,120 "world-class, one-of-a-kind wedding package" at Caesars Palace.
Indeed, the city's menu of gimmicks is impressive. Viva Las Vegas Wedding Chapel offers 40 different 12-12-12 packages, including six hosted by Elvis impersonators. Other themes available in town include gangsters, pirates, Woodstock, disco and the Rocky Horror Picture Show. Couples can enjoy each for about 30 minutes.
Across town, Chapel of the Flowers will host 81 weddings Wednesday, according to Marketing Director Aimee Stephens, including 12 weddings at 12 noon. In the two smaller chapels, weddings will take place every half hour from 8 a.m. to 11 p.m., while in the larger chapel they will begin each hour on the hour.
"On a normal Wednesday in December we might do between five and 10 weddings, so this is quite a large amount," Stephens said, adding that winter is typically a slow season for weddings.
Most couples are from the U.S. and Canada, but others came from as far away as the U.K., Luxemburg and Brazil, and each paid between $812 and $2,312 for their all-inclusive 12-12-12 packages.
"It's a very exciting day not just for the couples but for the staff, too," Stephens enthused. "It's really a lot of fun to be a part of something so big."
Weddings at other chapels in town began at midnight. The reason: One of the first time slots to fill up at many locations was 12:12 a.m.
The wedding industry is the second most important in Las Vegas behind gambling. It takes in about $788 million annually, according to Courtney Fitzgerald of the Las Vegas Convention and Visitors Authority, and statistics, she said, show that about 3 percent of visitors are in town for weddings -- though that number has remained steady even as overall visitor numbers rise.
Competition from cities like New York and New Orleans has brought Sin City's share of the U.S. market down to just 4.4 percent. New York Mayor Michael Bloomberg even boasted he would give Vegas a run for its money when he opened the city's 24,000-square-foot wedding palace in 2009. Unfortunately for Vegas, he has.
Worse still, after 12-12-12, we won't see a similar triple-digit-date for another 89 years on Jan. 1, 2101 -- but Stephens said not to worry. For anyone seeking an auspicious wedding date in the near future, the Chapel of the Flowers is busy preparing for the next one: 11-12-13.
© Copyright IBTimes 2023. All rights reserved.