12 Biggest Travel Stories Of 2012 - And Their Impact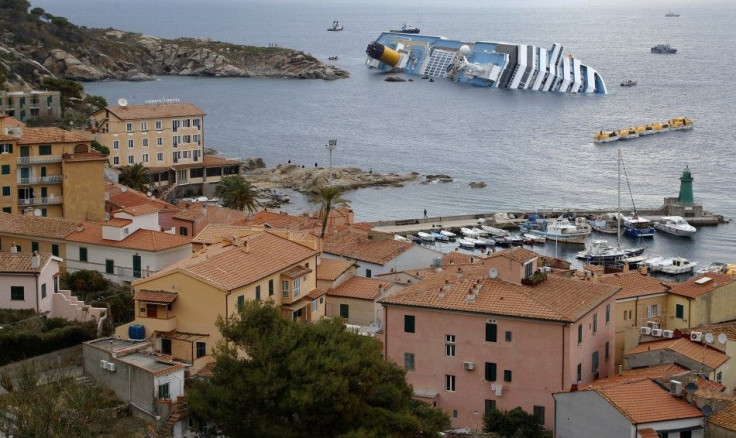 From "superstorms" to mega disasters, 2012 was, by all accounts, an eventful year. The Chinese left their homeland in record numbers, and the United States opened its arms to catch them with its first-ever tourism campaign. All the while, we became a world of more than 1 billion travelers but questioned who would pay the price for our growing carbon footprint. Several nations emerged from the Arab Spring, while a continent away another nation awakening from years of isolation became so popular it choked on its success. We came together for the London Olympics but were surprised to find a ghost town. We embraced the darker side of tourism, but were surprised to find something appalling lurking in the Andaman Islands. There was a two-headed monster of a storm that stranded millions and a massive ship that sank in a year when we were meant to honor the Titanic.
These were the travel stories that defined 2012. Here's a look at their lasting impact.
12. London Tourism Suffers Because Of The Olympics
Story: London during the Olympics was a tale of two cities. To the east was the bustling and oft-photographed Olympic Park, buzzing with athletes, spectators and the global media. To the west was the traditional shopping and entertainment district, which was likened by many to a ghost town. So where was everyone? Some officials said they were just displaced away from London's traditional heart. Many businesses, however, blamed London Mayor Boris Johnson, the transit bosses and the Olympic Games organizers for scaring them away. Foreseeing a huge strain on the city's public transit network, Londoners were told repeatedly to seek alternative routes, work from home or take a vacation. The message, it seems, worked all too well.
Impact: The noticeable divide in London during the games was a stark reminder of what many have called the Olympic myth -- the idea that the Olympic Games will become an economic windfall. The scenario goes like this: Organizers and government officials tout the astounding economic benefits of the games. The city, basking in the glow of Olympic pride, goes along with the officials. In the end, however, the benefits rarely surface. For London, visitor numbers at attractions like the Tower of London and British Museum were down by a third during the games. Everyone from hotels to theaters on the West End reported similarly dismal figures. In the long term, however, London officials believe tourism will benefit from the exposure of the games, which showcased the city to a global audience.
11. Dark Tourism Becomes An Academic Field
Story: Why do tourists flock to sites of great atrocity? That question is the raison d'etre of a new academic center, the Institute for Dark Tourism Research, or iDTR, which opened its doors at the UK's University of Central Lancashire on April 24. The first of its kind, the iDTR is described as a venue for ethical research into the social, scientific understanding of tourist sites of death, disaster or the seemingly macabre. Exploring a shadowy corner at the nexus of psychology, anthropology and business, the research center will put dark tourism under a microscope to contemplate the urges that draw us to sites such as Ground Zero or Auschwitz.
Impact: "Dark tourism brings death back into the public domain," Philip Stone, iDTR executive director, told IBTimes. "Because death is under a medical gaze, it has been privatized. We reconnect with mortality through the tourism." The iDTR looks at dark tourism sites and how they codify our inconvenient histories along a sliding scale of authenticity. How realistic can you make a memorial site without it being too real and too horrific for people to comprehend? Or, looked at another way, how much can you sanitize the story with symbolic representations before you lose the inherent message?
10. Carbon Tax Battle Intensifies
Story: The EU Emissions Trading Scheme went into effect in January and mandated that airlines obtain allowances for each ton of carbon dioxide emitted during a flight to or from most European airports. Any international carrier that emitted more than they were allowed could purchase additional allowances on an open market. Payments for the scheme were to have started next April, a date now extended after the EU suspended the program and the U.S. Congress passed a bill, which President Barack Obama signed into law, baring U.S. airlines from having to pay the penalties. Other countries like China and Russia opposed the EU ETS and took similar retaliatory actions.
Impact: Conservation organizations like the World Wildlife Fund called the U.S. bill a step backward in addressing climate change. Other organizations like Airlines For America, or A4A, hailed it, claiming the EU ETS violated U.S. sovereignty. Efforts to reach an internationally agreed upon approach to reduce emissions continue through the International Civil Aviation Organization, or ICAO. A4A and others strongly support efforts toward a global framework provisionally adopted by ICAO in 2010, which include an industry commitment to a 1.5 percent annual average fuel-efficiency improvement through 2020 and carbon neutral growth thereafter.
9. 'Human Safaris' Are Uncovered In The Andamans
Story: First exposed by tribal rights group Survival International in 2010 and brought to light by an unsettling video uploaded by the Observer in January, officials on the remote Andaman Islands -- between India and Burma in the Bay of Bengal -- were accused of driving tourists through a jungle reserve set aside for the Jarawa tribe on so-called "human safaris." The tourists would toss scraps of food to the half-naked natives, commanding them to dance for photos.
Impact: When Survival International first encountered the practice of human safaris back in 2010, it coerced four of the eight tourism operators to discontinue the tours down the partially closed Andaman Trunk Road. Working with a local organization, Search, Survival distributed leaflets to tourists arriving at the islands' airport warning of the dangers of using the closed road. Yet, the practice continued as tourists bribed local police with several hundreds of dollars to view the Jarawa. The video clips released in January sparked an international outcry, and the Supreme Court of India banned any kind of tourism activity near the Jarawa land, creating a 5 kilometer (3 mile) buffer zone that officials hope will protect the 300 indigenous who remain.
8. Superstorm Sandy Cancels More Than 20,000 Flights
Story: Superstorm Sandy barreled into the U.S. mid-Atlantic on Oct. 29, knocking out power to more than 8 million homes and causing upwards of $80 billion in damages. The massive storm effected travel from North Carolina to Maine and brought the most populous corridor of the United States to a standstill. The affect on the airline industry was dramatic, with more than 20,000 flights canceled and an estimated 1.5 million passengers affected. The sea enveloped two New York City airports, and it would take a week for air travel to return to normal.
Impact: The International Air Transport Association, a trade group representing the world's largest airlines, analyzed the impact of Sandy and said it caused airlines up to $500 million in revenue in late October and early November. The trade group said the industry had its largest losses between Oct. 28 and Nov. 3, with Oct. 29 being the worst day for airlines when 9 percent of global capacity was grounded.
7. Middle East Bounces Back From Arab Spring
Story: The wave of protests that galvanized the Middle East last year resulted in a sharp drop in tourism to countries at the center of the turmoil. Vital to the economy of nations like Tunisia and Egypt, tourist numbers plummeted by up to one-third at a loss of billions of dollars. The World Tourism Organization, or Unwto, estimates international tourist arrivals in the entire region declined by 8.4 percent to 54.8 million in 2011 after growing nearly 15 percent the year before. The numbers would have fallen even further if safer destinations like the United Arab Emirates hadn't snatched up the diverted tourists.
Impact: Recovery in the region this year has been a mixed bag. Tunisia launched a massive tourism campaign in select European capitals and has successfully enticed visitors back. Ongoing protests and political uncertainty in Egypt, however, cast a dark shadow over the nation. Troubling still, security concerns over a rash of kidnappings in the Sinai Peninsula in the spring and summer only scared more tourists away. Morocco, which has a long history of hosting foreign visitors, is an anomaly in the region. It actually saw tourism numbers rise by 4 percent during the Arab Spring, though they have fallen this year due to lower demand from the eurozone.
6. U.S. Gets National Tourism Board
Story: Arms-crossed America, with its militarized borders and labyrinthine visa requirements, has finally opened up to embrace the economic boon of international tourism. Indeed, it's hard to believe that the 236-year-old nation had never, ever, not once, put together a comprehensive marketing effort to promote itself as a destination of merit until the spring of 2012. President Barack Obama put travel and tourism on the agenda as a potential economy-booster in 2009 and signed the Travel Promotion Act into law in March of 2010. The U.S. Secretary of Commerce then appointed an 11-member board of directors to govern a public-private partnership that would become Brand USA and charged them with inspiring travelers to "Discover America." They released their first ad campaign on May 1.
Impact: "We started simply by saying, 'Hi, welcome,'" Brand USA's Chief Marketing Officer Chris Perkins told IBTimes. "It's amazing when you think about it -- this base level of interaction. That's the first thing you do when you meet someone, and the U.S. had never done that before." It's so simple that it might just be working. Unwto figures from the third quarter of 2012 show tourism earnings in the U.S. up 8 percent, second in the world only to Hong Kong in terms of growth. U.S. expenditure on travel abroad, meanwhile, was up by 9 percent.
5. Myanmar Opens Up, Chokes
Story: It's hard being the next big thing -- just ask Myanmar. As airlines add routes and more visitors flood into this once-hermetic nation, the Burmese have struggled to figure out just what exactly to do with them. Credit cards (and even creased dollar bills) are rarely accepted, ATMs are virtually nonexistent, and hotels, if travelers can even find one, are suddenly mind-bogglingly expensive. After decades of isolation, the Land of Golden Pagodas has opened up in a big way, paving the way for massive economic and political changes. But change, on any scale, takes time.
Impact: "The tourism infrastructure is very undeveloped by international standards," Martin Smith, a leading authority on Burmese politics and author of the book "Burma: Insurgency and the Politics of Ethnicity," told IBTimes. Jennifer Quigley of the U.S. Campaign for Burma added that the scope of change in Myanmar is actually "quite minimal" and there is "no sort of reckless optimism on the part of the Burmese people." Continued ethnic violence in the Rakhine state and other regions has left many wondering if world leaders lifted their sanctions on the formerly reclusive nation too soon and if Myanmar is truly ready to host the throngs of global tourists headed to Yangon.
4. International Tourism Exceeds 1 Billion
Story: Europe may be in the throes of a crisis while North America recovers from its own recession, but that hasn't stopped people from traveling -- far from it. Despite concerns over the global economy, tourism has shown incredible resilience as international arrivals cross the 1 billion mark for the first time in 2012. Arrivals were up in all regions of the world this year, with Asia and the Pacific region leading the way with 8 percent growth. The Unwto credits the recovery of Japanese inbound and outbound tourism, as well as continued strong performance in other major source markets in the region. Destinations in South Asia and Southeast Asia, in particular, showed some of the strongest numbers, with growth exceeding 9 percent. Africa, too, posted strong numbers in the first half of 2012, mostly due to the return of travelers to destinations in North Africa and the Middle East, up 11 percent and 0.7 percent, respectively.
Impact: "Tourism is one of the few economic sectors in the world growing strongly, driving economic progress in developing and developed countries alike and, most importantly, creating much needed jobs," Unwto Secretary-General Taleb Rifai said at the opening of the Global Tourism Economy Forum in Macao. Rifai noted that the three big challenges facing the industry in the coming years are convenience in travel, tax income and a higher degree of collaborations across industries.
3. Chinese Travel Boom Takes Off
Story: For centuries, those in the East have scrambled to accommodate the needs of those in the West, but in the next decade things will change. Introducing the world's most sought-after traveler: the Chinese tourist. The Unwto predicted in 2005 that by 2020, 100 million Chinese citizens would travel outside of the country. With 70 million outbound tourists in 2011, 80 million expected in 2012 and an average growth of between 12 percent and 15 percent, the Unwto has since revised its forecast and now says 100 million globe-trotting Chinese will troll the planet by 2015.
Impact: What this means is that in less than three years' time, China will become the single-largest source of international tourism while simultaneously possessing the largest domestic tourism market in the world. Roy Graff, founder and managing director of China Contact, told IBTimes the industry needs to make changes immediately. "There are certain amenities they will expect in their room," he said, "such as slippers, a kettle to make tea, instant noodles and chopsticks." Chinese also expect a breakfast menu that has less cheese Danish and more meat and congee. And these are just the basics. If a hotel really wants to attract Chinese customers, it needs to offer a Chinese-language TV channel and have printed information like maps and brochures in simplified Chinese. If it's a larger hotel, there should be someone on staff who can speak Mandarin. Going further, Chinese groups should not be allocated rooms on any floor containing the number four because it sounds like the Mandarin word for death. Also, red is lucky, but too much white is frowned upon.
2. Ancillary Revenues Becomes the New Norm
Story: Ancillary revenue grew to $22.6 billion in 2011, a rise of 66 percent in two years, according to a recent report commissioned by leading travel technology partner Amadeus and carried out by IdeaWorksCompany. The survey looked at ancillary revenue activity for 108 airlines around the world -- 50 of which disclose ancillary revenue activity -- to identify growth patterns. The study found that ancillary revenue, once largely limited to low-fare airlines, is now the lifeblood of many large carriers worldwide -- and big companies, according to the researchers, generate big results. The top-10 list of ancillary revenue generators is dominated by major brands in the global network. United Continental led the pack in terms of total revenue, generating $5.2 billion in ancillary fees. Delta ($2.5 billion), American ($2.1 billion), Qantas ($1.4 billion) and Southwest ($1.2 billion) rounded out the top five, with European budget carriers easyJet and Ryanair close behind.
Impact: One thing is clear -- the way airlines make money these days is completely different than it was just five years ago. Jay Sorensen, president of IdeaWorksCompany, said the survey results describe an evolution that is occurring in how travel is sold to consumers -- an evolution fueled by creative add-ons. The gold rush mentality of "grab every buck, quid or kopek while you can," he said, has become a relic of the past. Unique services offered in 2012 included the following: KLM now charges 12 to 15 euros on select flights for preordered meal upgrades. Qantas sells RFID-equipped bag tags that allow passengers to bypass lines at the ticket counter. Vueling will hold the middle seat empty, board you early and provide a drink and snack for around $73. Air Asia will give you its Red Carpet Service of elite-style perks for about $25. Don't be surprised if you see the ancillary revenue model pop up in the coming years in other areas of the travel and tourism industry like hotels and theme parks.
1. Costa Concordia Sinks Off The Tuscan Coast
Story: An estimated 32 people perished when the Costa Concordia cruise ship slammed into rocks off the coast of Italy's Giglio Island on Jan. 13, forcing a nighttime evacuation of more than 4,000 passengers. Captain Francesco Schettino is accused of manslaughter after steering the ship too closely to the shore as a way of "saluting" the inhabitants, a procedure he claims the ship's owner, Carnival Corp.'s Italian unit, Costa Crociere, instructed him to do. In the days after the disaster, passengers told tales of utter confusion and a delayed evacuation that would lead to charges against eight others, including crewmembers and officials from Costa Crociere. The fact that the sinking took place 100 years after the crash of the Titanic made the Costa Concordia tragedy the biggest news story to come out of early 2012.
Impact: The disaster was a wake-up call for the cruise industry, which, unlike air and land travel, had seriously outdated safety regulations. Remarkably, a lot of good has come out of the tragedy in under 12 month's time. The Cruise Lines International Association, or CLIA, launched a review in January led by a panel of outside maritime and safety experts who have already pushed for several new regulations, the first of which involved mandating a pre-departure safety drill (something that didn't occur on the Costa Concordia). Other changes put forth include new requirements for consistency and transparency in marine casualty data, the recording of passenger nationality, stowage of sufficient life jackets at muster stations, the synchronization of bridge operations within commonly owned and operated fleets, the securing of heavy objects, and new crew training for the loading of lifeboats and policies regarding necessary common elements of muster and emergency instructions. Additional policies and practices developed by the review are expected to be announced on an ongoing basis.
FOR FREE to continue reading
✔️ Unlock the full content of International Business Times UK for free
offer available for a limited time only
✔️ Easily manage your Newsletters subscriptions and save your favourite articles
✔️ No payment method required
Already have an account? Log in
© Copyright IBTimes 2023. All rights reserved.