12 Best Laptop Stands With Adjustable Height In 2021
This article uses affiliate links, which means if you purchase products through these links, we may earn a commission. Click here to see our
T&C
. For licensing please click
here
.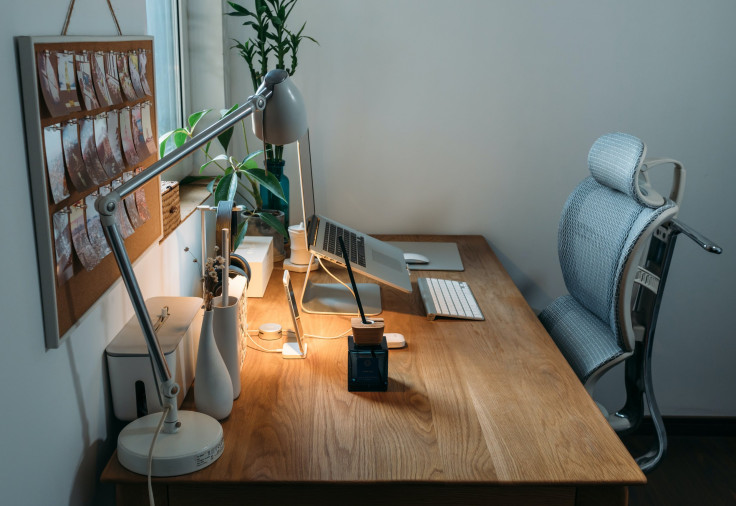 If you're currently in a work-from-home setup, then you know how it feels to be hunched over your laptop all day without the right support. The screen is often too low, leaving you to keep craning your neck and slumping your shoulders at an angle you'll regret in the future. Planning to use a full-sized keyboard? You can't, because the laptop is in the way and don't even think about using it on the couch or bed, as that's an even more uncomfortable position.
Thankfully, help comes in the form of laptop stands, which are designed to aid in improving your posture by angling your laptop at the appropriate eye level. We rounded up 12 of the best ones in this guide, which you can get from Amazon now.
1. Twelve South HiRise for MacBook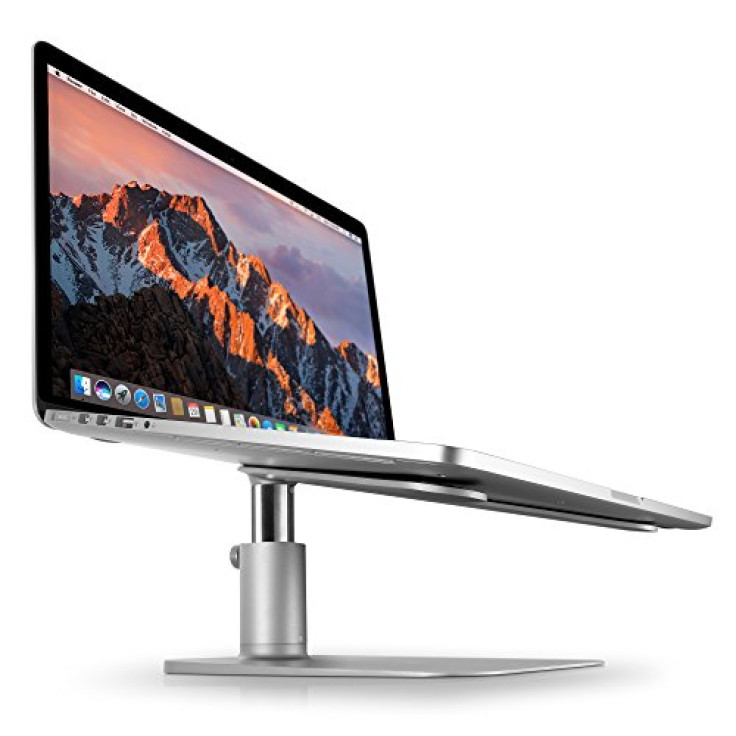 (photo from amazon.com)
Providing some serious lift, the Twelve South HiRise not only looks the part, but comes finished in brushed aluminum to guarantee durability. Best used for MacBooks, its spring-loaded design lets you raise your laptop up to six inches, while the non-skid surface secures your laptop for all-day use.
2. Nulaxy Laptop Stand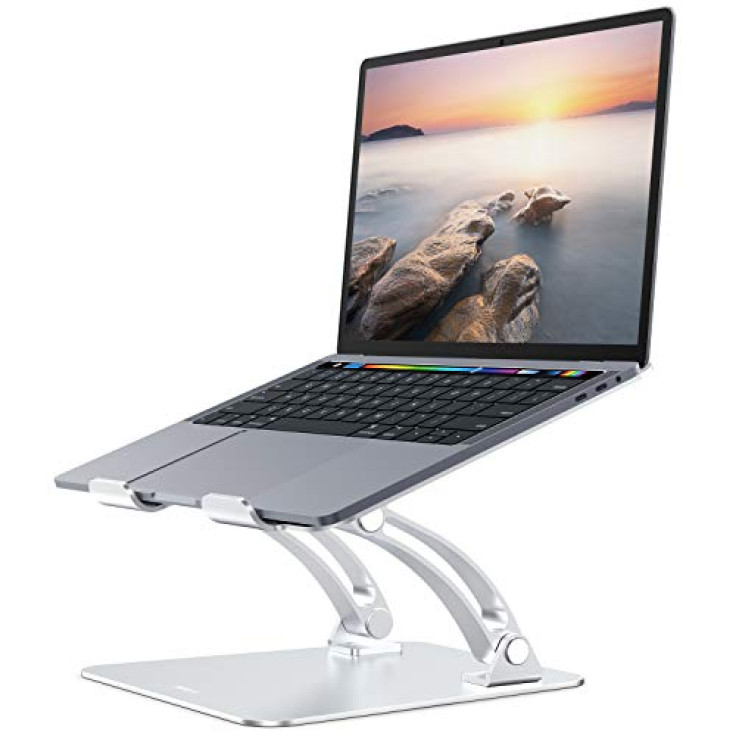 (photo from amazon.com)
Easily adjustable to help you work at different heights, the Nulaxy stand is perfect for people working from home. The aluminum build provides much-needed stability, while the rubber pads on top ensures your laptop won't slide off. While there's no active air venting, the holes cut into the surface should still help with airflow.
3. Roost Laptop Stand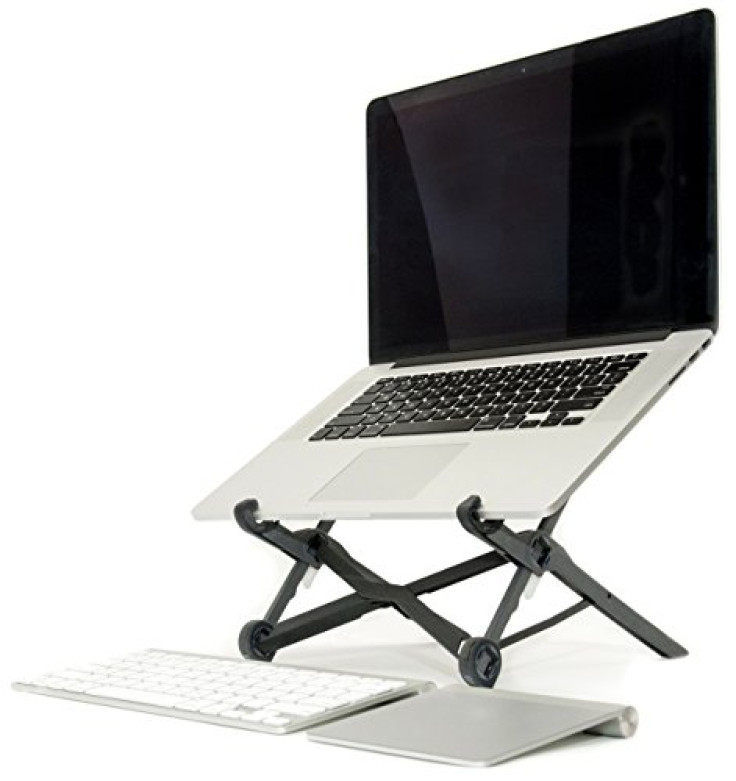 (photo from amazon.com)
A newer version of the Kickstarted-funded Roost stand, this is ideal for mobile users who need a small, compact yet adjustable stand to take on the go. It's collapsible, sturdy and can sit as low as 6-inches or as high as 11-inches depending on your need. Plus, thanks to its clever "pivot clips," the stand grips your laptop solidly despite its plastic build.
4. VIVO Single Laptop Notebook Desk Mount Stand
(photo from amazon.com)
Need your desk free from clutter? Mount your laptop on this pole-and-clamp and work on a cleaner table. A common solution for many, this mount stand comes with a sturdy steel pole and a rigid clamp. The arm can be mounted at whatever height you need, while the laptop tray is large enough to accommodate any laptop size. It even comes with cable clips to help you manage your wires!
5. Boyata Laptop Stand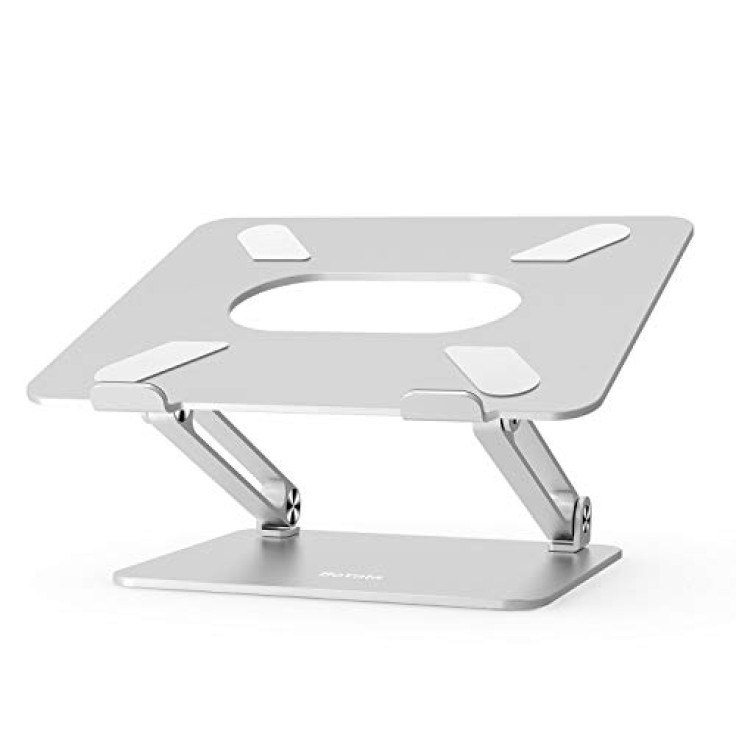 (photo from amazon.com)
When you need flexibility, the Boyata has you covered. Offering the perfect height for laptop stands, this one boasts a Z-shaped design for better positioning and adjustment, while the aluminum alloy build ensures structural integrity. Rubber pads prevent your laptop from getting scuffed.
6. MOFT Invisible Slim Laptop Stand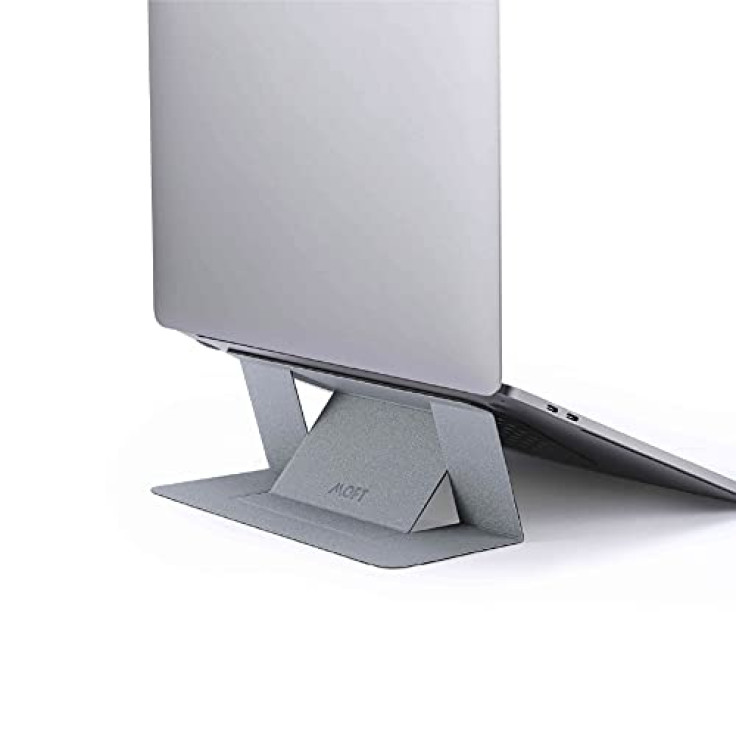 (photo from amazon.com)
Travel-friendly and bulk-free, this extremely lightweight laptop stand is essentially a sheet of fiberglass sticking onto the base of your laptop. From there, it can lift your laptop up to two or three inches to help elevate your display and can carry up to 18 pounds. It's on the cheaper side too.
7. HUANUO Adjustable Laptop Stand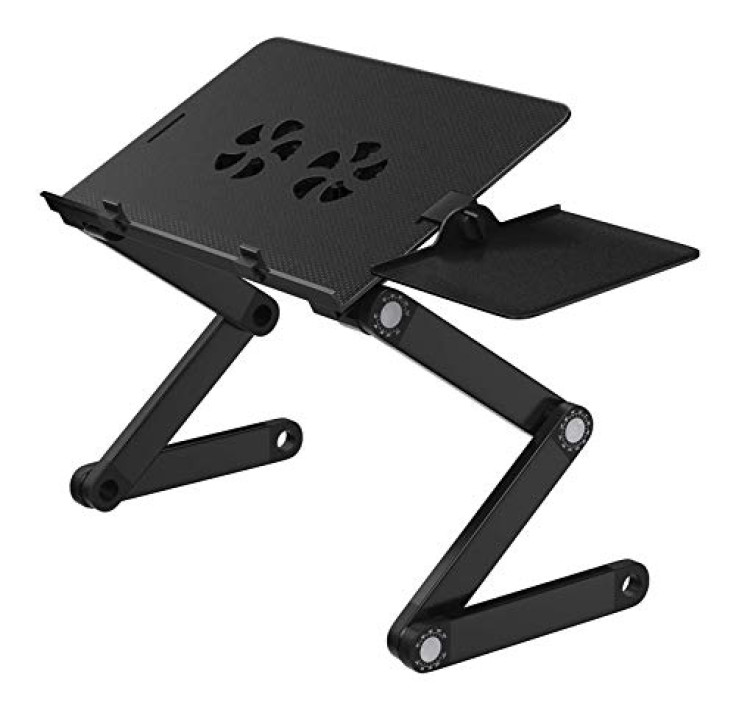 (photo from amazon.com)
When it comes to working comfortably on a bed or at a desk, this adjustable laptop stand is hard to beat. Featuring auto-locking joints that rotate a full 360 degrees, it easily lets you choose the perfect height and angle. It also features two built-in fans powered by your laptop's USB port, while the removable mouse board lets you use your hand at a more comfortable position.
8. ElfAnt Laptop Stand for 10" - 17" Laptops and Tablets
(photo from amazon.com)
Sturdy enough for laptops up to 15 inches in length, easy to set-up and collapse and quite affordable, this laptop stand is one of the best budget options in the market. The build quality is also sturdy for long-time use and the easy-collapse feature makes putting it away quick and hassle-free.
9. JUBOR Adjustable Laptop Stand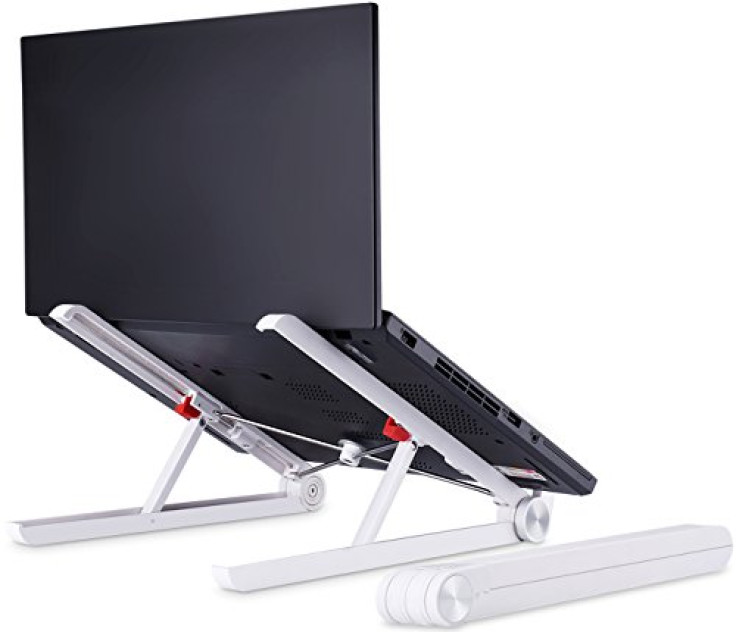 (photo from amazon.com)
If you're interested in a laptop stand that delivers ergonomic appeal without adding a ton of height, then this is for you. Lightweight but able to carry as much as 30 pounds when open, this stand also features 4-point, non-skid pads to help hold your laptop securely in place, all while letting you adjust anywhere between 26-30 degrees for optimal ergonomics.
10. Rain Design iLevel2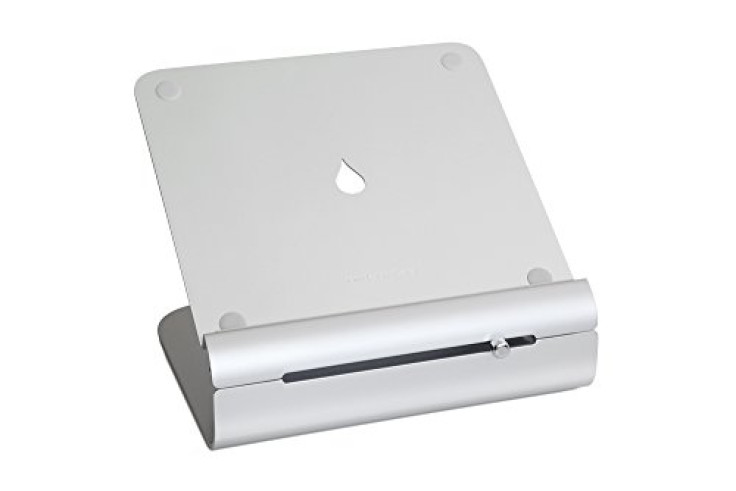 (photo from amazon.com)
One of the most famous laptop stands thank to its simple yet effective design, the Rain Design iLevel 2 features anodized aluminum and an easy-to-use height adjustment knob. Setting it up is also as easy as putting it on a desk and setting your laptop on top before adjusting it to your preference. As for height, the Rain Design lifts your laptop roughly six inches above the desk surface.
11. obVus Solutions Adjustable Laptop Tower Stand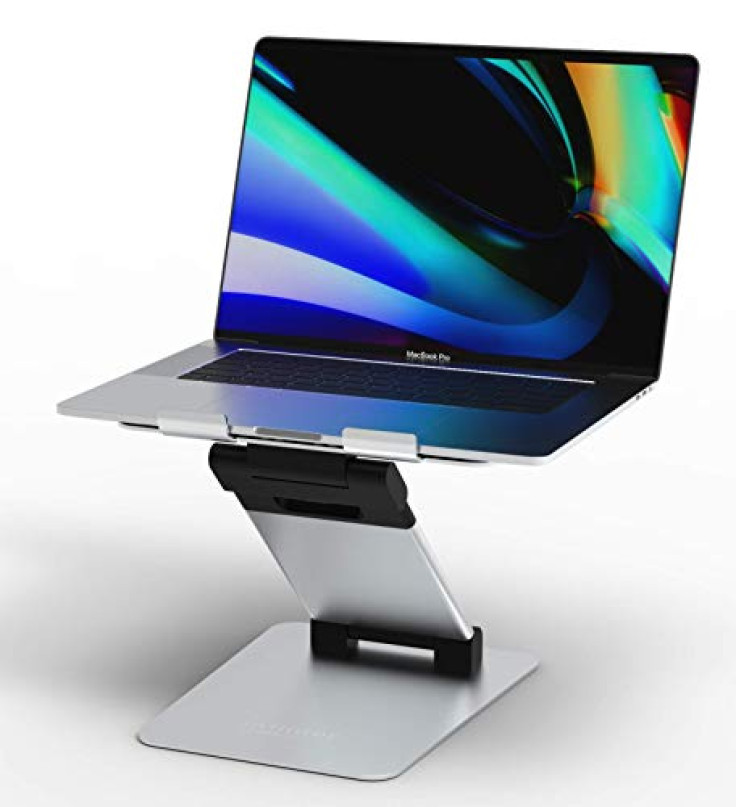 (photo from amazon.com)
Sturdy, light and sleek, the obVus Solutions Laptop Tower Stand is made for everyday home and office use. The adjustable height makes it easy to go from sitting to standing, while the build quality guarantees that it can withstand everyday use even with a heavier laptop unit.
12. BENICCI Deluxe Metal Laptop Stand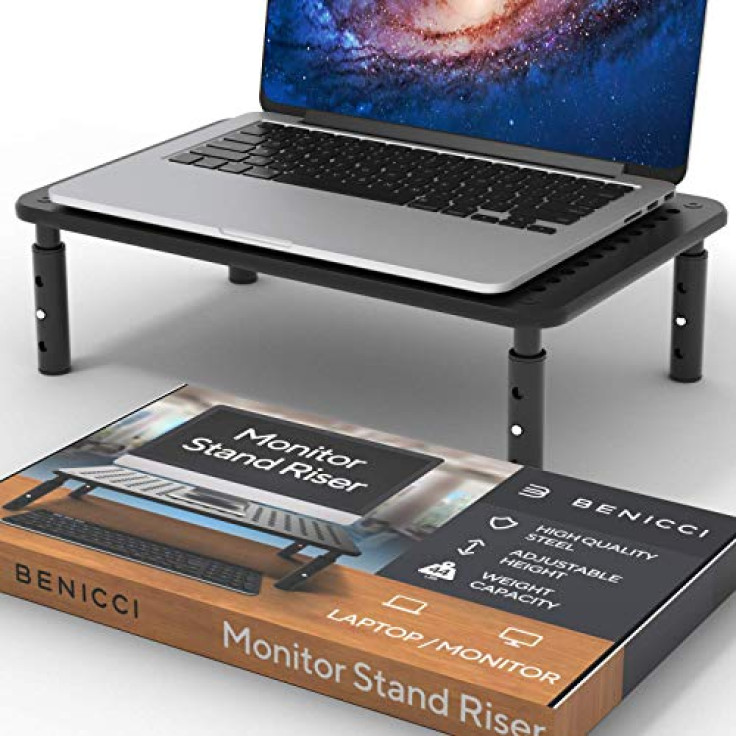 (photo from amazon.com)
Essentially an adjustable small table for your laptop, this riser is built from hard-wearing steel and plastic for maximum durability. It's also incredibly easy to set-up and the design lets it carry laptops up to 44 pounds. Since it's a riser, it comes with space underneath so you can store items like books, magazines even your external keyboard when the work day is done.
FOLLOW MORE IBT NEWS ON THE BELOW CHANNELS