Is The '12 Strong' Movie Based On A True Story?
Hitting theaters on Friday is the new Chris Hemsworth film "12 Strong," which tells the story of a Special Forces team sent to Afghanistan in the aftermath of the Sept. 11 attacks to dismantle the Taliban.
The "Thor" actor stars as Captain Mitch Nelson, who leads the operatives into battle, in this film based on the true story written about in the 2009 book "Horse Soldiers: The Extraordinary Story of a Band of US Soldiers Who Rode to Victory in Afghanistan" by Doug Stanton.
"The story needed to be told and do away with this misconception and generalizing of that area of the world," Hemsworth told Variety about why he wanted to help tell this true account. "There are people there fighting for the same freedoms we are and that's what makes special forces so impressive."
Hemsworth went on to explain that he thought he knew the whole story about what had happened the weeks following the 2001 attacks on the United States, but while reading for the movie he realized that he didn't and became "fascinated by this story," which helped push his desire to star in the film.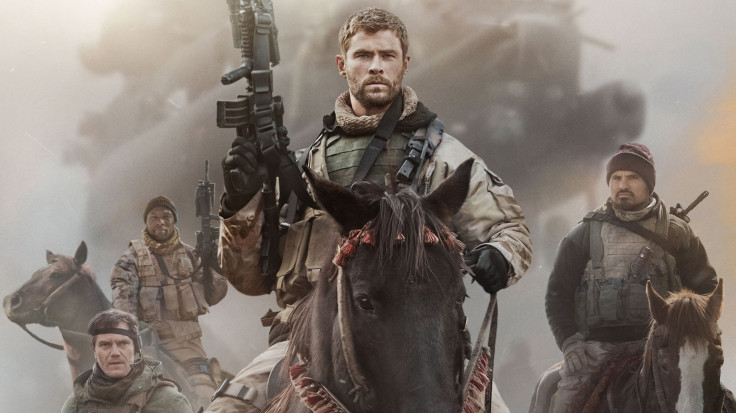 Viewers will watch the story unfold onscreen as Hemsworth's character volunteers to travel overseas, leaving his wife and daughter behind in the U.S., to head up the first team on the ground in Afghanistan after the terrorist attacks. Once all the operatives are there, they must develop a relationship with the Afghan Northern Alliance, officially called the United Islamic Front for the Salvation of Afghanistan, to work together to bring down the Taliban and its al-Qaida allies.
Aside from trying to be as true to the story as possible, Hemsworth told Screen Rant that they also wanted the dialogue and actions to be believable, so they had military advisors on set to help out.
"I think one of the best assets we had, a great asset, was Kenny Sheard, who was an ex-Navy Seal, who has been in the thick of it a number of times and a number of tours and he's now an actor," Hemsworth said. "He often would be there in a scene watching everyone and so on just going over this and this, giving hints and techniques."
He said that making sure everything was as correct as it could be was "really important" to him since he was helping tell this true story.
See it all go down on screen when "12 Strong" is released in theaters on Friday.
© Copyright IBTimes 2023. All rights reserved.