'13 Reasons Why' Season 2 Spoilers: Ajiona Alexus Teases An 'Edgier' Sheri
When "13 Reasons Why" Season 2 arrives on Netflix on Friday, a lot will have changed. There will be new characters, transformed returning characters and a lot more drama. Fans will see a very different side of Sheri Holland (Ajiona Alexus), in particular.
The actress told International Business Times that when the new season begins, "a lot" of time has passed since the end of Season 1, and Sheri's overall mood has gone through a drastic overhaul. After she turned herself in for knocking down the stop sign, which had contributed to Jeff's (Brandon Larracuente) death, "Sheri's not always going to be the happy, cheerleader-type girl" and will instead show an "edgier side" in the new episodes.
She might be done with the cheer team and done with always being so positive, but one thing that remains true of Sheri is that she's "a very caring girl," Alexus told IBT. "You'll see her just wanting to get justice for Hannah [Katherine Langford] in any way she can."
Her caring side especially comes to light in her storyline with Brandon Flynn's Justin, which is something Alexus is very excited for everyone to see.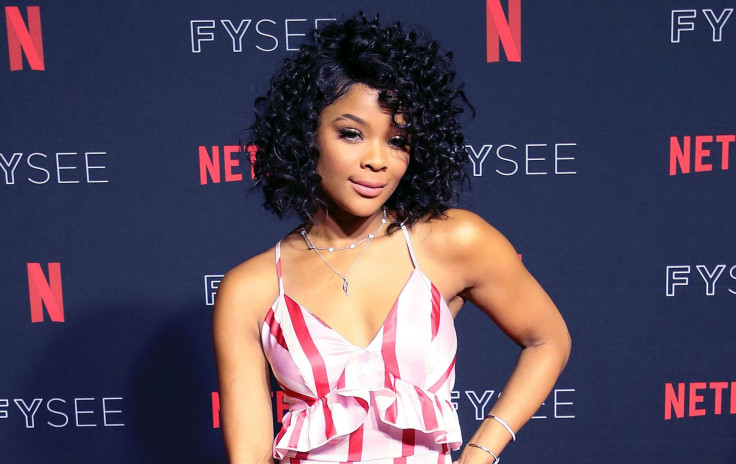 "The interaction between me and Brandon Flynn… shows people Sheri's side of how caring she is and how willing she is to put herself in whatever position to bring justice [for] Hannah Baker," Alexus said. "And not only just Brandon, but Clay [Dylan Minnette], as well. All those feelings or whatever, she puts all that aside and [decides] this isn't about any of the characters, this is not about me, this is about Hannah Baker."
Continuing to help get justice for Hannah is a major plot of Season 2, but it'll be done in a different manner from Season 1. Last time around, most situations were shown from Hannah's point of view, whereas this time, all of the characters will get to show their truths.
"Like they say, there's always two sides, and in this case, 13 sides, to a story," Alexus said. "So, they're going to show you people telling different parts of where they're coming from and where they were at certain situations and how it affected them and how they envision things were happening at the time when they happened."
With so many different sides to a story, it'll be difficult for characters to know who to trust in the new "13 Reasons Why" season. All of that becomes even harder when Tyler's (Devin Druid) fly-on-the-wall photos begin to surface, both corroborating and contradicting narratives.
"The photos are definitely, a hundred percent, kind of leading the show, in a way," the "Breaking In" star said. "They're going to show you things that expose the truth, 'cause like they say, pictures can't really lie. Or, I mean, they have so much of the story. But, he captured so many moments from behind-the-scenes that people didn't think was happening or being seen."
From the promos and Alexus' testimony, it's clear that Tyler's pictures are a large aspect of the upcoming episodes, but what about the guns we saw him stockpiling at the end of last season? Will those come into play? "Possibly," Alexus teased.
One scenario fans shouldn't get their hopes up about, though, according to the actress, is seeing any of their favorite characters show off their musical chops. She said there won't be any singing scenes, despite the fact that many of the cast members sing in real life, including Alexus, who recently released her single "Baggage."
There might not be any in-scene music, but the "13 Reasons Why" Season 2 soundtrack will be dropping on Friday, the same day that fans can stream the new episodes on Netflix.
© Copyright IBTimes 2023. All rights reserved.
FOLLOW MORE IBT NEWS ON THE BELOW CHANNELS