15 K-Pop Idols Who Were Born Outside South Korea With Citizenships In Other Countries
KEY POINTS
Some K-Pop idols born in South Korea hold citizenship in other countries
There's a handful of Canadian citizens, mostly male idols, in the K-Pop industry
One female K-Pop soloist holds citizenship in three different countries
As K-Pop is gaining more popularity outside of South Korea, it's becoming common for K-Pop groups to have members with diverse nationalities.
K-Pop idols in this list hold citizenship in countries other than South Korea, including New Zealand, the Netherlands, Canada, the USA and Australia, among many others.
Know more about your favorite K-Pop idols' citizenship here:
15.
P1Harmony's Keeho
Yoon Kee-ho or Stephen Yoon, better known by his stage name Keeho, was born in Toronto, Canada. He moved to South Korea to pursue his dream of becoming a K-Pop idol.
He is a Canadian citizen.
14.
Jeon Somi
Jeon Somi, who just recently released her album "Game Plan," is a citizen of three countries: South Korea, Canada and the Netherlands.
The 22-year-old idol was born in Ontario, Canada, on March 9, 2001, to a Korean mother and a Dutch-Canadian father.
13.
MOMOLAND's Nancy
Nancy Jewel McDonie was born in Buk-gu, Daegu in South Korea in April 2000, but moved to her father's hometown in Columbus, Ohio. Her father is American, while her mother is a South Korean.
According to Allkpop, the former member of MOMOLAND is registered in Korea as Lee Geu-roo. She holds citizenship in South Korea and the U.S.
12.
NewJeans' Danielle
The 18-year-old NewJeans member was born in Newcastle, New South Wales, Australia to an Australian father and a South Korean mother.
She is of Australian and Korean mixed heritage, thus holding citizenship in both countries, per Kagit Korea.
11.
LE SSERAFIM's Yunjin
Huh Yunjin, or Jennifer Huh, was born in Gangnam, Seoul, South Korea but was raised in Niskayuna, New York.
She moved back to South Korea to be a K-Pop girl group trainee. Yunjin is an American citizen.
10.
TXT's Hueningkai
Tomorrow X Together (TXT)'s Hueningkai was born in Hawaii. About a month after living in his birthplace, his family moved to China and lived there for almost seven years. When he was 8 years old, he finally moved to South Korea.
Hueningkai is an American citizen and is reportedly the first foreigner to debut under BigHit Entertainment, per Soompi.
9.
SEVENTEEN's Joshua
The 27-year-old member of SEVENTEEN is a U.S. citizen by birthright. Joshua, whose Korean name is Hong Jisoo, was born and raised in Los Angeles, California.
While living in the U.S., Joshua once attended and played his guitar at an event in Koreatown. This led to him getting invited by a Pledis Entertainment agent to join the company.
8.
SEVENTEEN's Vernon
Vernon, whose birthname is Hansol Vernon Chwe and whose Korean name is Choi Hansol, is a dual citizen of South Korea and the U.S.
For the 25-year-old SEVENTEEN member to retain his dual citizenship, he must complete his mandatory military service, per Allkpop.
7.
NCT's Johnny
Seo Young-ho, more popularly known by his stage name Johnny, was born John Jun Suh in Chicago, USA.
Johnny is a citizen of the United States.
6.
NCT's Mark
Like NCT's Johnny, Mark is a citizen of another country. Mark was born in Toronto but moved to Vancouver, Canada.
Mark Lee, whose Korean name is Lee Min-hyung, is a Canadian citizen.
5.
Stray Kids' Bang Chan
Stray Kids' leader Bang Chan was born in South Korea but moved to Sydney, Australia, while still very young.
Bang Chan is listed as a citizen of Australia, per Koreaboo.
4.
Stray Kids' Felix
Like his bandmate Bang Chan, Felix is an Australian citizen. He was born to South Korean immigrant parents on Sept. 15, 2000, in Seven Hills, Sydney, Australia.
Felix's foreign legal name is Felix Yongbok Lee.
3.
BLACKPINK's Rosé
Twenty-six-year-old Roseanne Park, more popularly known as Rosé of BLACKPINK, currently holds citizenships in two countries: New Zealand and South Korea.
She was born on Feb. 11, 1997, in Auckland, New Zealand, but moved to Melbourne, Australia, with her family at age 7 and was raised there.
2.
ENHYPEN's Jay
Jay, whose real name is Park Jong-seong, was born in Seattle, Washington, U.S. but moved to South Korea at age 9.
The 21-year-old ENHYPEN member is a citizen of both Australia and South Korea.
1.
ENHYPEN's Jake
Like his bandmate Jay, Jake holds dual citizenship in Australia and South Korea. But unlike Jay, who was born in another country, Jake, whose real name is Sim Jae-yun, was born in South Korea.
Jake and his family moved to Australia when he was still little.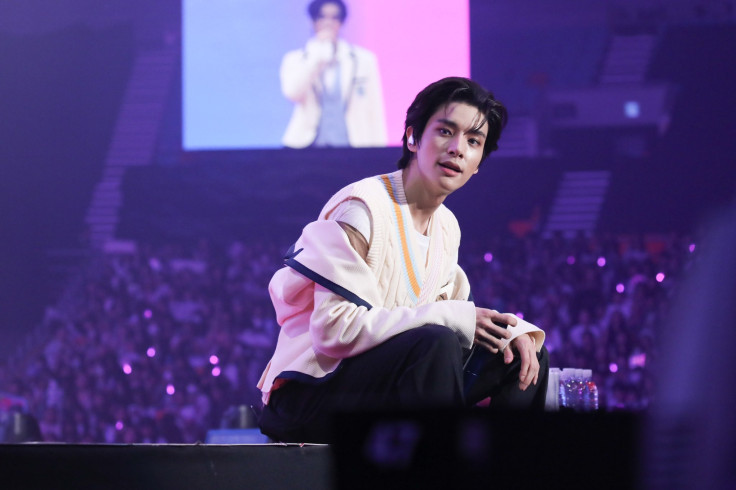 © Copyright IBTimes 2023. All rights reserved.