4 Best Cloud Storage Services to Keep Your Files and Photos Safe
Cloud storage is the most effective and efficient way to keep your files safe.
This article uses affiliate links, which means if you purchase products through these links, we may earn a commission. Click here to see our
T&C
. For licensing please click
here
.
With all of today's technology, almost everything can be done on our devices. You can store, receive, and transfer photos and important files with the utmost ease. However, there are still safety risks and unpredictable circumstances related to this, such as hacking, accidentally deleting your files, and resetting or losing your device.
The most effective and efficient way to avoid losing important files is by having cloud storage.
Cloud storage basically allows you to back up your files to multiple locations or servers and access them privately on any device. You won't have to worry about losing your files because they will be safely stored even if you delete them on your device. Also, it's a great alternative to hard drives and flash drives that take up space and often are lost or broken.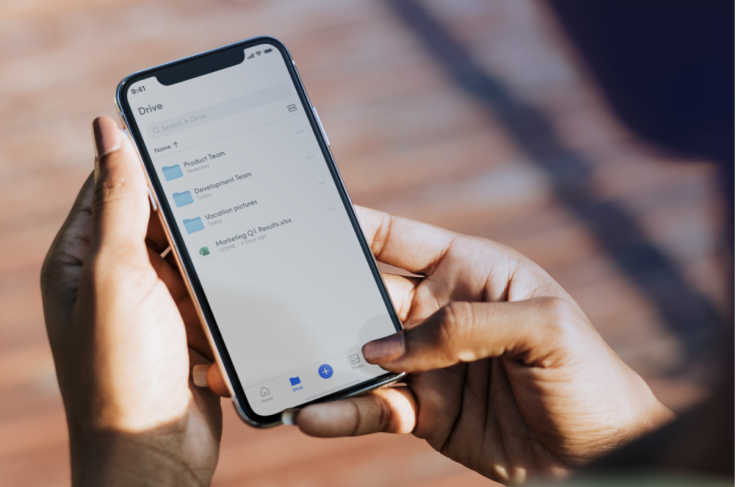 What to Look for in a Cloud Storage Service
With all the cloud storage services available nowadays, it isn't easy to choose the best one. The following are among the most important features you should look for when choosing a cloud storage service.
Data backup and download speed
Data backup is an essential feature. Although most services offer data backup, you still have to check if it is compatible with the amount of data you need to store. Some features also allow you to customize which files will be backed up.
Another important feature to look for is upload and download speed. Make sure to choose cloud storage that offers fast speeds so that you don't have to waste endless hours uploading photos and files.
Data storage and cost
Cloud storage services usually provide free data storage, which can be sufficient for everyday use. If you need more cloud space, you can always get additional storage. Keep in mind that you will have to pay monthly or annual subscription fees.
Before you decide which cloud storage service to choose, identify how much storage you need, what's your budget, and what features you are looking for.
Security features
One of the top features of a cloud storage service is security. Hackers can illegally access your device and steal your files and other private information anytime. Security features must always be on top of your mind when choosing a cloud storage service to protect your confidential files from prying eyes.
Look for services that provide:
Advanced data encryption.
Two-factor authentication for logins.
Multiple layers of security measures.
Also, make sure the cloud storage service you choose doesn't collect your data.
Access from anywhere
People rely on cloud storage services for convenience and efficiency. Having your files stored on your preferred cloud storage means you can access them from anywhere at any time. Consider this feature when choosing a cloud storage service, so you can instantly edit and share your files when needed from anywhere with internet access.
4 Best Cloud Storage Services
Here is a list from The Bitbag Team of the best cloud storage services that we recommend using:
Our top choice for cloud storage is Internxt. Internxt has a well-designed and easy-to-use desktop and mobile app compatible with all devices and operating systems, including Android, iOS, Linux, macOS, and Windows.
With Internxt Drive, you can easily organize your files in folders, rename them, and quickly filter a list of files to find what you're looking for. To protect your files from getting leaked, you may choose who you want to share them with.
Internxt Photos provides seamless photo syncing and sharing. You can easily upload all your images onto the app and have a backup of your most precious memories. The best part? Internxt Photos is included within all Internxt data plans and pricing. There are no additional costs!
The newest Internxt product release is Internxt Send. You can send large files (up to 5GB) in total privacy. Internxt Send functions the same way as WeTransfer, except that it encrypts all your data and keeps it private.
Fast backup and download speeds
Internxt's desktop app allows you to back up folders from your computer to the cloud. This is an excellent feature as it saves time copy-pasting files to save them to the cloud.
Internxt download and upload speeds are incredible too. You won't have to spend endless hours trying to upload or download your files and photos. A 1GB size folder with 1200 files is uploaded within 2 minutes and 30 seconds, and that's impressive! The download speeds are similar, making Internxt one of the fastest cloud storage services out there.
Affordable secure data storage
Internxt offers 4 storage and pricing plans. The only difference in these plans is the price and storage size. All plans include the same features and services.
Free plan gives 10GB of storage forever.
20GB plan billed at €10.68 annually, or €0.89 per month.
200GB plan billed at €41.88 annually or €3.49 per month.
2TB plan billed at €107.88 annually or €8.99 per month.
Internxt also offers a 30-day money-back guarantee and provides live support! Their pricing is very affordable for what they are offering. Also, you can get an additional 30% discount on Internxt annual plans with the code IBTIMES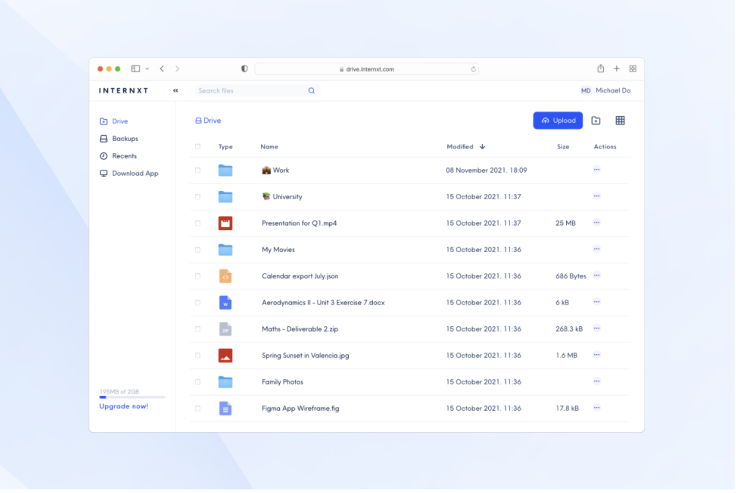 Industry-leading security features
Internxt ensures privacy and security through military-grade encryption, zero-knowledge technology, GDPR-compliant synchronization, two-factor authentication, and end-to-end encryption. All Internxt services are also open-source. That means that you can actually check Internxt's source code on GitHub and inspect their system.
Internxt Drive lets you take control of your files while protecting you from data collection and advertising companies. This cloud service doesn't have third-party or first-party file access. Instead, it uses blockchain technology to ensure your data and files are fully encrypted, making it impossible to decrypt without a user's permission.
We highly recommend using Internxt for anyone who's looking for a secure, private, and affordable cloud storage alternative.
Get 30% off Internxt today! Use the code IBTIMES

2. Sync.com
With Sync.com, you'll be able to work smarter and more productively as you can store, sync, and share all your files securely. It is a helpful tool for creative minds that usually work on multiple projects, such as graphics and videos with a team or organization.
Send, share, and collaborate files securely
You can send and receive files and folders with file portal capabilities and optional custom branding to put your logo on full display, making it perfect for businesses. Sync provides unlimited data transfer, where the people you share will get instant access—no account or software required.
It is handy when working on a project because it enables team access to centralized shared folders, documents, and files, sets read-only, read-write, and remote wipe user permissions, and monitors activity logs and desktop notifications.
Access files anywhere
Sync has an access-anywhere feature, too, allowing you to sync and access your files from all of your computers, laptops, tablets, mobile devices, and the web. So you can work anywhere using any device you prefer without hassle.
They also have an offline access feature to get your work done even if you're not connected to the internet. You can still manage to work and access all your files without having to find a signal or WiFi connection during unexpected circumstances.
Backup and restore files
Sync backs up your files in real time and makes it easy to restore deleted files and previous versions of any file. With their centralized and real-time backup feature, you don't have to worry about losing your files.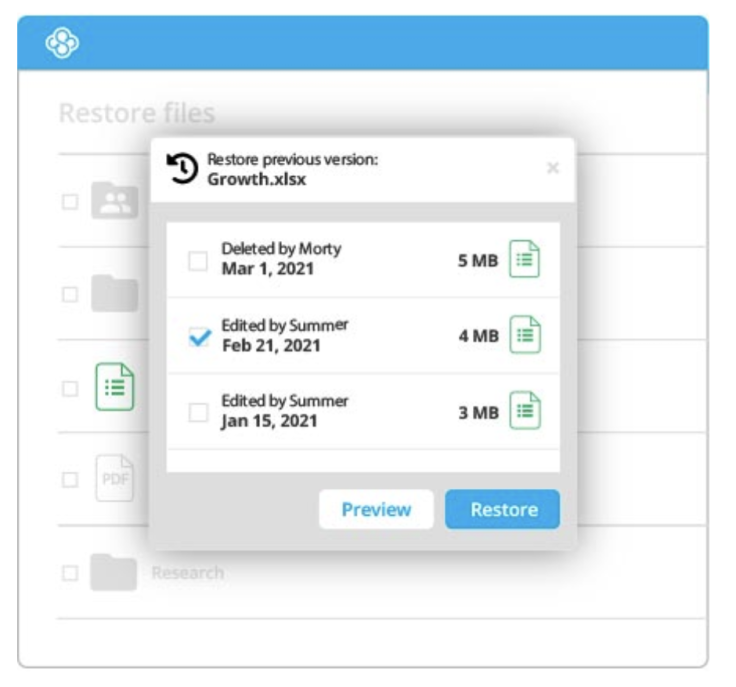 Your files will be protected from ransomware, hardware failure, and human error as there is an option to roll back any file to any earlier date or time. You can also archive your files in the cloud for long-term storage through Sync Vault to keep them safe and available for years.
Sync has two plans for individuals and teams catering to students, employees, and freelancers. You can change plans or cancel anytime with a full money-back guarantee.
3. Livedrive
Whether for personal use or business, Livedrive lets you enjoy unlimited cloud backup storage to store your files in the safest way possible. This is a great option if you have too many large files.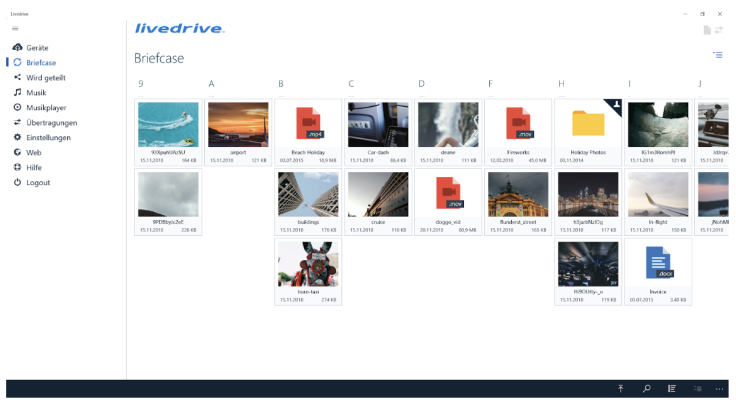 Unlimited online storage
Livedrive offers unlimited online storage for their Backup and Pro Suite personal plans. You can store large files, including videos and photos, with ease. This works best for people working on creative projects requiring tons of storage.
With this unique feature, you can't only store your files, but you can also organize even your old files and keep them safe on Livedrive for as long as you want. It serves as a vault of all your files.
Access files anywhere
Livedrive has an online drive for storing files called Briefcase, which is accessible from any of your devices. You can add files to the drive and access or edit them conveniently from another device.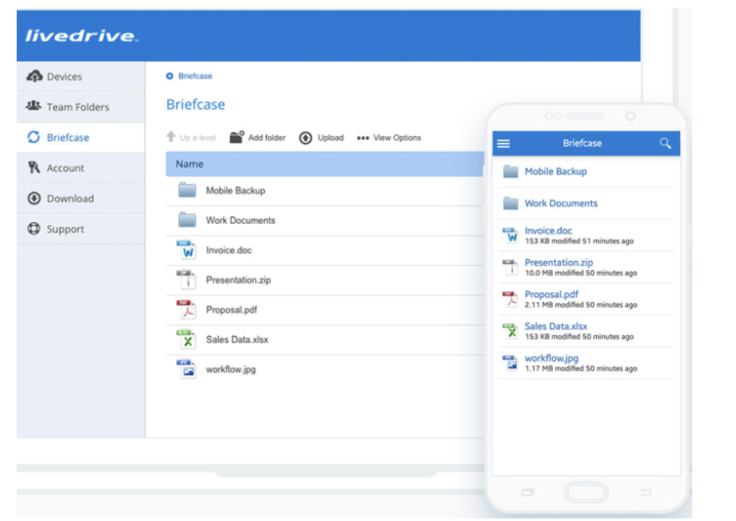 It is perfect for working from home or when you need to work on something urgent on the go. You can add extra storage to low-capacity devices, such as tablets and phones, and work directly from there.
Backup and restore files quickly
It automatically backs up your files, photos, music, and videos which only takes less than a minute. You can access and download your backed-up files right away. Livedrive keeps up to 30 previous versions of files, ensuring that you can immediately undo any changes that you accidentally save.
If you lose or damage the device where your files are stored, you can restore your files by installing Livedrive's Windows and Mac software on a new computer. If you accidentally delete a file or folder on your computer, you can download it back from Livedrive.
Military-grade cloud security
Livedrive comes with the highest transfer security that stores your files safely in their UK data centers that are ISO 27001 certified and fully compliant with EU privacy laws. If you're worried about keeping your files in UK data centers, the customer file information is masked so that it cannot be identified or linked to a particular account.
They also have a team of experts who monitor their network 24/7 and three layers of physical access security. The two-factor authentication feature helps prevent unauthorized access to your account, even if an unwanted user obtains your password.
Livedrive offers Personal and Business plans available monthly and yearly. You can start with a 14-day free trial; you're free to cancel it anytime.
4. pCloud
pCloud is easy-to-use cloud storage where you can store your files instantly by placing them in an encrypted folder. The client-side encryption feature locks your important files on your device. Your data will be protected even if your device gets lost or stolen.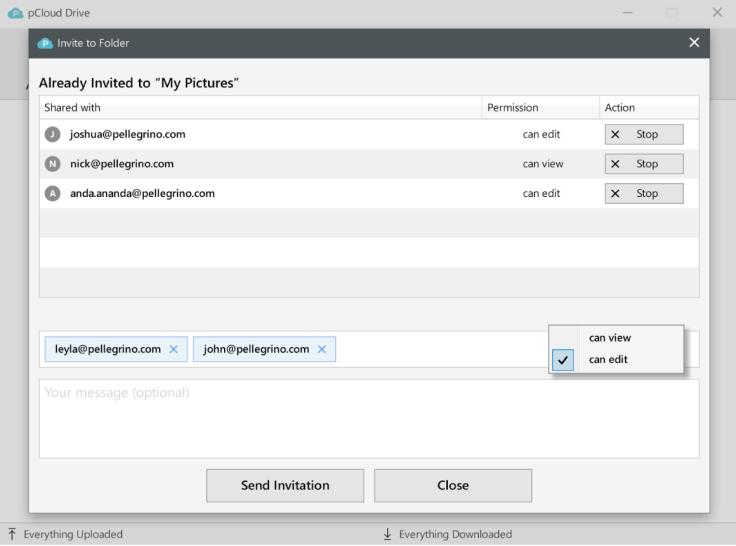 Backup files easier
When backing up your files with pCloud, it will automatically start saving the folders you chose to the cloud. There are no file size or speed limits, and any change you make will be applied to your pCloud account and your device.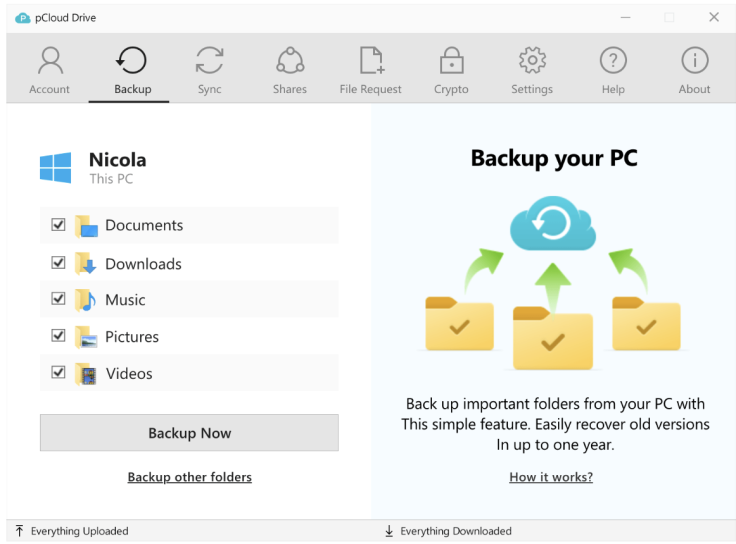 You can even recover old versions of your files from up to one year later and keep older files in the trash for up to 30 days. If you wish to extend it up to one year, you may opt to upgrade it with Extended File History. Your files will be protected from theft, hard drive failure, or ransomware.
Access files anywhere
Accessing your files from any device will be easier yet safer through pCloud. Since this is very easy to use, you can edit, collaborate, and share your files smoothly on your preferred device wherever you are.
pCloud is available for desktop, mobile, and web. This is an excellent and practical choice for teenagers and young adults who frequently access their files to work on and share with their classmates or teachers.
Military-grade encryption
The pCloud encryption encrypts your sensitive files on any device, making them invisible or hidden from others. It has zero-knowledge privacy to assure the service provider won't access your data and files, while the multi-layer protection locks your files with a password.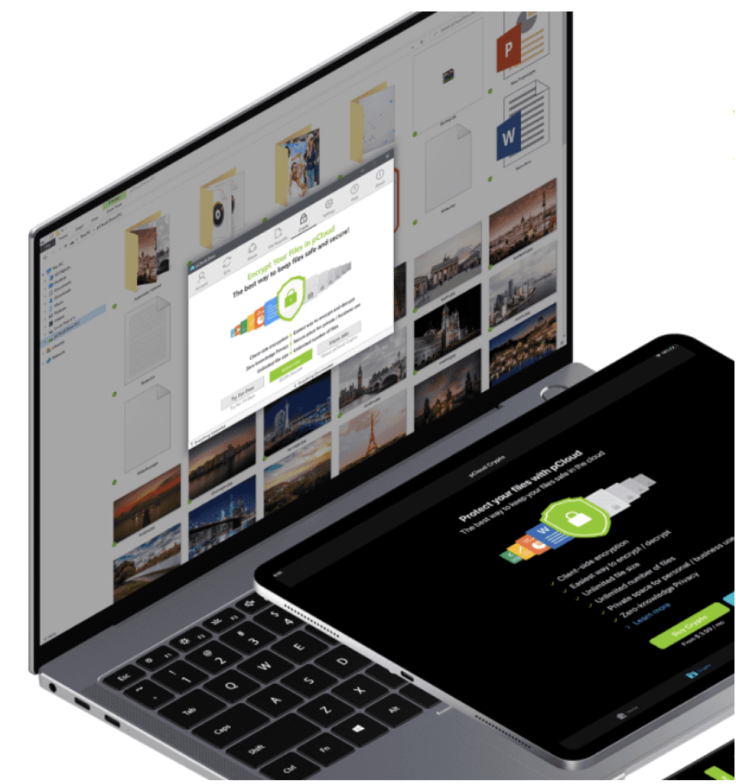 With client-side encryption, all your confidential files are locked right on your device. Your data will remain hidden or invisible even if your laptop or phone gets missing. They also have multi-device usability to access your sensitive files on any device.
pCloud offers Individual, Family, and Business plans. Depending on your needs, you can choose between 2TB and 10TB.
What's Our Final Verdict for the Best Cloud Storage Service?
There are a million good reasons to use cloud storage, and there are plenty of options to choose from!
We recommend Internxt as the most convenient and secure cloud storage service to store, back up, and share your files. Their outstanding features provide everything you need, including best-in-class privacy, seamless photo syncing and sharing, fast download speeds, and efficient data backup. Internxt also offers affordable subscriptions, including a free 10GB plan!
FOR FREE to continue reading
✔️ Unlock the full content of International Business Times UK for free
offer available for a limited time only
✔️ Easily manage your Newsletters subscriptions and save your favourite articles
✔️ No payment method required
Already have an account?
Log in