4 Moments You Missed On 'DOOL,' 'B&B,' And 'Y&R' This Week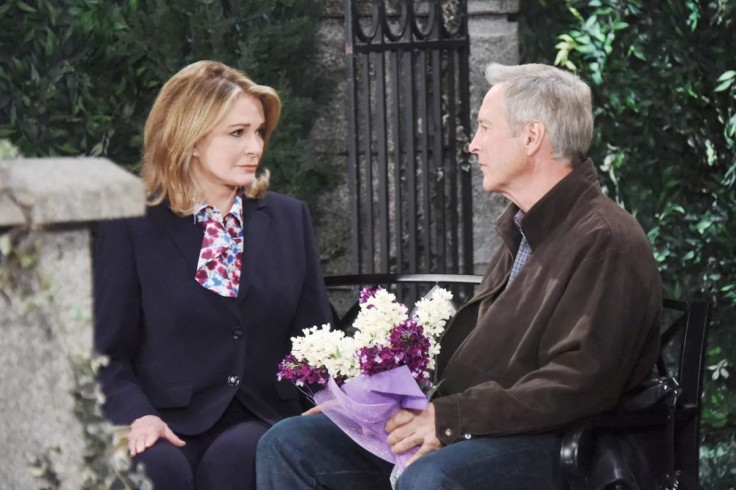 The drama doesn't appear to have an end when it comes to the daily happening on soap operas, and the week of Aug. 7 was no different when it came to what went down on "Days of Our Lives," "The Young and the Restless," and "The Bold and the Beautiful."
All three major soaps had jaw-dropping moments throughout the week. In case you missed a moment of the shocking evil plots, threats or heartwarming reunions, here are the four biggest moments:
Read: Chad And Sonny compare Notes About Deimos' Murder On "Days Of Our Lives"
"Days Of Our Lives" (NBC)
John And Lucas Both Get Dumped
After Hattie (Deirdre Hall) and Angelica (Morgan Fairchild) successfully made both Marlena (also Hall) and Adrienne (Judi Evans) disappear, the plot to take over both their lives went into effect. The first thing that needed to be done was that the men in each woman's life get dumped. When John (Drake Hogestyn) finally caught up with "Marlena," he was shocked when she told him she couldn't be with him anymore because he had kept her waiting for so long. He wasn't aware that the person he was in fact speaking to was Hattie. Similarly, Lucas (Bryan Dattilo) was unexpectedly dumped by "Adrienne," a.k.a. Bonnie (also Evans), and his heartbreak led to his falling off the wagon.
"Young And The Restless" (CBS)
Nick Is Kicked Out Of His Home
He was previously disowned by his father, Victor (Eric Braden) after he tried to sabotage Nikki's (Melody Thomas Scott) concert. Now, the conflict between Nick (Joshua Morrow) and Victor has escalated, after Victor took advantage of Nikki leaving the ranch. Nick's belongings were removed from the tack house, and he's been kicked out now that he's not a part of Victor's family any longer.
Read: Tessa Asks For Help With Her Sister On "The Young And The Restless"
"Bold And The Beautiful" (CBS)
Eric Rips Up The Divorce Papers
After seeming as if he wanted nothing more than to rid Quinn (Rena Sofer) from his life, Eric (John McCook) surprised his wife instead. After she signed the papers, which entitled her to none of his money, and banned her from ever working with or for Forrester ever again and prepared to leave, Eric ripped the papers up, revealing he was testing whether her love was for him or for what he could give her. Now, the two are back together and working on fixing their broken bond.
Liam Confronts Bill
After learning from Sally (Courtney Hope) about Caroline's (Linsey Godfrey) alleged deadly illness, Liam (Scott Clifton ) took no time putting the pieces together and realizing his father, Bill (Don Diamont) was behind things, and it was all a lie designed to get Thomas (Pierson Fode) to go back to Caroline. However, when he threatened to come clean with the truth, Liam was stunned when Bill threatened to disown him if he did.
To see how these stories continue to play out next week, tune in to "Days of Our Lives," weekdays on NBC, "The Young and the Restless," weekdays at 12:30 p.m. EDT on CBS, and "The Bold and the Beautiful," weekdays at 1:30 p.m. EDT on CBS.
© Copyright IBTimes 2023. All rights reserved.