4 Strategies To Stay Afloat: How Real Companies Are Coping With COVID-19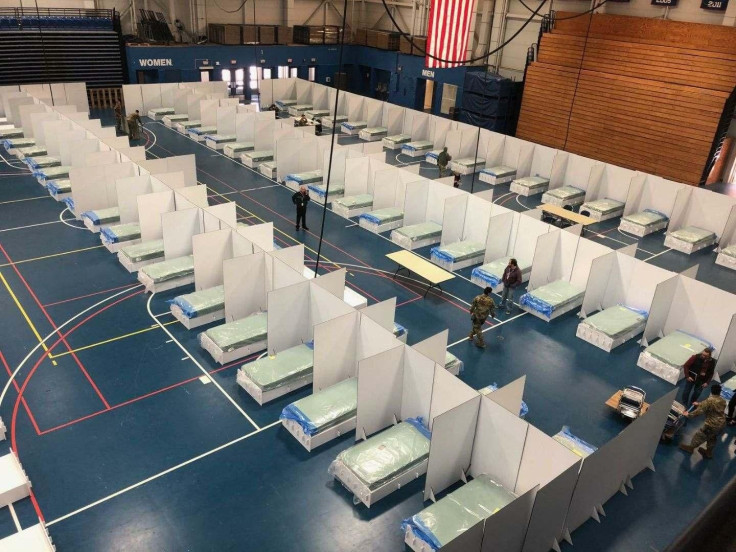 Business as usual doesn't exist for most companies during these COVID-19 days. Sometimes the new path is obvious, like restaurants shifting from dine-in to takeout and delivery, or retail stores ramping up their e-commerce sites. Other times the road forward is less clear. That's why we're sharing the strategies of four small businesses that have gotten creative with keeping revenues coming in and employees on payroll while riding out this economic turbulence. Every firm is different, of course, but one of these ideas might be adaptable to your own company--or at least inspirational.
Devise New Markets for Perishable Products
When five high school friends got together to form Spinach Bus Ventures and purchase Tulip Town, a farm devoted to the colorful Dutch bulbs, last June from its original owners, they had no idea one of their first challenges would be to survive a pandemic.
In a normal April, the tulip fields of Washington State would be abuzz with visitors enjoying the annual tulip festival in Skagit Valley, an hour north of Seattle. This year, Tulip Town anticipated 100,000 visitors and the sale of 10,000 tulip bouquets. The company was a week away from hiring 120 part-time seasonal staffers it had lined up for festival operations, says Tulip Town CEO Andrew Miller.
Then came the coronavirus. Stay-at-home orders meant no festival and no crowds. But the bulbs kept blooming, and no sales wasn't an option.
The company went nationwide, selling and shipping hand-cut tulip bouquets ($36 for 20 stems) around the U.S. It has entered a wholesale partnership with Canlis, a family-owned fine-dining restaurant in Seattle that has pivoted to home-delivered meals and community-supported agriculture boxes--both of which can include tulips. And anyone can make a $15 donation to send a bouquet to a Skagit Valley-area hospital or nursing home.
Tulip Town has also turned its retail stand into roadside farm stand selling tulips and craft flour from sister company Fairhaven Mill. The company is even developing an augmented reality app to allow anyone to get a 360-degree view of flying over, around, and through the farm's tulip fields.
Miller said that with these new initiatives and others, the company is at about 20% of 2020 projected revenue. But they have not had to lay off or cut hours for the five full-time and five part-time seasonal workers who were on board before the pandemic, and they were even able to hire 20 fulfillment and farm stand staff to man their new initiatives. The farm was able to cover two pay periods with funding from the government's Paycheck Protection Program.
Keeping Tulip Town afloat isn't just important to its owners, but to the Valley's local economy, which normally gets $65 million in revenue from the tulip festival. Hopefully, the festival will return in 2021. Certainly, as its website proclaims, Tulip Town plans to live to grow another year.
Use Existing Materials to Create New Product Lines
Steve Reble owns a small business called etee, which stands for "everything touches everything else." The Toronto-based company has been selling non-plastic household goods such as reusable food wraps and liquid dish soap since 2017.
But in February, a partnership with a huge multinational firm fell through, leaving etee with several thousand meters of organic cotton. A tough position to be in, even before COVID-19 hit.
Team member Jen came up with the idea for how to use the cotton, and Reble reached out to his customers through the company's blog for help deciding whether it was viable. That's how he ended up pivoting etee to sewing non-surgical face masks with a built-in pocket for replaceable filters. He also adopted a buy one, donate one program one customer suggested: For every mask purchased, the company donates another to an organization in need, like a hospital.
As a result, etee's 30-person factory that otherwise would have had to lay off or furlough most of its employees remains fully operational, Reble says. The company also turned its plastic-free dish soap into hand soap and has seen sales spike more than 50%. Reble is especially excited about etee's higher returning customer rate. "Our actions are driving more brand loyalty, which is a real sign of a sustainable future," he says.
Take a Commercial Product to the Residential Market
JP McHale Pest Management in Westchester, NJ, has been a family owned and operated business for nearly 50 years. While the pandemic public health crisis has reduced the company's work in some areas, it's created opportunities in others.
Chief among the company's services is its first-to-market SMART rodent control program that uses sensors to detect infestations and report data back to the company's hub, President Jim McHale says. That means fewer in-person visits by service technicians because the sensors transmit trap activity remotely. JP McHale Pest Management has been using the SMART system commercially for more than three years, but has just started using it residentially to minimize interior visits to clients' homes.
Commercial customers in the hospitality, retail food, and hotel sectors have suspended or reduced service frequency with the pandemic, McHale says. But the company's residential product line is above budget because people want to be comfortable and protected while sheltering in place at home. And the threat is real: One side effect of so many businesses and stores being closed is that rodents are getting more aggressive--venturing into new neighborhoods as their traditional food sources, such as restaurant dumpsters, dry up.
In addition, people want tick control, mosquito abatement, and termite mitigation. So McHale has pivoted to a new disinfecting and sanitizing service, ViroClean, which has also helped closed the gap on those commercial losses. The company's historical experience in disinfecting and sanitizing rodent urine, fecal matter, fly harborage sites, and other icky situations meant the company already had the equipment, training, and product to make this move. New venues have opened up: community rooms, food pantries, pharmacies, group homes, offices, and grocery stores.
The company has about 200 employees and has not had to reduce its staffing at all because of the pandemic, though some employees, concerned for their health, have recused themselves from active duty. McHale says his company has even hired some new staffers who have certifications in the field.
Apply Expertise and Relationships to a New Field
T3 Expo normally runs hundreds of trade shows, conferences, and corporate events across the country each year. Now, everything is canceled or postponed. The company hasn't had an event since February's Toy Fair at New York City's Javits Center.
But with 10 years in business running shows for 500 to 60,000 people, T3 Expo knows how to manage shipping and logistics, establish project workflows, and install and dismantle things. Using its familiarity with the Javits Center, the company served as general contractor when FEMA, the U.S. Army Corps of Engineers, and the city of New York needed to turn the huge space into a makeshift hospital with 500 beds in just three days. T3 Expo already had the materials in its warehouse to build beds and signs.
It then took on more projects by working with one of its partners, The Gilman Brothers Company. Only, instead of building walls and booths together, they made 1,000 beds in four days for a field hospital for recovering COVID-19 patients at Western Connecticut State University's O'Neill Center sports arena. Then they helped build an additional 1,400 beds that the Connecticut National Guard installed at the university. The company has also been working on products such as PPE intubation tents and services for hospitals.
T3 Expo is not charging any of its clients full price for canceled shows, and revenue is off by more than 80%. But the company is trying hard to keep its 180 employees on board. Everyone has taken pay cuts to minimize layoffs and furloughs, and they've also instituted job sharing, according to T3 Expo CEO Chris Valentine.
Not that T3Expo is giving up on its core business. "We are also continuing to work on socially safe environmental designs for our clients' events and shows that will hopefully take place in the fall and in early 2021," Valentine says.
© Copyright IBTimes 2023. All rights reserved.
FOLLOW MORE IBT NEWS ON THE BELOW CHANNELS