47% Of Americans Are Jobless; 'Economy Isn't Out Of The Woods,' Economist Warns
KEY POINTS
About 78 million Americans are without work directly due to COVID-19
The economy's recovery is being dragged down by the millions of Americans without jobs, said one analyst
"The massive job losses mean the economy isn't out of the woods yet"
Almost half the American labor force — 78 million people — are out of jobs. This dire situation comes after the United States labor force reached a high of 164.6 million persons in February, less than a month after COVID-19 reached the U.S. shores.
The extent of the widespread joblessness plaguing the country can be seen in the employment-population ratio, which plunged to 52.8% in May. The data means 47.2% of adult Americans are out of work, according to the U.S. Bureau of Labor Statistics (BLS).
The employment-population ratio measures the number of employed people as a percentage of the U.S. adult population. It's different from the unemployment rate, which measures the number of people actively looking for a job. In other words, the unemployment rate is the proportion of the labor force not currently employed but could be.
The depth of the massive job losses ignited by the pandemic can be appreciated only when one realizes the employment-population ratio stood at 61.2% in January. Without the unimaginable job destruction wrought by the pandemic, this figure would have undoubtedly risen enough to eclipse the record of 64.7% set in April 2000, the all-time high.
"Right now the economy's recovery is being dragged down by the millions and millions of Americans without jobs and (who) simply haven't got it," said Chris Rupkey, MUFG Union Bank's chief financial economist, said in a note. "The massive job losses mean the economy isn't out of the woods yet."
"To get the employment-population ratio back to where it was at its peak in 2000 we need to create 30 million jobs," says Torsten Slok, Chief International Economist-Managing Director at Deutsche Bank Securities.
The current employment-population ratio of 52.8% also indicates how difficult it will be for the U.S. labor market to recover to its pre-COVID-19 employment highs.
A welcome decline in the unemployment rate in April and May is now being clearly threatened by renewed signs of a slowdown in labor market improvement due to the massive spike in COVID-19 cases in 31 states. The unemployment rate is expected to drop further to 12.4% in June from 13.3% in May. But this might no longer be the case as data shows the number of Americans filing for unemployment claims rose much higher than expected over the past two straight weeks.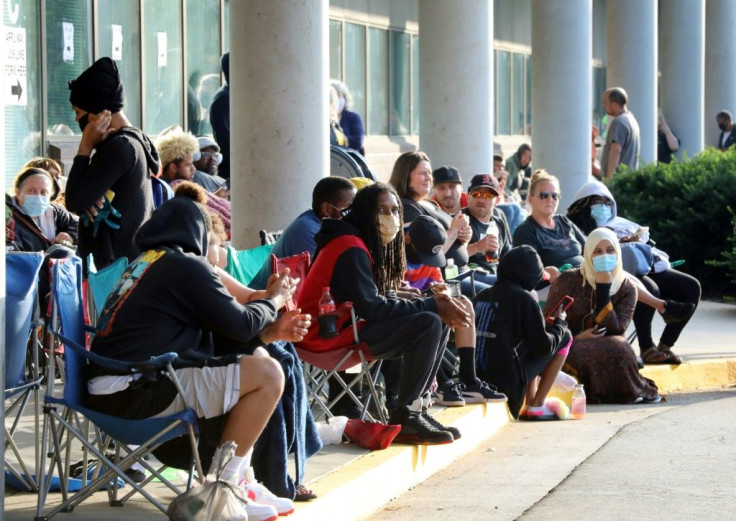 © Copyright IBTimes 2023. All rights reserved.
FOLLOW MORE IBT NEWS ON THE BELOW CHANNELS