5 Best Social Media Scheduling Tools To Try In 2021
This article uses affiliate links, which means if you purchase products through these links, we may earn a commission. Click here to see our
T&C
. For licensing please click
here
.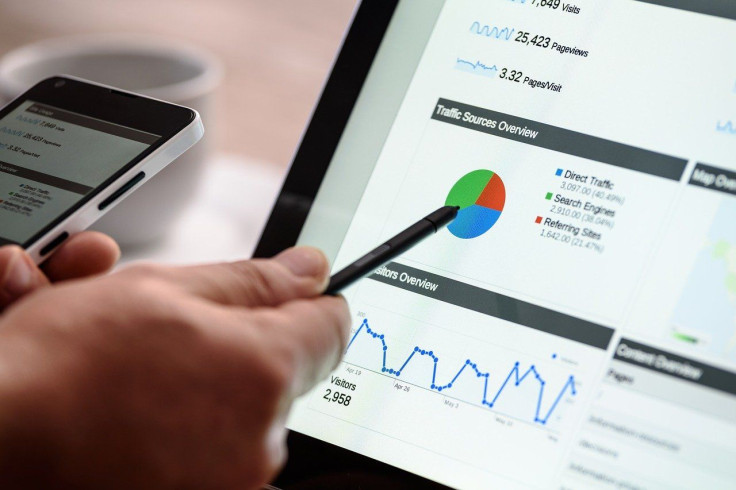 Automation and scheduling do wonders for your business. For example, instead of regularly posting on Facebook or Twitter manually, using a social media scheduling tool will save more time and energy. There are plenty of options for digital marketers, agencies and business owners who need efficiency and convenience when promoting content through social media channels.
These social media scheduling tools are not equally designed because some cater to solopreneurs and small businesses, while others are geared towards agencies and large-sized companies. Moreover, they are available in monthly subscriptions and one-time payments to access all the features. But once you or your team use the right tools for your business, anything is possible. Below are 5 scheduling tools you may explore so you can take your business to the next level this 2021.
1. Revive Social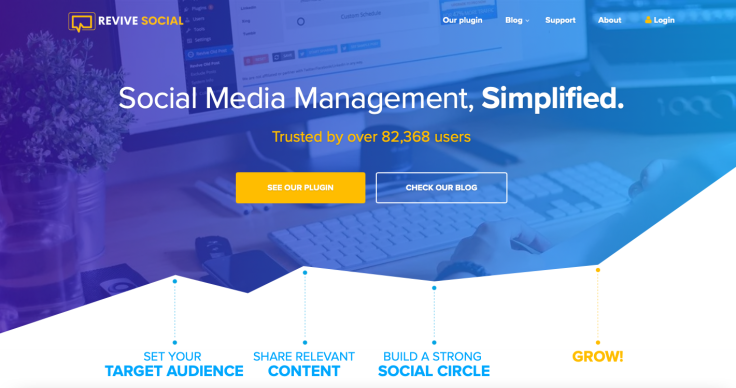 Revive Social is a WordPress plugin that lets you schedule new and old content to drive more traffic from social media accounts you use like Facebook, Twitter, LinkedIn, Pinterest and it supports Buffer integration. It's a must-have scheduling tool for web administrators and website owners because it helps grow website traffic, increase social media followers and engage with existing readers through consistent sharing.
Revive Social is downloadable through the WordPress CMS under the Plugins section and can be activated directly. You can customize the settings that will activate the ROP -- Revive Old Post feature, its main function. Upon authorizing the plugin, your social media accounts are imported to the ROP dashboard.
The ROP dashboard lets you set WP post types you want to share. Usually, old posts can be revived. You can set the minimum time intervals between shares. For example, set 10 hours in-between for sharing. On top of that, you may set the maximum age of articles that you published for sharing or just let the plugin do its work. For instance, if you run out of posts, it will automatically restart the sharing. In case you need to edit or delete upcoming or scheduled posts, the Queue Management lets you manually edit them before they get scheduled.
The Pro version has one license for a single website with one year of support from the team for only $75. Admins will love the Instant Sharing On -- your scheduled posts will be shared instantly once they are moved to Published. You can share up to 50 accounts of all your content to Facebook, Twitter, LinkedIn, Google Business and Tumblr.
2. Buffer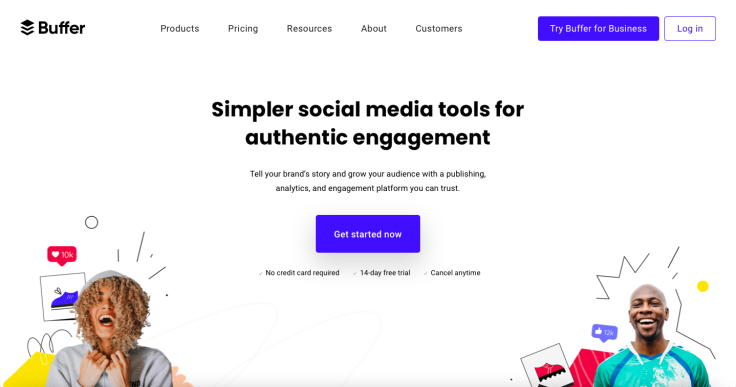 Buffer is an online platform that lets you schedule social media posts in a user-friendly dashboard. It simplifies the process of posting links and content across several channels you use. Connect the platform with your desired channels and authorize it to start scheduling. Afterward, choose the account or channel to publish the post and either post it instantly, add it to the queue or schedule it.
When you use the queue feature, it will automatically share the links in intervals, so you don't have to worry about missing a post. Buffer will post the content during the times when your audience is most active. Aside from scheduling posts, it lets you schedule Instagram stories on the web and mobile app. If you have an online store, you may connect 'link in bio' to multiple URLs that users can visit. Online sellers can visually plan and map out the Instagram stories and receive a notification once the content is out. Buffer higher-tier plans allow access to advanced analytics.
With the Pro version, you have everything you need to consistently schedule and publish posts across popular social media platforms. You can try it for free as it supports 3 profiles and up to 10 scheduled posts. While the Pro version costs $15 per month billed annually. All in all, Buffer's dashboard is easy to use -- no bells and whistles, just straightforward options and settings. A beginner won't be intimated or overwhelmed to use it.
3. Plann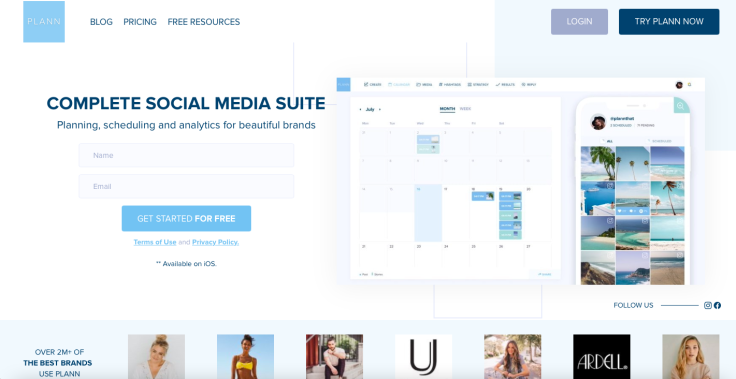 Plann is an Instagram scheduling tool that lets you visually plan your photos and content in a single dashboard. It offers scheduling tools, analytics and other features to create beautifully crafted Instagram grids and visually-appealing Stories. It gives you a workflow for efficient management and scheduling. For instance, Plann streamlines publishing activities because it lets you access Canva designs, access to multiple royalty-free stock photos and more.
The dashboard is geared towards digital marketers with intermediate to advanced skills as there are complex and nitty-gritty options and settings you need to explore. It has a steep learning curve for beginners but is packed with designing, marketing and scheduling tools. Moreover, Instagram marketers will find the hashtag option useful, which lets you create hashtag sets for similar posts. It supports third-party cloud storage such as Dropbox and Google drive, including direct uploads from your computer for quick access to images.
Plann supports image editing tools allowing you to customize photos and add filters, text overlays, borders and more. That said Plannr is useful for Instagram account managers and marketers, including online sellers -- people who sell products and services who want beautiful and attractive images on Instagram feed. The Pro version starts at $7.00 and it supports Facebook, LinkedIn and Instagram, with only one account per channel.
4. Canva Content Planner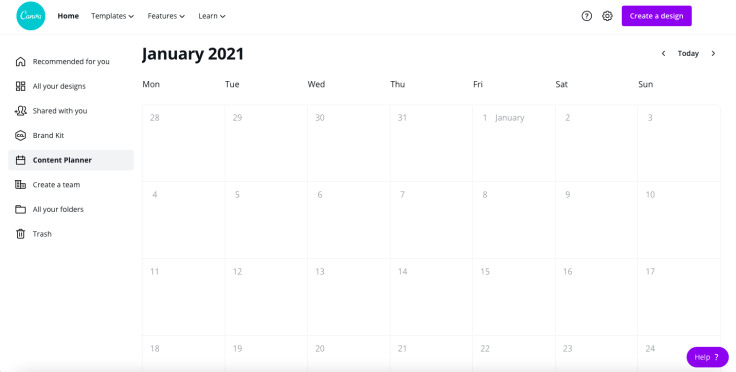 Canva is famous for creating graphic designs for businesses and non-profits such as brochures, presentations and other visual designs. Aside from graphic designs, the platform now supports Content Planner. It lets users schedule or publishes those graphics with ease. Connect and authorize the app with your chosen social media accounts.
This content planner or scheduler is available for Pro, Enterprise and NonProfits users only. You can send or publish directly to your accounts like Facebook, Facebook Groups, Twitter, LinkedIn, Pinterest, Tumblr and even Slack. Users who subscribe to the mentioned plans can access the Content Planner directly on their dashboard and see a calendar. The next step is, click the date and two options will be available: Create a design or Choose a design. The former lets you design graphics from scratch, whereas the latter lets you choose from your previous designs.
Content Planner gives an edge on scheduling graphics because the designs are optimized with the appropriate sizes required for each social media account. Canva also offers free subscriptions, but you may upgrade to the Pro version at $12.95 per month if you want to use the Content Planner.
5. Zoho Social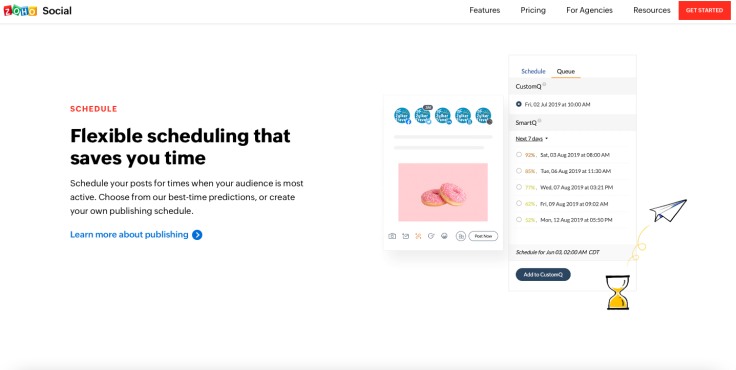 Zoho Social is a social media scheduling and management tool for individuals and agencies. In a single dashboard, it lets users take control of the posts like customizing each per account and offers a robust analytics dashboard to track the progress of activities and shares. It supports Facebook, Instagram, LinkedIn, Google Business and Twitter. Furthermore, you can publish instantly or schedule posts, repeat older ones.
It supports Bitly integration to shorten the URL links and offers summary reports of the linked accounts. The Smart Q feature lets you create a post and automatically adds it to on queue and it will be published when followers are most active. Add-on features that Zoho users are the Facebook ads integration, which lets you track leads in real-time. Meanwhile, the zShare browser plugin lets you curate articles, craft unique descriptions and publish them to your desired channel. Lastly, you can access the Zoho CRM tool to enrich your social media data further and understand leads.
Overall, Zoho Social offered social media management and is equipped with analytics and CRM features to help you grow your business. The Standard plan costs $10 per month billed annually with two members to manage accounts and support seven social media channels.
FOLLOW MORE IBT NEWS ON THE BELOW CHANNELS