5 Most Nostalgic Moments From The 'Fuller House' Season 3 Trailer
The Tanners (and Gibblers) are back in an all-new "Fuller House" Season 3 trailer and, as if it were even possible, everything just got even more nostalgic.
The Netflix series is celebrating the 30th anniversary of its TV show origin, "Full House," which will have its milestone on Sept. 22. The first nine episodes of "Fuller House" Season 3 will debut on the same day in its honor.
To play up the fact that it's been 30 years since the first episode of "Full House" and the world first met Danny (Bob Saget), DJ (Candace Cameron Bure) and Stephanie Tanner (Jodie Sweetin), as well as Joey Gladstone (Dave Coulier) and Jesse Katsopolis (John Stamos), the trailer for this new "Fuller House" season is extremely sentimental. Take a look at the five most nostalgic moments.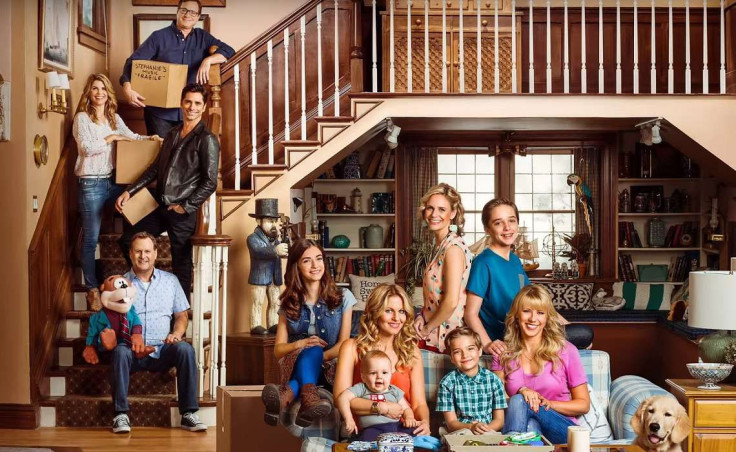 1. When DJ and Stephanie start discussing how much their lives have changed in the last 30 years.
"Who would've thought that I'd fall in love with Kimmy's brother?" Stephanie asks.
"And that I'd be a bridesmaid at Steve's wedding," DJ counters.
No one, that's who. For one, we'd never really met Kimmy's brother and didn't expect any Tanner to fall in love with anyone in Kimmy's family. Second, we never imagined that DJ and Steve wouldn't find their way back to each other.
2. Danny, Uncle Joey and Uncle Jesse come to visit, in the (relatively) same clothes as in the pilot episode of "Full House."
"You're wearing the same outfits," Kimmy notices.
"Actually, I'm the only one wearing the same outfit. These guys got bigger sizes," Jesse jokes.
This time around, Jesse walks through the door first, in his blue polo and motorcycle jacket. Then Joey walks in and while his shirt is the least similar to his original shirt from the pilot (but still close), he comes into the house the same exact way he had before, holding a bunch of clothes. Then Danny walks in in his blue sweater and now all the sudden we're transported back to the first episode of the series in 1997. It's pretty amazing.
3. All of this talk about Steve getting married, but it not being to DJ.
"Steve is really getting married," DJ says.
"And not to you. Which is fine, if you happen to hate fairytales and happy endings," Kimmy replies.
Very true, Kimmy, very true. DJ and Steve were one of the OTPs of "Full House" and now this spinoff is forcing us to remember all the great times they had together, while also telling us that he's about to get married to someone else. It's hard and heartbreaking and confusing and does not follow the storyline of a fairytale. Yet. Hey, it's not over until it's over.
4. Danny runs into the kids' room with a guitar, always ready to try to be a part of the music and the fun.
"You guys ready to rock," Danny asks as he enters the kids' room with his guitar in hand and a huge smile on his face.
The "Full House" dad has always tried to hop in when Jessie was playing music or whenever he had a chance to for a little solo song or guitar play, but always in a very goofy way. Though, he was trying to be fairly serious about it, obviously. But this little scene is just a reminder that no matter how many years have passed, Danny will always try to be as cool as he can be.
5. Netflix piles it on real heavy that this is the 30th anniversary of the original show.
"30 years of laughter, 30 years of memories, 30 years of family," the streaming service captions throughout the trailer.
It's hard to believe it's really been that many years, but these words are yet another reminder that it has been that long and that we've all gotten a lot out of those years. The family on the show has had so many moments of laughter and memories, but so has everyone at home watching. And with this spinoff, luckily, fans will continue to make memories.
The first nine episodes of "Fuller House" Season 3 will be available on Netflix on Friday, Sept. 22.
© Copyright IBTimes 2023. All rights reserved.