'50 Shades Of Grey' Movie Spoilers: Dakota Johnson And Jamie Dornan Valentine's Day Movie Poster Leaked To Promote 2015 Premiere [PHOTOS]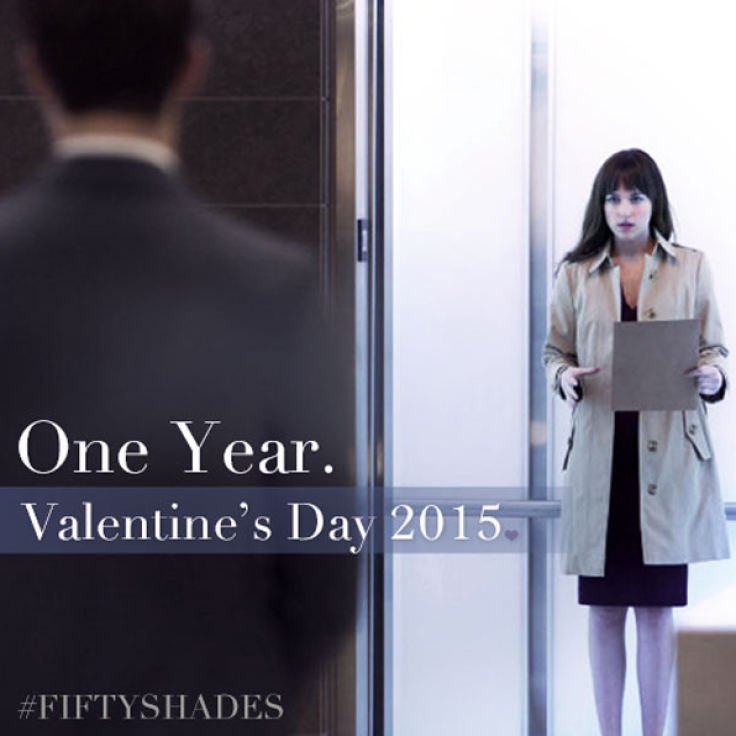 "Fifty Shades of Grey?" More like "Fifty Shades of Love!" On Friday a Valentine's Day-inspired movie poster heralding the flick's premiere next year was released.
"One Year. Valentine's Day 2015 #FIFTYSHADES," the teasing poster read, getting fans even more excited that their favorite movie adaptation would be making its debut in a short 365 days. In the promo, we see what looks like a shocked Anastasia Steele (Dakota Johnson) leaving her office only to be surprised by a patiently waiting Christian Grey (Jamie Dornan).
Could this be an image of the first time Anastasia comes face-to-face with her future husband? Wide-eyed and dressed down in business casual attire, the protagonist looks like her jaw is about to drop to the floor when her big blue eyes gaze upon the dapper Christian.
"See you in a year. Happy Valentine's Day! #FiftyShades," the official Facebook page of "Fifty Shades of Grey" teased fans.
That means we have exactly one year to convince our significant other to take us to see the knee-buckling movie when it hits theaters Saturday, Feb. 14, 2015.
Will you be spending your 2015 Valentine's Day watching "Fifty Shades of Grey"? Let us know in the comments section below!
And if you and your V-day date are still scurrying around to plan for tonight's romantic holiday -- we've got you covered! To keep in the "Fifty Shades" family, the dating website How About We has given couples the opportunity to participate in a "Fifty Shades of Kink" workshop for Feb. 27.
During this date at AHAnoir, you can learn techniques to enhance your connection at a "playful and empowering" kink workshop -- all while free-flowing champagne pours to your heart's content. The entire date cost $25 and is conveniently (if you're in New York) located at 45 Bond Street, 6th floor. Interested? All you have to do is sign up for a free month membership at How About We! Sounds like a deal not even Christian Grey could pass up.
We hope you have a happy and very Grey Valentine's Day!
© Copyright IBTimes 2023. All rights reserved.