7 Easy Strawberry Recipes To Celebrate Summer Solstice And Full Moon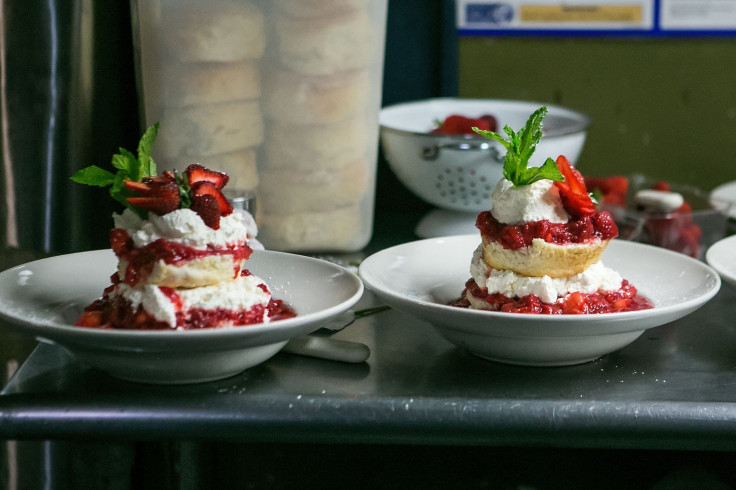 Monday marks not only the beginning of summer but also the start of the strawberry-picking season. That's why any full moon in the month of June is called a "strawberry moon." To celebrate these twin events, here are some easy recipes featuring the luscious red fruit.
1. Grilled Chicken and Strawberry Salad: Strawberries add a pop of freshness to any salad. Sprinkle them with some bleu cheese and grilled chicken over mesclun greens or romaine lettuce. Balsamic vinaigrette works as a great dressing.
2. Ricotta and Strawberry Toast: Smear ricotta on some toast. Then top it with a drizzle of honey and diced strawberries.
3. Strawberry Milkshake: One of the best ways to cool down during the summer is with a milkshake. All you need is strawberries, milk and vanilla ice cream. If you'd like to make it alcoholic, add some Bailey's. For a full recipe with exact measurements, click here. Don't forget to top it off with some whipped cream. And for some added fun, first dip the top of a Mason jar into sugar water and then dip it into rainbow sprinkles.
4. Strawberry Smoothie: Among the health-conscious set, a smoothie might be a better option than a milkshake. All you need is almond milk, Greek yogurt and some strawberries. Click here for the recipe.
5. Strawberry Jam: The exquisite strawberry flavor can be preserved when it is made into a jam. Click here for the recipe.
6. Strawberry Shortcake: It's hard to talk about strawberry recipes and not mention strawberry shortcake. The easiest way is to buy already-made cake and cream and then place strawberries in between the layers. Click here for a recipe on how to make it from scratch.
7. No-Bake Strawberry Cheese Jars: For this delicious dessert, simply mix cream cheese with sugar. Layer strawberries in between, along with some minced mint. Click here for the recipe.
Follow me on Twitter @mariamzzarella
© Copyright IBTimes 2023. All rights reserved.