9-Foot Shark With Unusual Coloration Washes Up Dead On Cape Cod Beach
A dead great white shark estimated to be about 9 feet long washed ashore on a Cape Cod beach, Massachusetts on Thursday. The shark had a distinct red hue on its face and underside.
A team of scientists from Atlantic White Shark Conservancy performed a necropsy on the shark which revealed it had three lead weights inside it.
Researchers from the Massachusetts Department of Marine Fisheries and the National Oceanographic and Atmospheric Administration took samples from the carcass to determine the cause of death.
"Early this morning the Atlantic White Shark Conservancy received a call of a dead white shark in Truro. The shark was a juvenile male, measuring about 9 ft in length. Scientists from the Massachusetts Division of Marine Fisheries and National Oceanic and Atmospheric Administration (NOAA) were notified and Dr. Lisa Natanson of NOAA came out to perform a necropsy and take samples. While examining the stomach she found 3 lead weights inside," Atlantic White Shark Conservancy posted on Facebook.
The Massachusetts Environmental Police tweeted the shark washed ashore on a beach in Truro. However, the name of the beach was not revealed.
Several beaches in Truro were closed recently due to shark sightings. A 61-year-old man suffered deep puncture wounds after being bitten on his torso and leg by a great white shark on a Cape Cod beach last week.
The victim was standing in the water 30 yards offshore when the shark bit him. He was flown by helicopter to Tufts Medical Center in Boston.
"Encounters with white sharks in which people suffer injuries are as terrifying as they are rare. While we still don't know all of the details of this particular bite, sharks are not known to target people specifically and when they do bite people it's usually a case of mistaken identity. Sharks 'test the waters' with their teeth, much like we use our hands. It's how they determine if what they encounter is prey or something to avoid," the Atlantic White Shark Conservancy had said in a statement.
"We are committed to making beaches safer by studying shark behavior and sharing what we learn with the public and town officials to help reduce the probability of these kinds of interactions," said the statement.
Last month, several great white shark sightings were reported off the coast of Cape Cod which led to temporary beach closures. While one report stated a white shark was lurking off the beach "with swimmers nearby," another said "at least 4 white sharks in the area."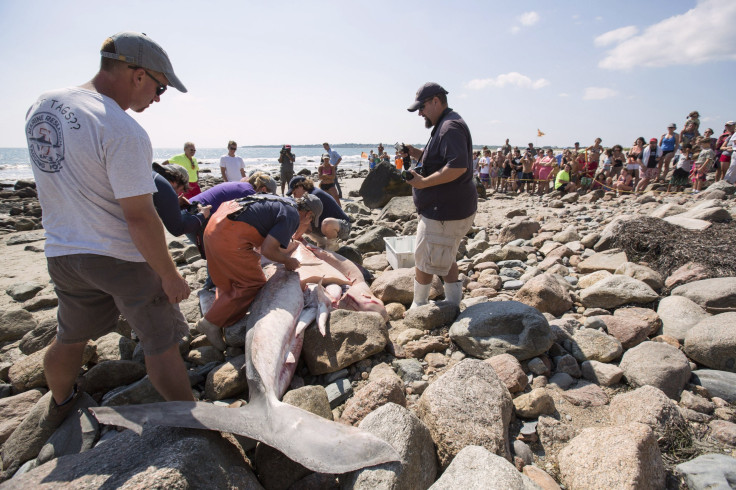 © Copyright IBTimes 2023. All rights reserved.
FOLLOW MORE IBT NEWS ON THE BELOW CHANNELS