$99 Tablet By Acer To Release In 2013, Still Pending Approval By FCC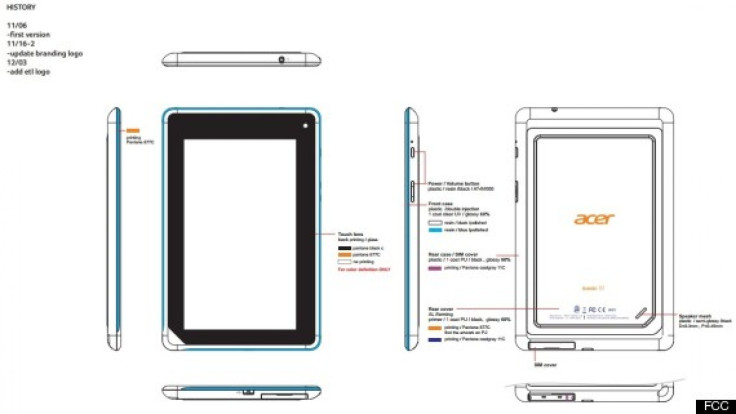 PC manufacturer Acer is gearing up to introduce a $99 tablet in early 2013.
According to the Wall Street Journal, the Taiwan based company plans to roll out the 7-inch Iconia B1 tablet that includes a 1024 x 600 resolution screen, 1.2GHz dual-core processor, and other specs similar to Amazon's Kindle Fire and Barnes and Noble's Nook Color.
While Acer aims the price the table at around $99, the Journal adds, final prices will be determined by the countries in which it will be sold.
The Iconia B1 tablet is currently up for clearance review by the U.S. Federal Communications Commission to determine whether the tablet is even sold here.
The Journal noted that Acer's overall plans to produce lower-priced tablet began in the fall. The company, which is the fourth-largest PC producer in the world, aims to compete with companies based in China that already dominate the realm of low-cost tablets.
"Chinese white-box tablet makers are expected to sell some 60 million tablets next year, so it is a really big market," Daiwa Securities analyst Christine Wang told the Journal.
"None of the major PC brands sells a tablet right now priced to compete with them right now."
Google is planning to sell a tablet for as low as $99, according to Digitimes; however, the tablet will most likely be first priced in the $129 and $149 range before dropping to the lower price. Google's Nexus 7 tablet sells for $199.
Rik Henderson at Pocket-lint said, "there'd certainly be demand" for such a low-cost tablet.
This seemed true in summer 2011, when electronics manufacturer Hewlett-Packard discontinued its TouchPad tablet that was introduced to the market for $499, and later had prices slashed down to $99 for its 16GB in a liquidation fire sale.
The tablet then began selling out at several retail locations, and was in high demand in both stores, and online through the end of the year.
© Copyright IBTimes 2023. All rights reserved.