Abbas Blames Israel For West Bank Clashes, Accuses It Of Starting 'Religious War'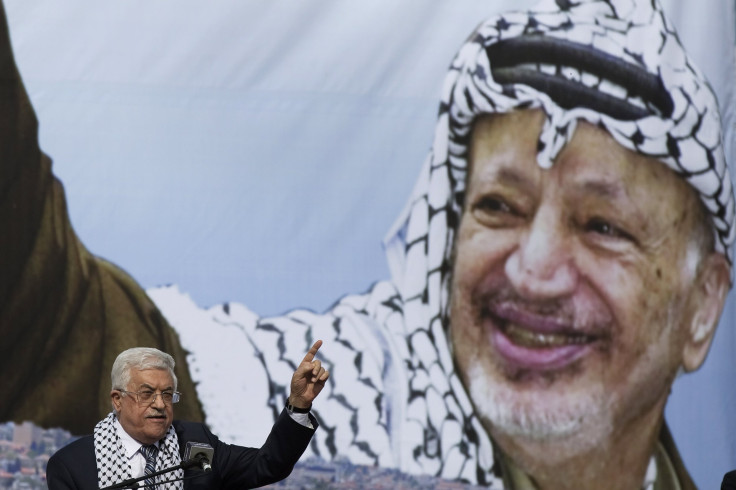 Palestinian President Mahmoud Abbas on Tuesday accused Israel of attempting to ignite a "religious war" between Jews and Muslims by allowing Jewish worshippers to enter and pray at the disputed Temple Mount compound, according to media reports. Temple Mount, which is referred to as Haram al-Sharif, or the Noble Sanctuary, by Muslims, is a venerated site in both Islam and Judaism.
"We ask you (Israel) to keep settlers and extremists far away from Al-Aqsa mosque and our holy places," Abbas reportedly said, in a speech at a ceremony in the West Bank city of Ramallah commemorating the death of Palestinian leader Yasser Arafat. "Keep them away from us and we'll stay away from them."
"By dividing the mosques, they are leading us to a religious war, and no one -- Muslim or Christian -- will accept that Jerusalem be theirs," Abbas reportedly said. "Jerusalem is our capital, and there will be no concessions."
Currently, Jews are allowed to visit the holy site in East Jerusalem but are barred from praying there. However, recent visits to the compound by several far-right Israeli politicians and activists have sparked fears among Palestinians that Israel is attempting to change the status quo and permit Jews to pray at the site.
Reacting to Abbas' statements, Israeli Prime Minister Benjamin Netanyahu reportedly said that the Palestinian president was only making matters worse in the region, which has witnessed several violent clashes over the last four months.
"Unfortunately, Abu Mazen (Abbas) is not a partner to the fight on terror. He has proven how irresponsible he is. Instead of calming the unrest, he is enflaming it and spreading lies," Netanyahu said, according to a report by Haaretz.
In his speech, Abbas also accused Hamas -- the rival Palestinian political group that controls the Gaza Strip -- of working against reconciliation and blocking reconstruction efforts in the war torn enclave.
"For whose interest are they blocking the reconstruction?"Abbas reportedly said. "The only losers are our people while you sit in your houses and hide out."
Abbas' remarks came on the day a Palestinian protester was reportedly shot dead by Israeli forces in the town of Hebron in southern West Bank -- the latest incident in a series of violent clashes between Jewish settlers, Palestinian protesters and Israeli security forces -- in the Occupied West Bank.
© Copyright IBTimes 2023. All rights reserved.