Across The Straits: Malaysia And Singapore Plan High-Speed Rail Linkage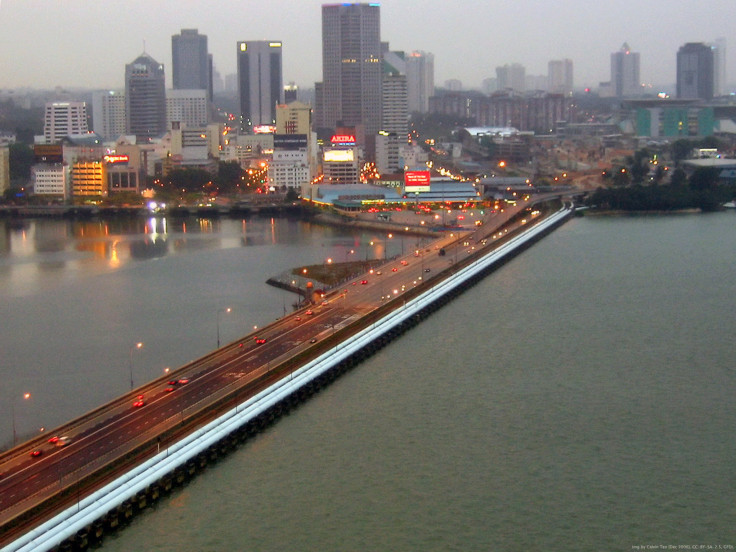 The governments of Malaysia and Singapore have agreed to construct a high-speed railway line that will link Johor Baru in southern Malaysia to the city-state republic by the year 2020.
Malaysia's Star Online newspaper reported that the project will be undertaken by private companies and eventually serve 400,000 commuters daily.
BBC reported that, once completed, the rail link will reduce the time taken to travel between Singapore and the Malaysian capital, Kuala Lumpur, to 90 minutes from the current six hours. On the road, the trip takes about four hours.
Malaysia's Foreign Minister Datuk Seri Anifah Aman told local media that both states will take a year to draw up a draft of plans for the new rail line.
"Once this is decided, we can move to phase two," Anifah said at a briefing while accompanying Malaysian Prime Minister Datuk Seri Najib Tun Razak on a two-day visit to Singapore.
Both Singapore's Prime Minister Lee Hsien Loong and Razak said the project will also lead to increased trade between the two countries.
"This is a strategic development in bilateral relations that will dramatically improve the connectivity between Malaysia and Singapore," they said in a joint statement.
"It will usher in a new era of strong growth, prosperity and opportunities for both countries. It will facilitate seamless travel between Kuala Lumpur and Singapore, enhance business linkages, and bring the peoples of Malaysia and Singapore closer together. Ultimately, this project will give both countries greater stakes in each other's prosperity and success."
Up until now, the two countries were connected by the Tuas Second Link – a bridge that links Singapore and Johor, Malaysia -- and the Johor-Singapore Causeway, a highway that opened in 1998.
Chua Hak Bin, Southeast Asian economist at Bank of America Merrill Lynch, told Reuters that the new railway project represents a "major breakthrough."
"It's technologically possible. We've seen how fast China builds these things," he said. "It makes a lot of sense. There is a huge amount of business, trade and investment between the countries. There are also a large number of Malaysians working in Singapore."
Singapore, which broke off from Malaysia and declared its independence in 1965, has long endured a tense relationship with its much larger neighbor.
Nonetheless, Malaysia is now Singapore's largest trading partner -- as of 2011, bilateral trade totalled S$112 billion (US$90.5-billion), up from S$106.7 billion in 2010, according to Singaporean government statistics.
The two nations have also developed strong military ties -- under the so-called Five Power Defense Arrangement, which also includes Australia, New Zealand and the United Kingdom, member states engage in joint military exercises.
© Copyright IBTimes 2023. All rights reserved.
FOLLOW MORE IBT NEWS ON THE BELOW CHANNELS