Is Adele Playing The Super Bowl Halftime Show? Singer Addresses Rumors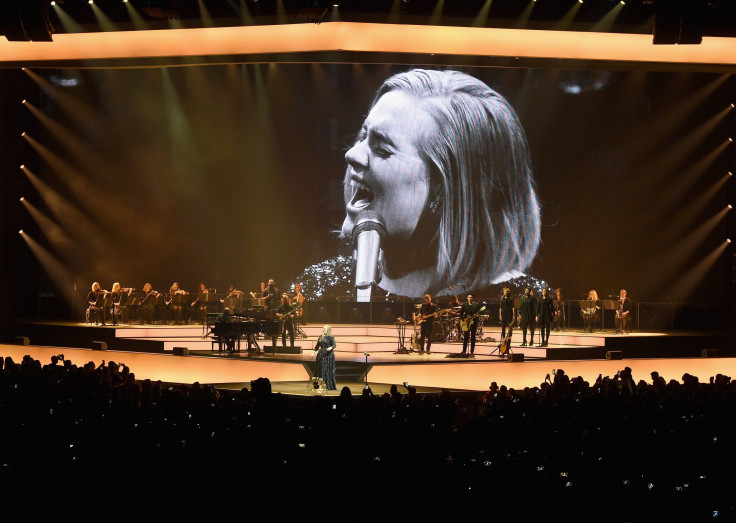 Adele doesn't seem think that she is what football fans want to see at halftime. The singer revealed that she was offered a slot at the 2017 Super Bowl halftime show, but she declined the offer.
"First of all, I'm not doing the Super Bowl," Adele said to the crowd at the Staples Center in Los Angeles Saturday night. The audience seemed disappointed that she turned down the gig.
"I mean, come on, that show is not about music," she reasoned. "And I don't really — I don't dance or anything like that. They were very kind. They did ask me, but I said no."
She quipped that she would perform at the sporting event after her dance album comes out. "Maybe next time … cause I'm going to do a dance album next time," she said.
The "Hello" singer also dismissed pregnancy rumors while she was onstage. She'd heard that she was going to announce that she was having a baby at the Super Bowl, and she dismissed gossip. Watch her address the tabloid reports below (Warnining: Adele uses some explicit language in the video):
The NFL is apparently still seeking a big halftime show act for Super Bowl LI, which will be held in Atlanta on Feb. 5, 2017. The Sun first reported that the organization really wanted Adele to be their headliner. "There is nobody bigger in the world than Adele right now and organizers are doing absolutely everything they can to try to persuade her to sign up," a source told The Sun. "She's sold out every date on her tour, everyone wants a piece of her and they know they can bank on her bringing in the viewers."
However, the anonymous source hinted that Adele wasn't thrilled with the idea. "It's Adele's nerves that are the issue — it hasn't been an easy sell," the source added.
It could be several months before the Super Bow LI halftime show performer is announced. Last year, Coldplay wasn't revealed as the entertainer until December.
© Copyright IBTimes 2023. All rights reserved.