'Agent Carter' Season 1 Spoilers: Action-Filled Premiere Plot Details Revealed; Hayley Atwell Tweets About Stunts Gone Wrong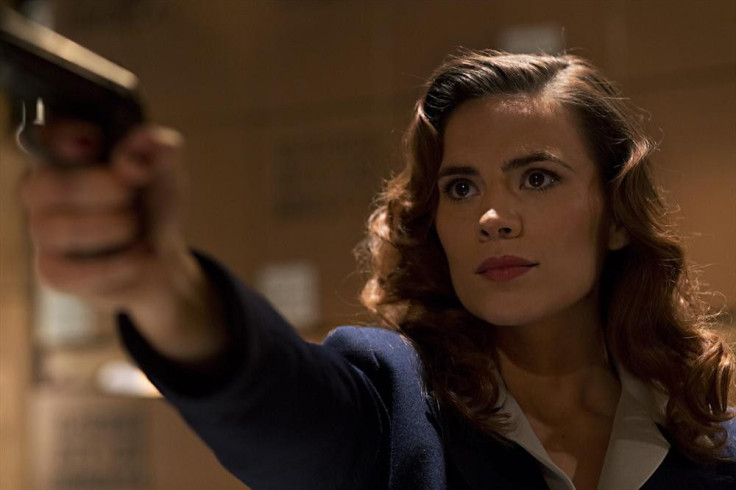 "Marvel's Agent Carter" is finally filming, and that means one thing: spoilers. The plot of the pilot episode has just been revealed, TV Guide reports, and it will feature some familiar faces for Marvel fans.
Howard Stark (Dominic Cooper) will send Agent Peggy Carter (Hayley Atwell) on a mission. These kind of jobs are exactly what Agent Carter is looking for in her life. Stark will send her "to find his inventions, which have been appropriated locally, and stop them from getting in the wrong hands," according to TV Guide.
There are no clues as to what his inventions can do, but Stark inventions are known to be dangerous. After all, the first "Iron Man" film began with Stark Industries making military weapons.
Stark might not believe in Agent Carter as much as he should. He'll send his butler Edwin Jarvis (James D'Arcy) to babysit Peggy. He'll function as some extra muscle since she's just a girl. As is tradition with most female heroes in the Marvel Cinematic Universe, she'll quickly prove that she doesn't need a man to help her. "Once you see her pummel an unknown assailant, it becomes pretty clear that she doesn't need a bodyguard," TV Guide reports.
It seems Agent Carter will be kicking plenty of butt on "Marvel's Agent Carter," and so is her portrayer Hayley Atwell -- but Atwell seems to be forgetting that she is acting. The actress has tweeted about injuring herself and injuring multiple actors on set while doing her own stunts.
"Marvel's Agent Carter" will premiere midseason on Tuesdays at 9 p.m. EDT on ABC after "Marvel's Agents Of S.H.I.E.L.D." goes on winter hiatus. Will you be tuning in? Sound off in the comments section below!
© Copyright IBTimes 2023. All rights reserved.