AIG Boosting Washington Lobbying Effort As Hiatus Prompted By Crisis Ends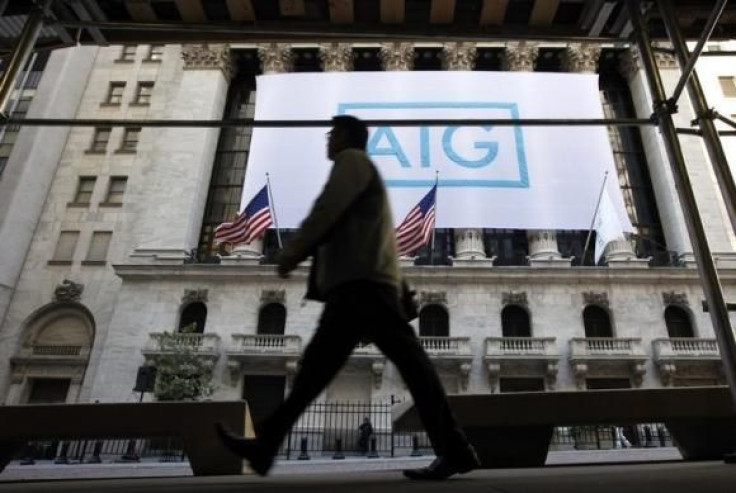 (Reuters) - Insurer American International Group (AIG.N) is ramping up its lobbying team in Washington, almost six years after it halted such efforts following its rescue by the U.S. government during the financial crisis.
Many large companies deploy a handful of staff to provide access to Capitol Hill and the White House, but AIG has employed no officially registered lobbyists since 2009. Some of its government relations positions in Washington, which companies typically use to influence policymaking by regulators and other government officials, have been left vacant.
Yet in May of this year, Lauren Scott started working as AIG's director for international regulatory and government affairs in Washington, according to her LinkedIn profile. She was previously a director of international and insurance regulation at the American Council of Life Insurers, a trade group.
That follows the arrival in February of Mary Frances Monroe - a former Federal Reserve supervisor who worked for a Washington consultancy firm - as AIG's head of international regulatory in February, also according to LinkedIn.
Scott and Monroe did not respond to requests for comment. AIG declined to comment.
The lobbying build-up comes at a critical time for the insurer, which has been subject to new supervision by the Federal Reserve after it was designated as a "systemically important" firm by a top U.S. regulatory panel.
It is not clear whether the two will officially register as lobbyists, something that anyone spending more than 20 percent of their working hours on influencing senior U.S. policymakers needs to do. It is also unclear how much of their work is domestic, and how much focused on international lobbying.
Monroe worked as a registered lobbyist in a previous position, but Scott did not, according to official records.
The company said in October 2008 it would stop lobbying. It had faced public criticism when it continued to spend heavily to influence lawmakers despite receiving a $182 billion bailout that gave the government a majority stake, and because it continued to pay staff big bonuses.
The company, which says it has customers in more than 130 countries and jurisdictions, almost collapsed when a little-known London unit, AIG Financial Products, racked up colossal losses through complex derivative transactions it had engaged in.
But it is now slowly returning to normal, and has repaid the bailout funds to the government.
AIG's shares still linger at a fraction of where they were before the crisis, but it has resolved litigation and streamlined the business, and the company's second-quarter profit beat expectations earlier this month.
The Financial Stability Oversight Council, which brings together all the key U.S. financial regulators and is chaired by Treasury Secretary Jack Lew, has designated AIG and one other insurer, Prudential (PRU.N), as systemically important, and is considering doing the same with MetLife Inc (MET.N).
While AIG did not fight its designation, the insurance industry is trying to convince Congress to ease a provision in the 2010 Dodd-Frank financial reform law that applies strict bank capital standards to "systemically important" insurers. They argue the bank-specific approach is a bad fit for insurers' distinct business model.
RAMPING UP
AIG spent $11 million on lobbying Congress in both 2007 and 2008 - putting it among top spenders of that period, along with other major companies such as General Electric (GE.N) and Exxon Mobil (XOM.N) - but it quickly pulled back after that, and it did not spend at all in either 2010 or 2011, official records show.
In 2012, it started spending again -- paying $120,000 for the services of law firm Patton Boggs when AIG was selling a majority stake in one of its units.
In 2013, it spent $140,000, and so far this year $80,000 with the same firm, now called Squire Patton Boggs, or with Ernst & Young, according to the Senate lobbying database.
Its Political Action Committee, or PAC - a fund to donate to election campaigns - donated $337,358 in 2008, with politicians on both sides of the aisle benefiting, but the organization has been dormant after 2010.
However, AIG in a recent job advertisement was looking to hire someone to perform "day-to-day AIG PAC activities", to coordinate with fundraising committees for candidates, and to "assist with planning AIG PAC events" - a sign that it may be planning to make political donations again.
(Reporting by Douwe Miedema, additional reporting by Sarah Lynch; Editing by Karey Van Hall and Martin Howell)
© Copyright Thomson Reuters 2023. All rights reserved.