Airbnb Would Like To Check Your ID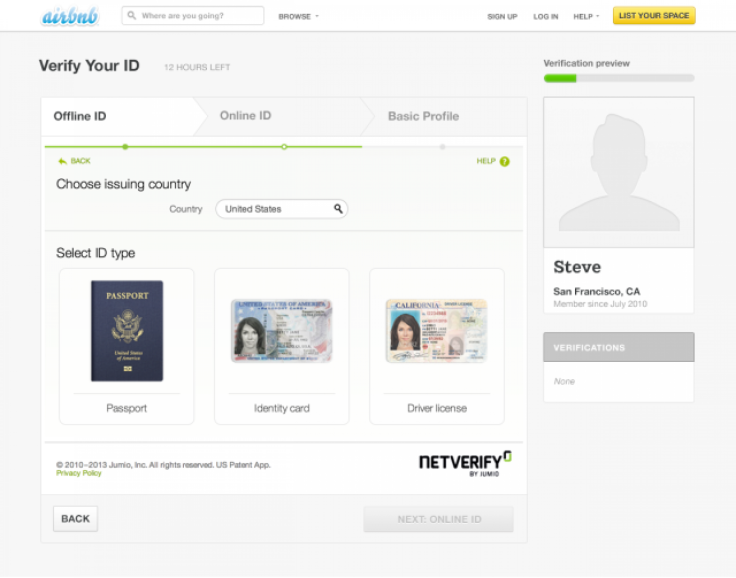 The Airbnb business model is built around the idea of trustworthiness in the Internet age. Sellers trust absolute strangers to respect their homes, and in turn, travelers trust that they'll be provided with a safe and clean environment.
The peer-to-peer accommodation site was considered extreme and even dangerous when it first launched back in 2008, but Airbnb proved everyone wrong. It's now valued at $2.5 billion and counts 250,000 hosts and 4 million guests.
But with its growing success, it stands to lose even more if something were to go terribly wrong in the trust department. That's why the collaborative consumption pioneer decided to combine users' online and offline identities with a new verification process that includes checking official photo IDs.
The San Francisco-based company already has several policies in place to lay the foundation for trust, including a secure payment structure, 24-hour customer service, sophisticated messaging tools and a $1 million host guarantee if anything goes wrong. But online marketing manager Vivek Wagle said the new service would take trust to the next level.
"There is no place for anonymity in a trusted community," he explained. "'Verified ID' provides a connection between the online and offline spaces."
Under the new service -- which some analysts say risks the ire of privacy defenders and a loss of users -- guests and hosts will have to prove that they are, in fact, human beings in both the digital world and the real one. The online portion entails either three positive reviews from previous Airbnb stays or a history of participation and an active network on LinkedIn or Facebook. The offline portion involves scanning one's photo ID with the Airbnb mobile app or providing personal details, as you would with a credit check.
Airbnb will then verify that the online and offline identities match.
Wagle said Airbnb will require a random 25 percent of its U.S. users to go through the verification process this week before they continue use on the site. The company plans to have all users around the world verified within a year, with incentives like hosts who only rent to verified guests.
"Any Airbnb host can now require their prospective guests to obtain Verified IDs before booking," Wagle explained. "Trust runs in both directions, so any host who requests this condition must also get verified."
Wagle added that, in the end, every member of the community has to make his or her own decisions about who they wish to interact and connect with.
Airbnb is credited for the dramatic growth of so-called sharing economy companies, which hinge on two assumptions: People's purchasing habits have switched, and they innately act with the best of intentions.
Time magazine named this type of collaborative consumption one of the 10 Ideas That Will Change The World, saying, "In an era when families are scattered and we may not know the people down the street, sharing things -- even with strangers we've just met online -- allows us to make meaningful connections."
Rachel Botsman, co-author of "What's Mine Is Yours: The Rise of Collaborative Consumption," says all of this peer-to-peer sharing "involves the re-emergence of community." Some research, she claims, has even suggested that we get a spike of the pleasant neurotransmitter oxytocin when we're entrusted with others' goods and services.
There's GetAround (loan your car to a stranger), GrubWithUs (eat with strangers) and even TaskRabbit (get strangers to do your chores). But as the pioneer of the pack, Airbnb is the first to put the bouncer outside the door, so to speak. Whether or not the others will follow suit remains to be seen.
© Copyright IBTimes 2023. All rights reserved.