Airlines To Passengers: Book Directly With Us Or We Will Punish You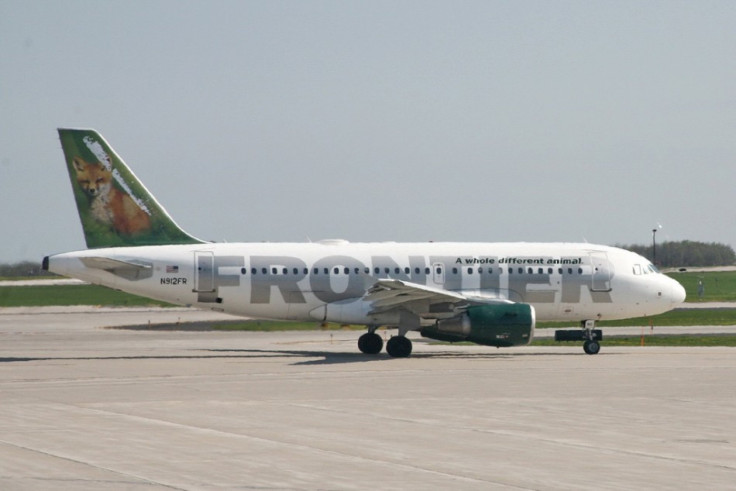 Frontier Airlines changed its website to FlyFrontier.com on Wednesday, a simple enough move if it weren't for the message the company issued in the process, which went something like this: Forget the traditional online travel booking sites -- book with us or we will punish you.
"We've really focused on further improving our website, adding features that will enhance the overall customer travel experience -- including some features that are now only available to customers who book their travel at FlyFrontier.com," explained David Siegel, Frontier's President and CEO. "Booking at FlyFrontier.com is the best choice as it's the only place you can book Frontier travel where you'll get an advanced seat assignment, earn more EarlyReturns miles, and enjoy more choice in your overall travel experience."
FlyFrontier.com will also be the only place customers can book Frontier's Classic and Classic Plus fares, which include two complimentary checked bags and free access to premium seating options. Moreover, those who book directly on the website can take advantage of curbside baggage drop at select airports.
By contrast, the airline will penalize anyone who purchases a flight through an outside booking channel. How? They'll get their seat assigned at check-in, earn just 50 percent of their EarlyReturns miles and pay higher fees.
The problem, it seems, is that airlines' profits have shrunk while other parts of the travel business -- from the caterers and maintenance firms to the airports themselves -- have done quite nicely. Take the "global distribution systems" (GDSs), for example; these computerized reservation services enjoy some of the best margins in the business. Originally created by several of the largest airlines to distribute their flights through travel agencies, they have now become independent firms -- independent firms that have come back to haunt the very people who created them.
"About 50 percent of airfare and hotels are booked on third-party sites," said George Hobica, founder and CEO of AirfareWatchdog.com. "Airlines are trying and have been trying for many years to move the needle in their direction, but the reason people book directly with Expedia and so forth is the vast majority of consumers only care about price."
And if you care about price, you go to the comparison sites, who then charge the airlines a fee of around $20 to $25 roundtrip, according to Frontier spokesperson Lindsey Carpenter.
Take Travel Forward, an airline lobby group, claims the world's air carriers pay some $7 billion in GDS fees annually, a figure that many analysts say is double their expected net profits this year.
In light of these figures, it begins to makes sense why Frontier would choose this new modus operandi.
"For a lot of people, there is a lack of understanding that the airline loses some control of your booking when you use third-party sites," Carpenter explained. When you have a passenger's contact information, she added, the level of service the airline can provide goes up.
Frontier is certainly not alone in eschewing online booking sites. Southwest Airlines pioneered the trend along with smaller low-cost carrier Allegiant Air. Both airlines have decided not to advertise their fares on third-party websites and, based on their profits, they seem to be doing just fine without the extra visibility.
So why don't more airlines move away from the online booking engines?
"If every airline only sold flights on their website, it would open up Pandora's Box and consumers would not like it," said Hobica.
Airlines are often contractually barred from offering lower fares on their own websites. Many, Hobica said, fight the system by holding back inventory and not displaying the best connections on the third-party websites, or by emailing promotional codes.
"It's definitely not the same product that you see on the airline sites as the third-party sites," he said. But Hobica cautioned that if every airline suddenly dropped the middleman, the process of shopping for fares would become a nightmare for the consumer.
What's more likely to happen, he said, is an airline incentivizing passengers by adding or taking away perks, as Frontier has done.
The online travel agents, meanwhile, counter that they offer the ability to compare multiple airlines, mix carriers on a single itinerary and help consumers shop for the right trip to meet their needs and price point -- something you can't do on an airline's website unless it has a codeshare agreement with another carrier. Moreover, sites like Travelocity, Expedia, Priceline and Orbitz argue that the flight is just one part of the trip. They, unlike the airlines, can offer total vacation packages that include hotel rooms and car rentals.
Which way the industry swings depends largely on how the public reacts to such changes. If Frontier is as successful as Southwest has been, expect to see more carriers penalizing those who book elsewhere.
© Copyright IBTimes 2023. All rights reserved.
FOLLOW MORE IBT NEWS ON THE BELOW CHANNELS