Alan Rickman Death Anniversary: 7 Quotes From The Harry Potter Actor Who Died A Year Ago Sunday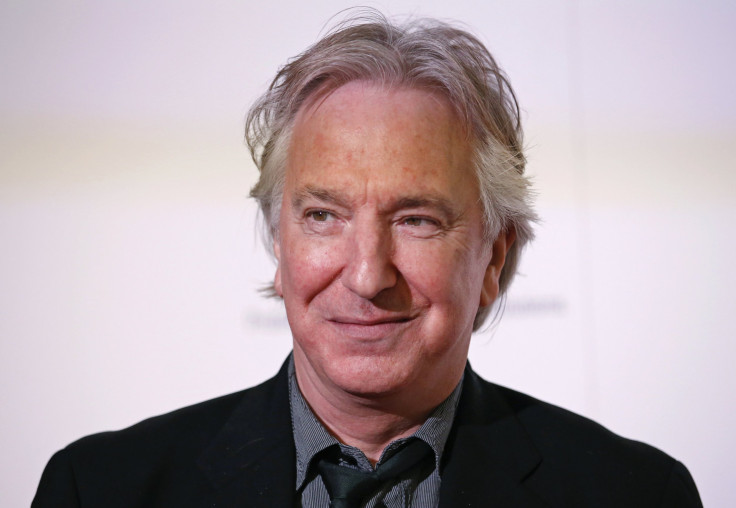 One of the many high-profile losses of 2016, English actor Alan Rickman's Jan. 14 death shocked and saddened fans, especially those of the beloved movie adaptations of the J. K. Rowling's "Harry Potter" series, in which the Golden Globe winner played the potions professor Severus Snape. Read on for some memorable words from the "Die Hard" villain, who died of pancreatic cancer at age 69 in London a year ago Saturday.
On his trademark voice: In an interview with NPR's Michele Norris on "All Things Considered" in 2007 focusing on his performance in the murderous musical "Sweeney Todd," Rickman recalled criticism by vocal teachers at his drama school of his famously deep voice.
"'You sound—Alan, you sound as if your voice is coming under the back end of the drain pipe' was one review from my voice teacher," he said. When Norris countered that he had "one of those voices that you can catch in about two beats," Rickman continued, "Well, it's what I'm stuck with, so it's not like I can go and get another one. And also, I didn't hear what anybody else hears, so it's always a bit of a shock. You know, you—it never goes away. You [were] playing that excerpt [from the musical 'Little Mary Sunshine'] just now and I'm thinking, 'God, how did he get the job?'"
On taking his first major film role in "Die Hard": "I didn't know anything about [Los Angeles]. I didn't know anything about the film business… I'd never made a film before," Rickman recalled at an April 2015 celebration of his work by the British Academy of Film and Television Arts, or BAFTA, in London. He added that, after going over the script for the movie that launched his film career, he thought to himself, "What the hell is this? I'm not doing an action movie."
On being a late bloomer: "It felt like being a kid," Rickman told Empire magazine in April 2015 of his big screen debut on the set of the action movie "Die Hard" as a 42-year-old. "I was in Hollywood, with all that means… At the time, I kind of thought, 'What the fuck am I doing?' That gave me an innocence that was good. And it was exciting just to be in that world. But at the same time, it was a bit of, 'I honestly don't know where this fits into any sort of shape. But, oh well, just better go with it.'"
On the feminism of "A Little Chaos": Speaking to Mashable in June 2015 about the film he directed the previous year, Rickman, who co-starred as Louis XIV alongside Kate Winslet, who played a fictional Versailles palace garden designer, reflected on the importance of a making movies about female professionals.
"Young girls watching the film will find out that [Winslet's character] Sabine never existed, and they will start thinking about women in professions and what doors are open and what are closed," he said.
On wigs: When Buzzfeed asked him which wig he preferred—the tumbling Louis XIV locks he donned for "A Little Chaos" or Professor Snape's crop of chin-length black hair—he recalled the difficulty of dealing with the latter.
"Well, the one I wore in ['A Little Chaos'] took a lot less time to go in, because you just plonk it on your head and it kind of weighs itself down," he said in the June 2015 interview. "The Snape one, of course, has to be very carefully glued in, so there were times you just thought, 'Please, let this be over!'"
On using a gun: In another anecdote of his BAFTA celebration speech, Rickman reminisced about his fear on the set of "Die Hard" during scenes in which his character, the cold-blooded murderer Hans Gruber, used firearms.
"If you look carefully, you'll see me blinking," he told the audience. "It is shocking how thrilling it is to shoot a machine gun—that I discovered."
On the best praise he's ever received: In an interview with the Independent Film Channel, more commonly known as IFC, in 2008, he recalled a moment when he was on his way out of a production during his younger years in the theater.
"The most affecting thing anybody ever said was when I was coming out of a theater stage door, and there was a young girl standing by the garbage bins, probably about 17 years old, and shivering from head to foot," he said. "I had just been on stage, involved in this very strange Japanese play that had been translated into English, which involved me dancing a tango down a flight of steps while peacock feathers were projected onto the back wall of the theater — a very beautiful thing. So I came out, and there's this girl, shaking from head to foot. I went over and said, 'Are you okay?' I thought she was ill or about to have an attack or something. She said, 'Yeah, I'm fine. It's just that I've never been to the theater before and I didn't know it was like that.' I'll never forget that. Any night that you're involved in a piece of theater and think, 'Eh, it's not so good tonight,' you know there's going to be one person out there who has never been before."
© Copyright IBTimes 2023. All rights reserved.