Alberto Del Rio On Why He Left WWE, His Wrestling Future & New MMA Venture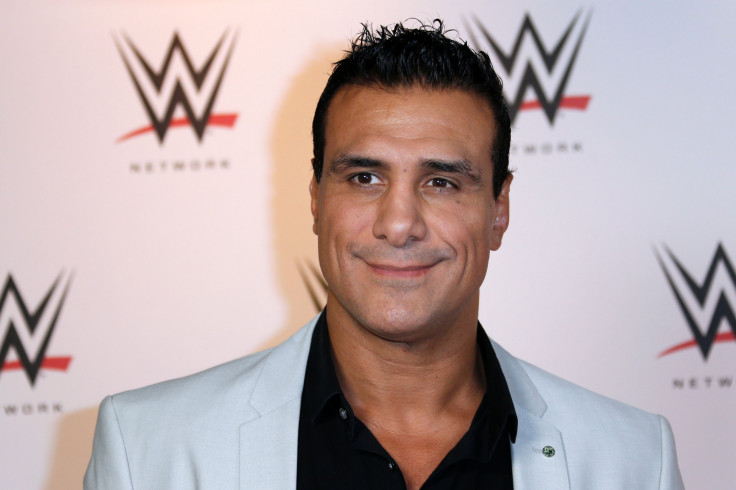 Spending five years with WWE, Juan Alberto Rodriguez, best known as "Alberto Del Rio," has become one of the most well-known wrestlers in the world. While he might no longer be working for the No.1 wrestling promotion, Rodriguez has plenty of big things on the horizon.
Rodriguez will continue to wrestle for various independent promotions, and he's also jumping back into the world of mixed martial arts. A former MMA fighter with a career record of 9-5, Rodriguez is the new president for the MMA promotion Combate Americas.
Known as Alberto "El Patron" on the independent circuit and Alberto "El Presidente" in his new position, Rodriguez is hoping to elevate Combate Americas to the second-biggest MMA promotion in two years.
"This is the first U.S.-Hispanic MMA company in history," Rodriguez told International Business Times. "This is a place where any Latin fighter is gonna have a house to showcase his talent, to show the world what he's capable of. Of course, we're not closing business to fighters from different nationalities. If you have the talent, you're more than welcome to come to Combate Americas and be part of this amazing organization."
With stars like Conor McGregor, Ronda Rousey and others, UFC is the clear No.1 promotion—the WWE of the MMA world. But Rodriguez is optimistic about the future of the Combate Americas, which calls itself the "premier Hispanic MMA franchise."
Friday marks the first Combate Americas event with Rodriguez as its president. John "Sexy Mexy" Castaneda takes on Gustavo Lopez for the right to become the league's first-ever bantamweight champion in Verona, New York.
"What Dana White does for UFC is exactly what I'm gonna be doing for Combate Americas," Rodriguez said. "I'm gonna be finding talent, helping that talent to develop their skills. We are really interested in the entertainment aspect that those fighters need to get or achieve in order to be superstars. We want them not to be just great fighters, but we also want them to be great entertainers."
Rodriguez had his first stint with WWE from 2010-2014 before reappearing on WWE TV at the Hell in a Cell pay-per-view on Oct. 25, 2015. It was in between his two stints with WWE that Rodriguez first worked with Combate Americas, doing color commentary for the promotion. When Combate Americas CEO and founder Campbell McLaren presented him with the offer to become the president, he immediately agreed.
A year ago, it would've been hard to imagine that Rodriguez would =be gone from WWE before the end of 2016. He won the United States Championship from John Cena in his first match back with the company, and it looked like WWE was going to push him as one of their top stars.
But Rodriguez's title reign lasted just a little over two months, and it looked like WWE lost interest in him by early 2016.
"When it comes to that place, nobody knows what's going on," Rodriguez said. "There's so many people making decisions in that company, important decisions. There was one that was supporting me, always supporting me, always doing stuff with me. And there was another that wasn't supporting me at all. And I think it was one of those deals where I was just in the middle. And because I was just in the middle, sometimes the one liking me was giving me stuff, and the one not liking me was not giving me anything. And because I got tired of that situation I thought, 'OK if this person is around they'll do something with me, but when he goes, the other one just destroys me. So I'm not gonna put up with this stuff.'"
Rodriguez didn't specifically name who in WWE supported him and who was holding him back, but it isn't difficult to read between the lines. During his 11-month stint with the company, there were rumors that CEO Vince McMahon wanted to push Rodriguez, but that Triple H, who serves as executive vice president and appears to be gaining more of a voice in the direction of the company, was not Rodriguez's biggest fan.
Feeling he was being misused, Rodriguez decided it was time to leave the company. While most WWE performers aren't able to leave anytime they want, Rodriguez structured his contract in such a way that he had the opportunity to do so.
Even though he's gone from the company, Rodriguez still has ties to WWE. His girlfriend, two-time Divas Champion Paige, is still under contract with WWE, though her standing with the company appears to be tenuous at best. Both Rodriguez and Paige were suspended for a month in August for a violation of WWE's wellness policy. After receiving a second suspension on Oct. 10, Paige was not shy about criticizing WWE, claiming she was being punished for using medicine prescribed to her after undergoing neck surgery.
Rodriguez says he wasn't happy during his last few months in WWE, but he had plenty of success with the company. He won the 2011 Royal Rumble and was a four-time world champion.
"I don't want to sound like I hate the place or something like that. I'm always gonna be grateful with Vince McMahon because he's the one who gave me the opportunity to be part of that amazing organization. That's the major leagues of pro wrestling. He put me on there, he gave me a name, he put me out there so I could show my talent to the world. And because he did that, now I have a big name that I'm allowed to use to go to places and keep making money, keep making business, and I'm always gonna be grateful for that."
Combate Americas is his No.1 priority, but Rodriguez will continue to wrestle. He was tired of WWE's grueling schedule, and he's now in a position where he can set his own dates and still get paid plenty of money to perform inside the squared circle. As one of wrestling's most-sought after free agents, Rodriguez will be making appearances in the biggest promotions around the world.
"It's gonna be just two or three television shows per month, no more than that. I just came back from Europe. I'm gonna be doing all the promotions in Mexico. I'm gonna be doing New Japan. I already talked to TNA. I'm having conversations with a lot of people."
At 39 years old, Rodriguez might be entering the latter stages of his wrestling career. But he remains one of the world's best performers, and even though he's no longer with WWE, he still has a lot more that he can do.
"I'm completely free," Rodriguez said. "If someone goes online and watches one of my videos from the indie promotions, you can see my face. You can see how happy I am, how much I'm enjoying being out there with those indie fans, with those indie wrestlers. I'm just having fun, and that's all I want to do with whatever I have left in my pro wrestling career."
FOR FREE to continue reading
✔️ Unlock the full content of International Business Times UK for free
offer available for a limited time only
✔️ Easily manage your Newsletters subscriptions and save your favourite articles
✔️ No payment method required
Already have an account?
Log in
© Copyright IBTimes 2023. All rights reserved.