Alex Aiono Chats Record Deal Surprise, Jack & Jack Collaboration And Acting
If you questioned YouTube singer Alex Aiono about his career back in 2013, he would've said it doesn't get better, but oh has it. Now, his career is almost too "Hot2Touch."
Aiono started posting song covers on YouTube back in 2012 and hasn't stopped since. Even though so much has changed for him over the years. Besides gaining 5 million subscribers and getting single videos of his viewed upwards of 58 millions times, he's also acted in AwesomenesTV's web series "Royal Crush" and has gotten signed by a major record label this past February. Talk about a perfect Valentine's Day and birthday gift! (He was born on Feb. 16.)
Now, the smooth singer and talented collaborator, who's know for his incredibly creative musical mash-up videos, has released his latest single, "Question," a new track with Felix Jaehn and is working on dropping another new song very soon.
To get the scoop on this new music, it only made sense that International Business Times got the chance to talk it out with him at one of his early concert locations: Arthur Ashe Kids' Day.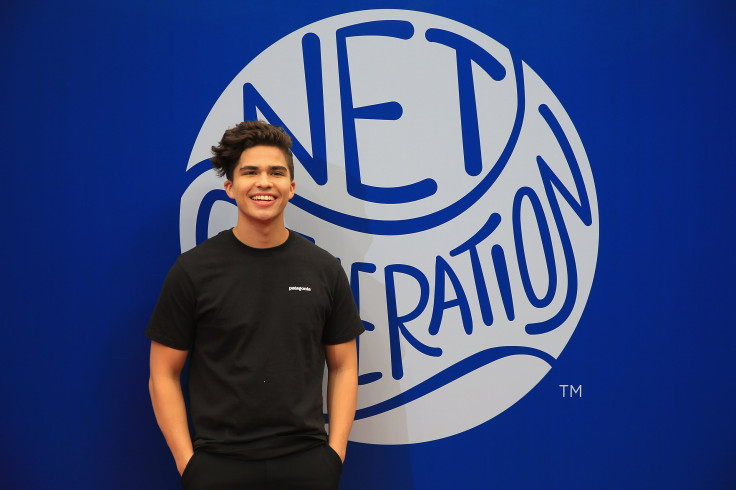 Five years ago, Aiono performed at AAKD on a small stage on the grounds, but this year, he not only performed on the large stage inside of Arthur Ashe Stadium, but he also co-hosted the event with Sofia Carson. Just goes to show how much has changed for him and how much will continue to change.
What's going on in his life and what other changes are on the horizon? IBT asked him just that.
International Business Times: What's your favorite social media platform?
Alex Aiono: Aw man, it's hard to choose. Each day is different. Sometimes it's Instagram, sometimes it's Twitter, Snapchat, YouTube, or Facebook, even, sometimes. Everything, it just depends.
IBT: What surprised you the most about getting a record deal and the process that came after it?
Aiono: You know what, the biggest surprise to me was just how I got it. I would've never imagined that making YouTube videos would've been a platform in which I could release original music and so I'm so excited that now that I have that platform, to just continue pushing, and to continue to release original music and release YouTube videos at the same time.
IBT: Is there a full album on its way?
Aiono: We're definitely working on a lot of new music. Whether it's an album, whether it's an EP, we still haven't 100% figured it out yet, but I now am starting out with this brand new single. I'm so excited.
IBT: Is there an artist who you'd love to collaborate with?
Aiono: I could start and I could not stop talking. I'd love to collaborate with everybody from Pharrell to Timbaland to Justin Timberlake, Jay-Z, all the way over to The 1975. There's so many great musicians, so many great artists, so much great music that's out today that I would love to be a part of.
IBT: Is there a social star who you haven't worked with yet, but who you would love to?
Aiono: You know, I was just talking to Jack & Jack and, I've seen them a ton of times, and they're great artists, and they have been working so hard on their music, it would be great to collaborate on a track with them, as well.
IBT: Now that you've done AwesomenessTV's "Royal Crush," would you want to do more acting?
Aiono: You know, acting is something I've always loved to do, it's so much fun, and music is for sure 100% my main passion, and what I feel like is my main goal in life, but I would love 100% like to be back in the acting world and doing that.
IBT: Is there a video of yours that's your favorite?
Aiono: Man, it's hard to choose. I love every video that I put out. I just put out a brand new video [on Aug. 25]. I love every single one that I put out. It's hard not to say "One Dance" because it was my biggest video, my most well-performing video, but you have everything from the collabs that I've done with William Singe to the collabs I've done with other artists, as well, to even the smaller videos that didn't get as many views, but I'm so passionate about. So, it's hard not to say that I'm proud of every single one of them.
© Copyright IBTimes 2023. All rights reserved.