How To Get Noticed By Sofia Carson, Alex Aiono, New Hope Club
Social media can seem like an endless black hole when trying to get the attention of your favorite celebrities. Luckily, there's now a map to help navigate it a little bit better.
International Business Times spoke with Sofia Carson, Alex Aiono and the boys of New Hope Club at the Arthur Ashe Kids' Day event at the U.S. Open grounds in New York on Aug. 26, to find out just how to go about getting their attention online. Apparently, it's not too complicated and we've all been overthinking it.
"We obviously just like replying to fans that ask us how we're doing and stuff, but we also love seeing drawings," New Hope Club's Blake Richardson told IBT. "We love seeing artwork, that's always a good one."
If you've got a steady hand and a little free time, a sweet drawing is a good way to go. If art isn't really your forte, don't worry, there's still hope.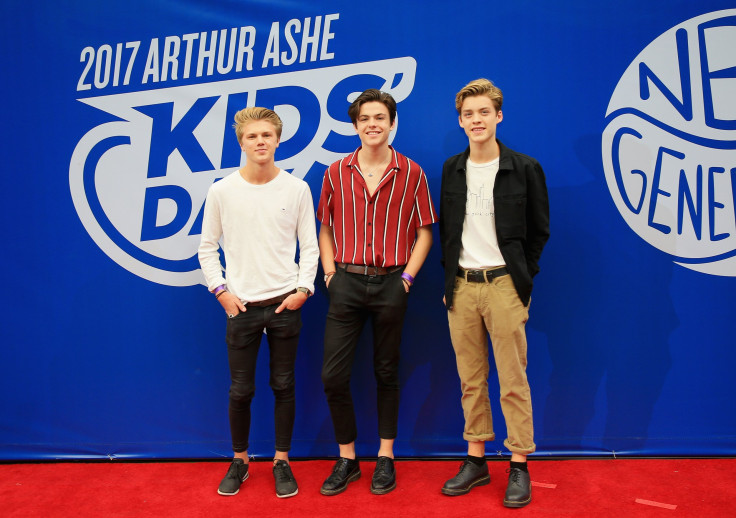 "I like seeing funny pictures of really weird faces," George Smith revealed.
See, all you need is a little Google searching and a good sense of humor to catch Smith's eye. Reece Bibby on the other hand likes when fans create social media handles that mimic theirs.
"Our names on Twitter are @NewHopeReese @NewHopeBlake, so we like to see @NewHopeRihanna," Bibby said as an example.
Hear that fans, it's time for a new NHC-centric Twitter account. It's for a very good cause, after all.
Now that New Hope Club's attention is finally all yours, it's time to have Carson join the party. Though, apparently she should be the host of the party since she's so incredibly active with her fans online.
"I'm very active, and I'm also very involved with them," she told IBT. "Like, we're constantly in conversations, so Instagram or Twitter, I guess, would be the two main ones that I love communicating with them."
Once fans are on Instagram and Twitter and are reaching out to Carson, there's already a huge chance she'll notice and interact with them, but there is definitely one way to increase their chances.
"Honestly, think I see almost all of them. I try to respond to as much as I can," the "Descendants 2" star said. "Always, like those hand drawings, are always so incredible, and so moving that someone would dedicate so much time to that. But, anything. Anything that they pour their love into is just so special."
Okay, it looks like it's time to sign up for some art classes. If that's what it takes to get the attention of these stars on social media then it's a necessary hobby to take up. You can spend time on those drawings too, becuase it it doesn't take too much time to get Aiono's eyes on your tweets.
"It's really just a matter of time," Aiono told IBT. "I go on Twitter and I just look at as many as I can. It doesn't matter what you post. Even if you say 'Hi' or if you say 'I love you so much' or you say 'I ate pizza today.' Like, it doesn't matter. It's all the same to me."
If you're lucky enough to be randomly selected by Aiono to receive his attention, it might just be for longer than you think. A reply from him is totally possible, but so is a little lurking.
"I'm not gonna lie, sometimes I stalk profiles," the "Question" singer revealed. "I've got to. There's so many great fans out there, you have to."
If a little extra love from the talented New Hope Club boys, the sweet Aiono, or the lively Carson is at the top of your wish list, then now's the chance to put these straight-from-the-source tips to use and get that sacred celebrity like or reply on social media.
It's your time to shine, fans.
© Copyright IBTimes 2023. All rights reserved.