Alien Space Cathedral: Scientology Church Allegedly Revealed In New Mexico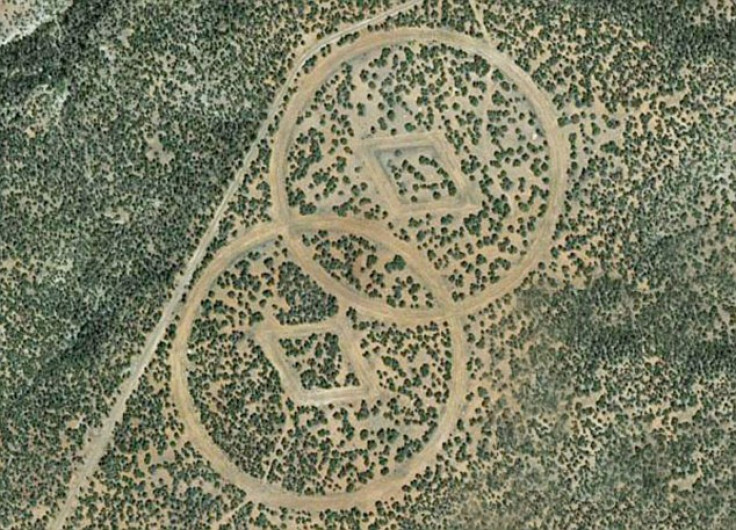 A BBC reporter with close ties to the Church of Scientology, which claims members like Tom Cruise, John Travolta and Kirstie Alley, alleges that the church has constructed an "alien space cathedral" in the desert of New Mexico.
According to John Sweeney, who previously investigated the church for the 2007 BBC television documentary "Scientology and Me," the site in New Mexico is called Trementina Base and features large-scale geometric shapes that resemble crop circles. The huge inscriptions – two overlapping circles with diamonds at their center – measure 22 miles across and were allegedly put there as a coded message to aliens.
But as Sweeney writes in his new book "Church of Fear: Inside the Weird World of Scientology," the circles are only a signpost for what's hidden underground. In an excerpt published by the Sun, he alleges that the site was built in the 1980s, at a cost of "millions of dollars," to protect sacred church teachings from perishing in the event of a nuclear holocaust.
"Its vault houses the lectures of church founder L. Ron Hubbard on gold discs locked in titanium caskets sealed with argon. The cathedral is H-bomb proof, protected by three 5,000lb stainless steel airlocks," writes Sweeney. "Experts say the weird signs on top of the mountain will guide Clears, (high-ranking Scientologists) returning from space to find Mr. Hubbard's works after a nuclear Armageddon wipes out humanity."
Sweeney claims that one of his primary motivations for the trip was witnessing evidence of the church's belief in aliens.
"When I spoke to Kirsty Alley and Juliette Lewis in 2007 and asked them 'Who is Xenu?' they'd say 'John, you're crazy,'" he wrote, in the excerpt. "But if I'm wrong about the church believing in aliens, then why have they built these giant symbols in the middle of the desert that can only be seen from outer space?
As former Village Voice editor-in-chief Tony Ortega, who has covered Scientology, explains, one of the church's most crucial teachings is that an evil galactic overlord named Xenu brought billions of aliens to Earth 75 million years ago and slaughtered them. But although the Xenu story is central to the core tenets espoused by the church, Scientologists have been extremely tight-lipped about discussing the subject.
In writing about his visit to the New Mexico site, Sweeney said he hopes to expose some of the church's secrecy. "This place is physical proof that they do believe in aliens. I'd like to see Tom Cruise and John Travolta explain why they hide this from people," he said.
© Copyright IBTimes 2023. All rights reserved.
FOLLOW MORE IBT NEWS ON THE BELOW CHANNELS