All Of Meghan Markle's Rumored Feuds With Kate Middleton Revisited
Meghan Markle and Kate Middleton both married into the royal family despite not being from royal bloodlines. The two might not have much in common beyond that, though. The Duchesses are rumored to be fighting. Here's a look back at their supposed feuds:
The Bridesmaid Fitting: New reports have surfaced that Meghan may have made Kate cry at a bridesmaid dress fitting. "Kate had only just given birth to Prince Louis and was feeling quite emotional," a source told The Telegraph.
The outlet doesn't specifically state that Prince Harry's wife caused the tears, but that hasn't stopped people from speculating that the dramatic fitting was the beginning of the feud.
The Personality Conflict: The outlet implied that the tension between Kate and Meghan isn't necessarily tied to one event but conflicting personalities. "They are very different women despite their similar circumstances. Meghan is an extrovert whereas Kate is quite shy," one source said.
As previously reported, the former actress is apparently even considered "difficult and demanding" by members of both the staff and royal family. Could Kate be among those family members?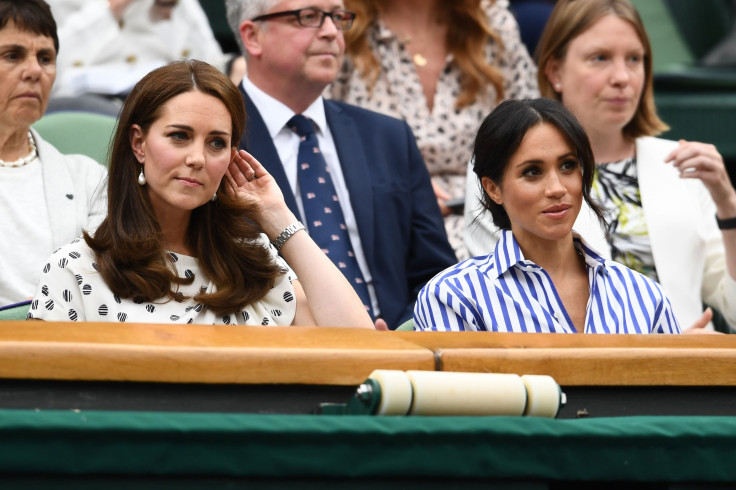 The Parental Criticism: Heat claims Meghan might even judge Kate's parenting. Kate and Prince William follow tradition and have Prince George wearing shorts until he is 7 or 8. Apparently, parents of upper-class boys in England typically avoid trousers or jeans because they're seen as lower class. Americans, however, do not have such rules, and Meghan supposedly plans to dress any son she might have in trousers.
"She's determined her child won't be paraded around in little shorts like Prince George," a source told Heat (via The Sun).
The Brothers' Rift: As rumors of a feud heat up, some are wondering if the women are causing tension between the brothers. "The initial plan was for Harry and Meghan to move out of their cottage in the grounds of Kensington Palace and into one of the main apartments," an insider told The Sun. "But there has been a bit of tension between the brothers."
Meghan and Harry are now moving out of Nottingham Cottage and into Frogmore Cottage rather than being Will and Kate's neighbors.
Though body language experts believe the rift between Meghan and Kate is clear, remember that none of the Royals have ever confirmed a feud between the Duchess of Cambridge and the Duchess of Sussex.
© Copyright IBTimes 2022. All rights reserved.
FOLLOW MORE IBT NEWS ON THE BELOW CHANNELS