Amal Clooney Turns Down Contract For Luxury Brand, Faces 'Dangerous' Situation In Maldives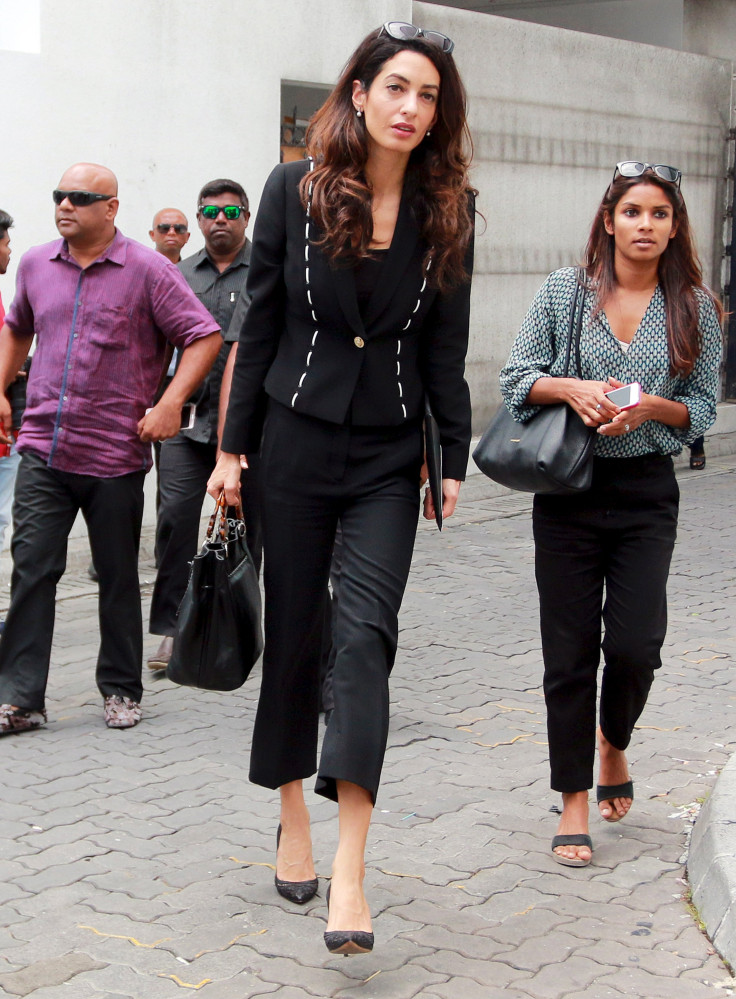 International human rights lawyer Amal Clooney had been offered a multi-million dollar contract for a luxury fashion brand, but she turned it down. A representative of the Clooneys confirmed.
"She was very flattered but it's just not what she's interested in doing," the rep said. "She's been offered huge amounts of money to not do this job and to just be famous and pretty and stylish."
However, a source close to the British-Lebanese barrister said that Amal was in a "really dangerous situation," but it was a part of her work and she was taking risks and doing it without money. The insider added that a case for her was not either about fame or money.
The source added that the brunette beauty earlier tried her hand in corporate law in New York, but got bored. She then took up human rights which drives her.
Clooney attended the high court hearing on Nasheed's terrorism conviction in Male and held a meeting with the country's attorney general, Mohamed Anil on Wednesday. Her Washington-based co-counsel took a boat to Maafushi Island and met Nasheed in prison.
The lawyer looked flawless in her work outfit on Wednesday. She opted for a black-and-white skirt-suit combo which she paired with a white blouse. She wore small pearl drop earrings, carried a black handbag and wore a slick on deep brown on her lips.
Earlier on Tuesday, she visited the high-security Maafushi prison to meet the former Maldives president. The lawyer had a two-hour meeting with Nasheed after traveling to the Maaafushi prison.
Clooney is part of the high-profile legal team representing Nasheed. Her visit to the honeymoon island comes days after his local lawyer Mahfooz Saeed was stabbed by an unknown attacker in Male on Friday. Clooney's visit to the country is to press for the release of the former leader, who was sentenced to 13-year imprisonment in March.
Nasheed was elected president in 2008 and was sentenced in March under a tough anti-terror law. His trial was criticized by the United Nations, U.S. and human rights groups which termed it as "deeply flawed".
Meanwhile, Amal's actor husband George Clooney, 54, made an appearance on Stephen Colbert's Late Show Tuesday. He told in a lighter vein how he is an 'arm candy' in the relationship as his wife is a serious person. George also laughed off past criticism over their relationship and said: "They said it wouldn't last."
© Copyright IBTimes 2023. All rights reserved.