Amazon Takes On Google With Its New Streaming Media Player 'Fire TV Stick'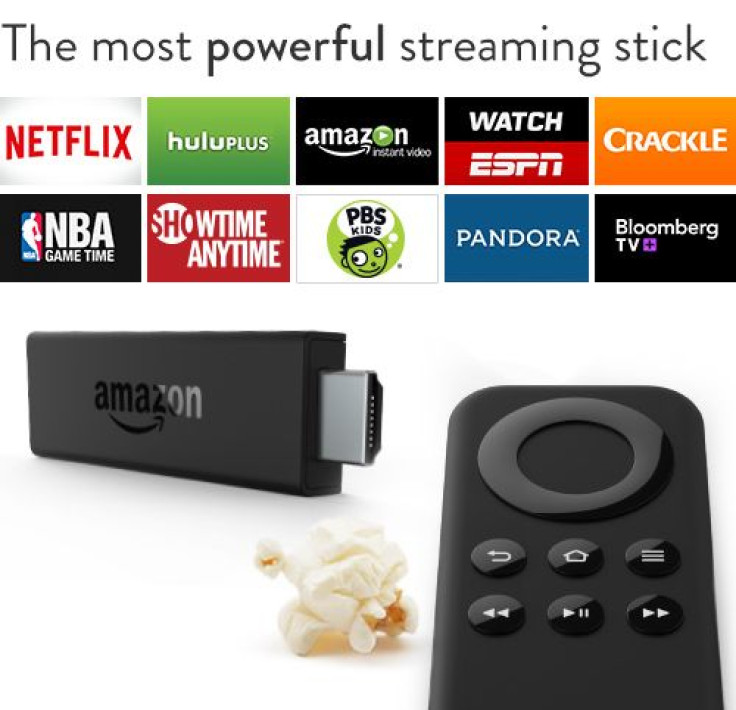 Amazon has introduced the Fire TV Stick, an HDMI dongle that plugs into your TV, taking your television online for the sake of connecting it to various streaming media services. All the familiar names are here -- the Fire TV Stick supports ESPN, YouTube, Hulu Plus, Pandora, the ubiquitous Netflix and Amazon's own Prime Instant Video service.
It's available for sale on Nov. 19 for $39, which is about $10 more than a Chromecast. But Amazon Prime members can scoop one up for just $19, which is an aggressive price point that will surely dissuade many from buying Google's device. Compare this to the price of Amazon's $100 Fire TV, a set-top box that functions like an Apple TV. The Fire TV Stick is scaled down and delivers on the same functionality, further incentivizing customers to inhabit Amazon's ecosystem.
The Fire TV Stick fills exactly the same niche as Google's Chromecast. As the Chromecast is currently the best-selling electronics item on Amazon's chart, Amazon would want to edge in on that territory with a device of its own. And Amazon appears to have invested in making its device a worthy competitor -- it boasts 8 GB of internal storage and 1GB of RAM, making for four times the storage and two times the memory of the Chromecast. The Fire TV stick also has a dual-core processor and dual-band Wi-Fi, while the Chromecast has neither.
Amazon's device also comes with a remote control, while the Chromecast has users relegated to using their phones as remotes. If you want something more premium, Amazon will sell you a remote with a microphone in it for doing voice searches.
© Copyright IBTimes 2023. All rights reserved.
FOLLOW MORE IBT NEWS ON THE BELOW CHANNELS