Is Amber Heard Blackmailing Johnny Depp? Sources Claim She 'Doesn't Want To Bury Him'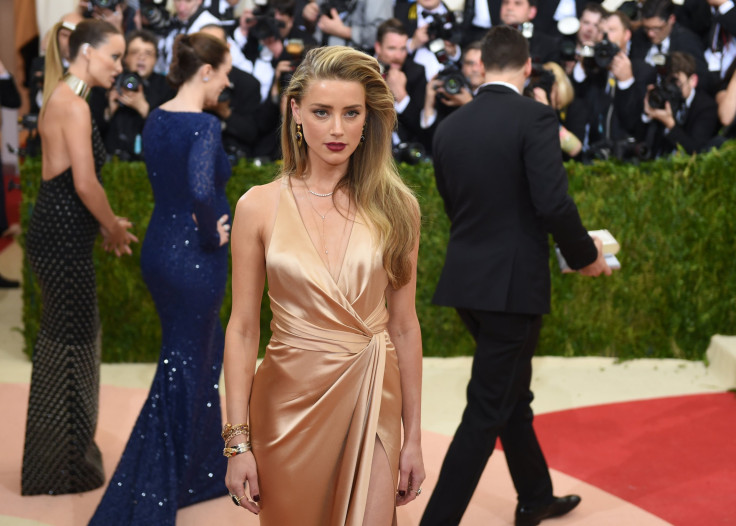 Amber Heard is speaking out on her own behalf once more. The "Magic Mike XXL" actress has come under fire after accusing estranged husband Johnny Depp of being physically and verbally abusive.
TMZ reported Heard never intended to blackmail the "Alice Through the Looking Glass" star. In fact, sources claim she's very much in love with Depp, 52. Heard was initially believed to be considering filing a police report detailing an instance of abuse at Depp's hands. The decision reportedly was fueled by the barrage of negative press she's gotten as a result of the abuse allegations against Depp. Heard has since changed her mind, sources told TMZ. She is fearful filing a report would lead to her soon-to-be ex-husband's arrest, but the sources said Heard "doesn't want to bury him."
Still, witnesses are rallying behind Depp. Bodyguards Jerry Judge and Sean Bett reportedly have been asked to testify about abuse they witnessed in court. While Heard, 30, said she was the victim during her relationship with the "Black Mass" star, Judge and Bett have a different view. TMZ reported Tuesday the pair plan to recount an instance in which Heard and Depp were arguing inside their apartment while the guards waited outside a door. Sources told the publication Judge and Bett could hear the couple fighting, adding at one point Heard screamed that she'd been struck. The bodyguards ran in to find Depp standing in the kitchen with Heard on a couch in the living area. Heard allegedly was trying to trick the guards into believing her husband had physically assaulted her, and it backfired.
Judge and Bett said Heard was actually the volatile one in the relationship. Sources said she was known to fly off the handle and bodyguards were forced physically to pull her off Depp on several occasions. Heard is believed to have assaulted Depp physically, thrown a bottle at him and charged him on more than one occasion. Those allegations have not been confirmed.
Despite claims to the contrary, Heard stands by her abuse charge. She first responded to criticism in a statement issued to People magazine by lawyer Peter Sample Sunday. Heard's attorney shut down claims she was trying to blackmail Depp, calling them "outrageous and defamatory." The statement appeared to be a direct response to an article written by Depp's close friend Doug Stanhope. The column appeared on the Wrap, stating Heard manipulated to her husband. Stanhope wrote Heard had threatened to attempt to tarnish Depp's reputation in the media if her demands — which he did not outline — were unmet.
© Copyright IBTimes 2022. All rights reserved.
FOLLOW MORE IBT NEWS ON THE BELOW CHANNELS