'American Horror Story: Freak Show' Fans In An Uproar Over Bette And Dot; 9 Of Sarah Paulson's Most Horrifying Scenes In 'AHS' History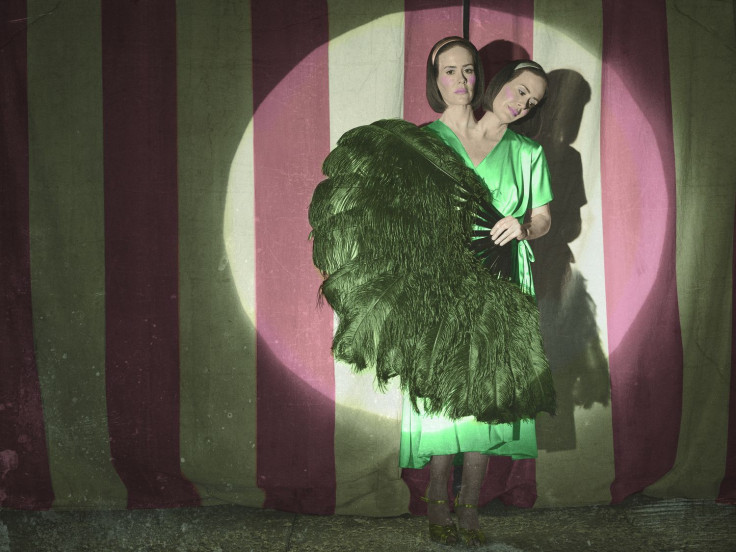 Is it just us, or does it feel like we're always praying for the safety of Sarah Paulson's characters on "American Horror Story"? Episode 5 of "Freak Show" is the most recent installment from the FX series that had us pleading to the "AHS" gods to keep our favorite two-headed girls alive.
During Wednesday night's episode, "Pink Cupcakes," viewers watched helplessly as Bette devoured a poisoned treat, which ultimately resulted in the twins' demise. But then it turned out that their death was only a sick fantasy envisioned by con-artist Stanley (Denis O'Hare). The real horror during the Season 4 episode came after, when in a fit of jealousy Elsa Mars (Jessica Lange) sold Bette and Dot to Gloria (Frances Conroy) as Dandy's (Finn Wittrock) plaything. You are a cruel, cruel woman, Ms. Mars! And it looks like we're not the only ones who think so …
What makes Paulson's character's situation so disturbing (besides being so inhumane) is that unknown to the twins, Dandy is a mock-clown serial killer (and that's putting it nicely). After Twisty (John Caroll Lynch) died, Dandy decided it was his duty to continue the terrible legacy, starting with the murder of Dora (Patti LaBelle) and continuing with the brutal demise of Andy (Matt Bomer).
Now everyone's favorite freaks, Bette and Dot, are in the hands of the most wicked Season 4 character -- and you can bet tensions are high. But what would "AHS" be if Paulson's character were not suffering? Check out the nine horrifying moments below that co-creators Ryan Murphy and Brad Falchuk have put Paulson's characters through throughout the miniseries:
1. Electroshock Therapy (Season 2) – After being betrayed by her lover, Lana was wrongly sentenced to seek therapy in a mental institution against her will. During her stay at Briarcliff, she was subjected to shock treatment after Lana's list of the asylum's misdeeds was found.
2. Aversion/Conversion Therapy (Season 2) – Dr. Thredson (Zachary Quinto) promised to help Lana escape from Briarcliff if she participated in a therapy to cure her of her homosexuality. After much thought, she agreed. She was required to look at nude pictures of women while enduring drugs to make her vomit and was also encouraged to masturbate while fondling a fellow inmate volunteer.
3. Captured By Bloodyface (Season 2) – Lana's imprisonment with Bloodyface was one of the most horrific storylines writers created for Paulson's character. While held captive by Dr. Thredson (who turned out to be the killer), Lana was raped and involuntarily shown the corpse of her dead girlfriend (that Dr. Thredson removed the teeth from and added to his mask).
4. Pregnancy (Season 2) – What could have been a beautiful moment for Paulson's character turned out to be a nightmare considering Lana was impregnated by Dr. Thredson after he sexually assaulted her.
5. Murdered Her Son (Season 2) – Lana was forced to kill her son, who was following in the footsteps of his monstrous father, when he attempted to finish Bloodyface's task by murdering her. But ultimately it was Lana who did the killing, coercing the gun from him and shooting her son dead. "It's not your fault, baby," she said to him, putting the weapon to his head. "It's mine."
6. Blinded (Season 3) – Cordelia is permanently blinded in "Coven" when acid is thrown in her face. However, her inability to see is what leads to a new gift: visions of the past/future.
7. Married To A Witch Hunter (Season 3) –Cordelia married Hank (Josh Hamilton), a witch hunter who worked for his father's company, Delphi Trust -- a well-established corporation where witch hunters were disguised as a financial institution. It was revealed that Hank's father was the one who blinded Cordelia so that she would be more reliant on his son and he could get one step closer to taking out the Coven.
8.Blinded … Again (Season 3) – The witch regained her vision thanks to the help of Myrtle (Frances Conroy) and a melon-baller ... but ended up blinding herself shortly after to regain her foresight, a tool she needed to protect the Coven.
9. Murdered Her Mentor (Season 3) – After it was revealed that Cordelia was the new Supreme, Myrtle (her mother-like figure) urged Cordelia to burn her at the stake (for killing two council members) so that nothing could be held against Cordelia during her reign.
Be sure to tune in for "American Horror Story: Freak Show" to see Paulson's two headed character suffer more when episode 6 airs on Wednesday, Nov. 12, at 10 p.m. EST.
© Copyright IBTimes 2023. All rights reserved.
FOLLOW MORE IBT NEWS ON THE BELOW CHANNELS