'American Horror Story' Season 4 Spoilers: Dandy's Murder Spree Continues; Stanley's Plan For Bette And Dot Revealed In Episode 5 [RECAP]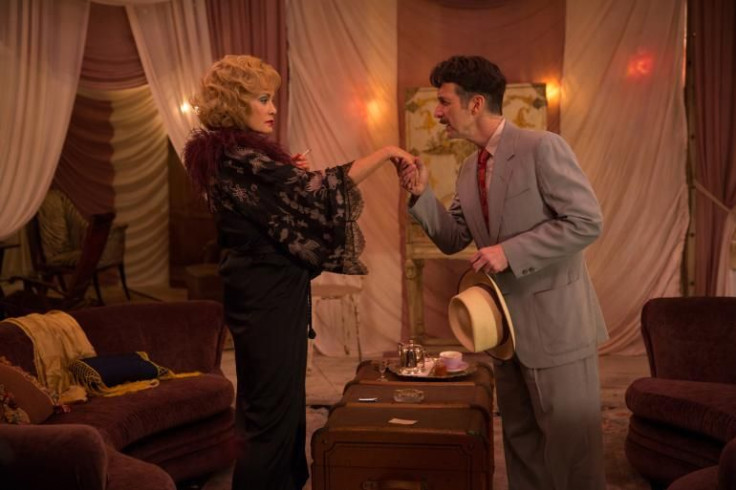 Episode 5 of "American Horror Story: Freak Show" kicked off with Stanley (Denis O'Hare) and Maggie (Emma Roberts) back at the American Morbidity Museum -- but this time with real life oddities, not sewn together animals. In a gruesome unveiling during the museum's "night of discovery," viewers see the Illustrated Seal (Matt Fraser) …. Cut open, sewed back up and in a jar for the world to see.
Fret not, "American Horror Story" didn't kill off another freak. Stanley was simply imagining his major payday after murdering the performers in Elsa's (Jessica Lange) freak show and selling them to the museum. Fortunately, Maggie seemed to be having doubts about their plans … until he bought her off by agreeing to give her an additional 5 percent of the cut if she continued living at the camp with their future victims. But Maggie still showed that she had a heart when she warned Jimmy (Evan Peters) about a dangerous man coming to the camp.
Stanley's plan was to infiltrate the freak show as a talent scout for the Worldwide Broadcasting Network. He first tried to get on Elsa's good side, offering her a television show. But Elsa wasn't interested, viewing television as trash compared to the big screen.
She quickly changed her tune when she realized that the crowd at the freak show was not interested in her act. However by then it was too late, Stanley had already moved onto his next target -- Bette and Dot (Sarah Paulson).
In another terrifying vision by Stanley, he poisoned Bette with a pink cupcake after promising the twins their own television show. Bette died and Dot begged Stanley to take them to a hospital. However, Stanley refused, and instead smothered her while telling her that she should have just ate the cupcake.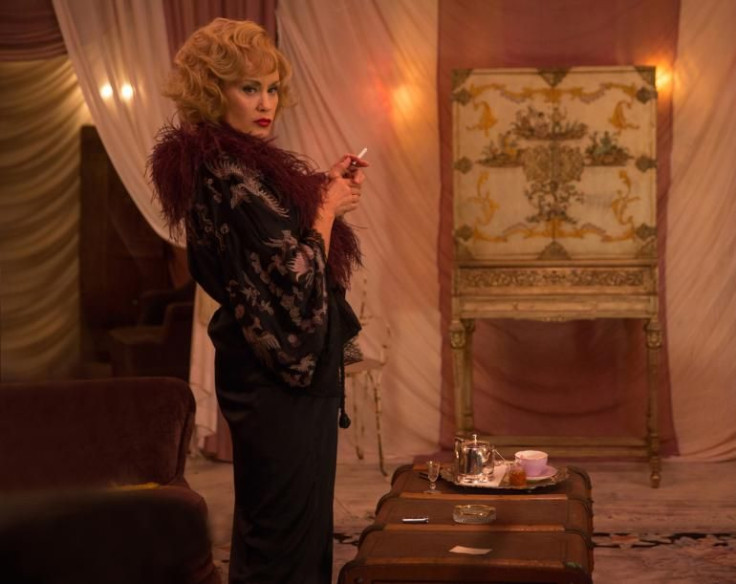 Needless to say, Elsa was jealous of the attention that Bette and Dot were getting from Stanley. Seeing her own dreams slip away, Elsa decided to take matters into her own hands. When Stanley left, she told the twins that Stanley wanted her to mentor them. But Elsa had other plans.
While Stanley worked his magic on the camp, Desiree (Angela Bassett) was getting worked up over Del (Michael Chiklis). Unhappy with her husband, Desiree turned to Jimmy for a little loving. But Desiree got a little too much loving from her husband's secret son because she started bleeding. Ethel (Kathy Bates) rushed Desiree to the local doctor who revealed that she wasn't a hermaphrodite but a full-blown woman who had extra testosterone. Her "ding-a-ling" was actually an enlarged clitoris, and the bleeding was due to a miscarriage. Meanwhile in the world of Dandy (Finn Wittrick), Gloria (Frances Conroy) quickly discovered Dora's (Patti LaBelle) body and put two and two together that her son was responsible for the crime. But Gloria didn't call the police -- she sent Dandy to his room and asked the help to dig her a 12-foot hole to plant her special bulbs.
Gloria revealed that Dandy had "the sickness" just like his father, and that it was all due to incest. And although Dandy had committed a murder, she had no plans to turn her son in or give into his wishes of becoming an actor. That only enraged Dandy, who decided that he was going to be the best murderer possible.
"Clown was put on earth to show me the way," Dandy said, referring to Twisty (John Carroll Lynch). "But I am no clown. I am perfection. I am greatness. I am the future and the future starts tonight."
Dandy's "future" brought him to a gay bar -- where Del Toledo just happened to be with his boy toy, Andy (Matt Bomer). Del had big dreams of leaving town with Andy. And while Andy enjoyed spending his time with Del (who was paying him), he had no plans on being exclusive with the strong man. Unfortunately, he should have considered it, because when Del left in a huff, Dandy swooped in.
Dandy brought Andy to Twisty the Clown's abandoned school bus. He had paid Andy $100 but made it clear that he wasn't a "fruit." Andy was confused, but played along when Dandy made a suggestion:
"I have a keen idea," Dandy said playfully. "We turn our backs to each other. You take off your clothes and I take off mine … Whatever magic happens, happens."
When Andy stripped and turned around he found Dandy down to his tighty whities … with Twisty the Clown's mask on. Without a second thought, Dandy began to stab Andy repeatedly in the chest until the man was coughing up blood.
"Rule #1 of a good killer," Dandy voiced. "Make sure all of the evidence is gone."
He began to saw off Andy's limbs, throwing them in a bathtub of acid. But Andy wasn't dead yet.
"How can you still be alive?" Dandy asked, upset. "You're making me feel bad. Stop it."
"Please kill me," Andy begged. "Please kill me."
But Dandy simply continued sawing off Andy's arms.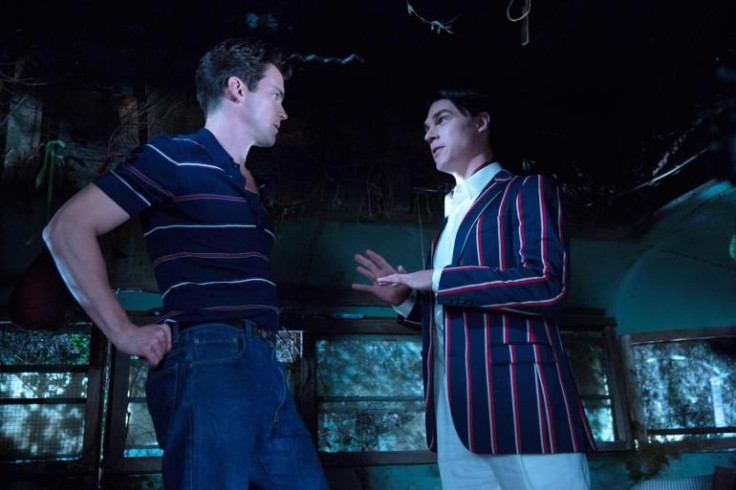 As Dandy sliced and diced Andy, Del returned to Desiree. His wife dropped the bomb about being a real lady and that she knew that Del's dad had the lobster hands as well. Tired of his antics, Desiree revealed that she was leaving him, moving in with Ethel and getting surgery to feel like the real woman she is.
Episode 5 of "American Horror Story: Freak Show" concluded with Del breaking the hands of the doctor who promised to perform surgery on Desiree. Meanwhile, a hole started to form in Gloria and Dandy's cover up of Dora's murder when her daughter, Regina (Gabourey Sidibe), called to check in on her mother. But Dandy might have a new distraction to stop his murder spree. Elsa showed up on Gloria's doorstep with Bette and Dot -- seemingly to offer the twins up to the woman who previously wanted to buy them for her son.
© Copyright IBTimes 2023. All rights reserved.
FOLLOW MORE IBT NEWS ON THE BELOW CHANNELS