'American Horror Story' Season 3 Spoilers: A Love Triangle Emerges In 'Coven'; What Will Happen In Episode 3, 'The Replacements'?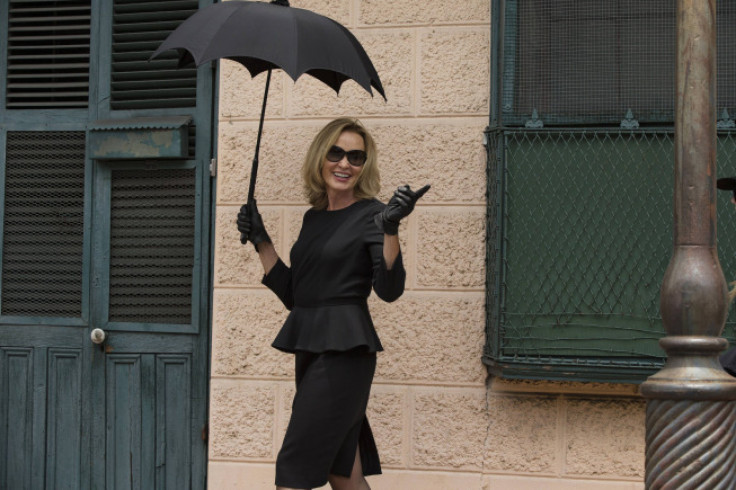 WARNING: SPOILERS FOR "AMERICAN HORROR STORY" AHEAD.
The synopsis for episode three of "American Horror Story: Coven" has been released online and it is absolutely chilling. The FX mini-series will continue with "The Replacements" on Wednesday, Oct. 23, and we've got all the scoop you need to know about the upcoming episode.
[Missed episode two of "American Horror Story: Coven"? Click HERE to check out our recap.]
When Modern Science Doesn't Work
Fiona has desperately been seeking an elixir of youth and may have stumbled across it when she dug up Madame LaLaurie. However Marie Laveau, the voodoo queen who cursed LaLaurie for eternity, is not sharing the knowledge
"The Replacements" will find Fiona exploring other options – like a plastic surgeon. Unfortunately she'll be receiving "distressing news" from her doctor.
Cordelia's in the same boat as Fiona when it comes to mixing magic and science. Due to her husband, Hank's, persistence, Cordelia turned to black magic to get pregnant after fertility treatments failed. But their second attempt at having a baby doesn't look like it will be successful, either. Instead, Cordelia will turn to Marie Laveau for help, and as co-creator Ryan Murphy told E! Online, "It's not cheap!"
Mother Of All Problems
"American Horror Story" viewers will be meeting two mothers, and neither of them belong to one of the witches at Miss Robichaux's school. Zoe will continue to try to make things right with Kyle by visiting his "Ninth District white trash"-grieving mother.
Meanwhile the Academy will be getting new neighbors – a handsome teen named Luke and his "high-strung, hellfire-preaching" mother, Joan Ramsey. Needless to say, Joan is not going to be happy living next to witches.
Madame LaLaurie's Rough Transition
Being locked in a box for 180 years, Madame LaLaurie's transition to modern day is not going to be an easy one. "Devastated at the thought that a black man has become president of the United States," Fiona attempts to take her off her high horse by forcing her to become the new maid at the Academy.
Already exchanging harsh words with Queenie in episode two, LaLaurie will learn another lesson about treating others properly when Fiona makes her become Queenie's personal slave.
Two New Love Triangles
Zoe left Franken-Kyle with Misty in the swamp at the end of episode two, and the result will be that "an unfortunate love triangle begins to develop." But that won't be the only love triangle to hit "American Horror Story" in season three. Madison and Nan will both by vying for Luke's love -- if his mother, Joan, can stay out of the picture.
Another Flashback
Episode two gave a little bit of Queenie's back story, and episode three will do the same for Fiona. "Coven" will take viewers to 1971, when Fiona took her place as the Supreme witch "by means most foul." And, according to the synopsis, "Spalding has seen it all."
A New Threat For Madison?
The flashback will reveal what Fiona did in 1971 to get the title of Supreme. Now the question is: What will she do to keep that power? Fiona "recognizes something of her own history in Madison" and decides to mentor her -- which should leave viewers a little worried about Madison's safety.
Evil Rises
As the witches deal with their own issues, "a bestial figure stirs in the shadows" -- perhaps the Minotaur man that fans saw in the past two episodes?
"America Horror Story: Coven" episode two, "The Replacements," will air on FX on Wednesday, Oct. 23, at 10 p.m. What do you think will happen? Let us know in the comments section.
© Copyright IBTimes 2023. All rights reserved.