'American Horror Story' Season 5 Spoilers: The Top 9 Craziest Moments From 'Hotel' Episode 1 [PREMIERE RECAP]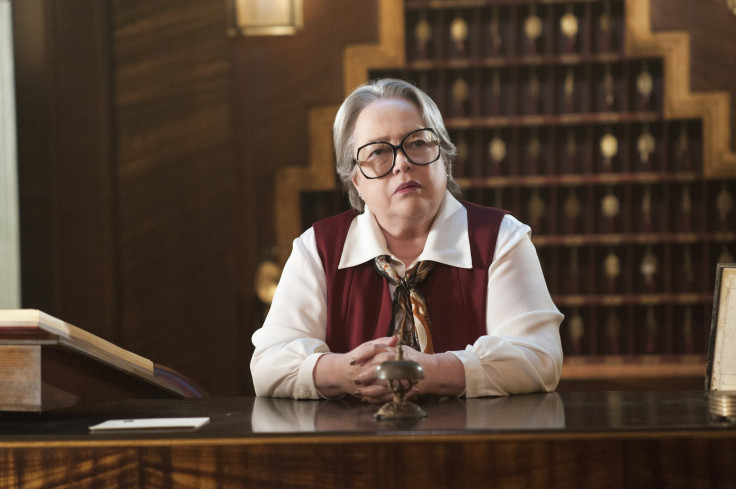 "American Horror Story: Hotel" opened its doors to viewers Wednesday night and it was absolutely horrifying. Season 5 kicked off with blood, gore and more ... check out the top 9 moments.
1. Welcome To Hotel Cortez
Beware the next time you book a hotel online. The premiere starts with two Swedish tourists exiting a cab at Hotel Cortez. The two women are excited about visiting Universal Studios … but their excitement sways when they enter the hotel they're supposed to be staying at.
"Retro" is a nice way to describe the set up of the hotel, and the tourists sense that something is wrong with the building. However, hotel manager Iris (Kathy Bates) is not willing to refund their deposit and the women have no spare money to stay at another place.
Attempting to make the best of the situation, the women set up for the night in the room. But something foul smelling in the room distracts them. They investigate the smell when Iris refuses to move them to another room and discover that the stench is coming from the bed. When they rip off the sheets they find that the mattress was sewn up. Using a knife to rip the stitches, the two women are shocked when a man crawls out of the mattress. But he's not a normal looking man – he's mutilated.
2. Checking Into Room 64
Do the two tourists leave after finding a man sewn into their mattress? Of course not! Iris moves them into a new room – room 64. She claims that the cops were called, but one hour later and still no one arrives. At 2:25 AM an alarm goes off, alerting one of the women that fell asleep. She walks into the bathroom to search for her friend and discovers two small blonde children sucking her blood on the bathroom floor.
3. Don't Cheat At This Hotel
Cut to another Los Angeles hotel. Detective John Lowe (Wes Bentley) is called to a crime scene where a man's eyeballs and tongue have been removed and placed in an ashtray. And that's not all. He's still alive … but not the woman he was with. Both of their hands are nailed to the headboard and the woman is impaled. To make the situation even worse, his naked body is super glued to his deceased lover. Although the man cannot speak, pictures placed around the bed reveal that the two were having an affair.
4. Checking Into Room 64 … Again
Detective Lowe receives a mysterious phone call from the alleged killer telling him that he's going to commit the crime again – this time in room 64 at Hotel Cortez. Meanwhile at the hotel, Iris rents out room 64 to a heroine addict named Gabriel (Max Greenfield), the same room that she placed the tourists. No one is in the room when Gabriel enters. However, he doesn't stay alone long. After shooting up, Gabriel is visited by the "addiction demon." The demon sodomizes him with a spiked dildo and doesn't stop until a hotel tenant named Hypodermic Sally (Sarah Paulson) arrives. She tells Gabriel to say, "I love you, Sally." Once he does, the addiction demon disappears.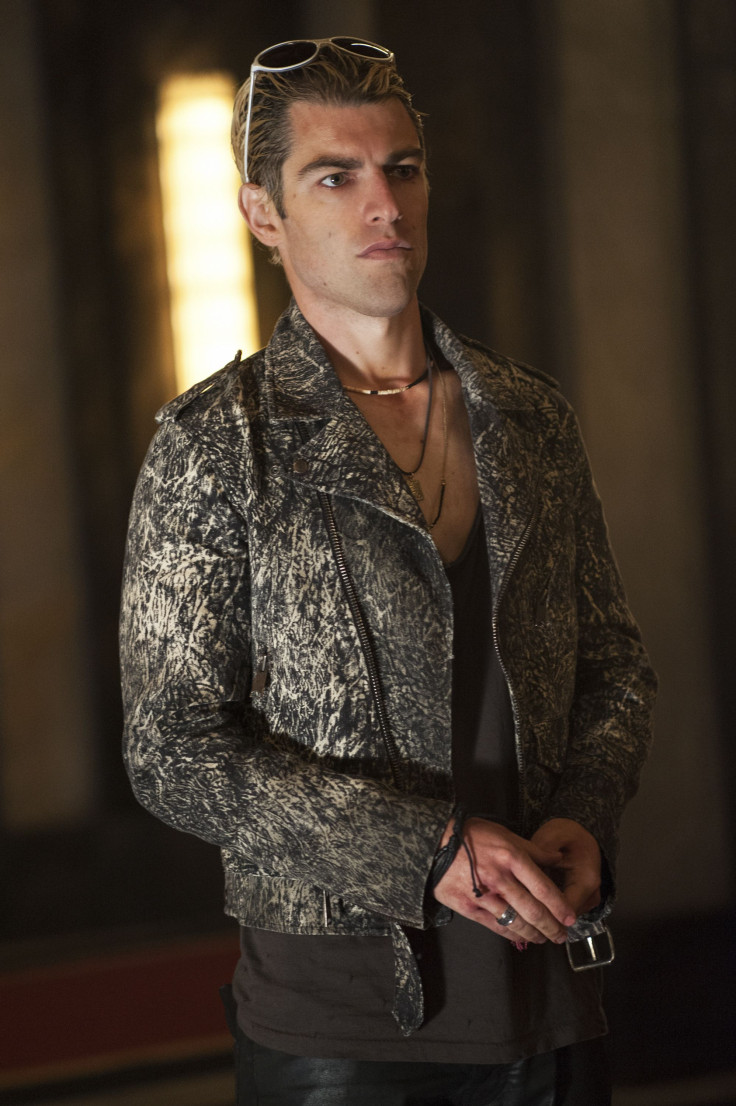 Detective Lowe ends up visiting Hotel Cortez to follow up on the mysterious call. He asks Iris to see room 64, a room she claims is unoccupied even though she gave the key to Gabriel. Lowe enters the room and finds it empty. He falls asleep on the bed … with Gabriel underneath gasping for life.
Lowe wakes up at 2:25 am when the alarm in the room goes off. He's shocked to see a young boy with blonde hair, but recognizes him at the same time. He chases after the boy, who he calls Holden, but he never catches him.
5. Nosferatu
Countess Elizabeth (Lady Gaga) and her boyfriend Donovan (Matt Bomer) get dolled up for a movie date night in a cemetery. However, they're not focused on the film playing – "Nosferatu." Instead, the two are busy watching the couple next to them.
They invite them back to the hotel where they engage in a foursome. But the fun takes a turn when Donovan and Elizabeth used spike nail tips to slice the throats of their companions. They continue to kiss and roll around in the blood before giving housekeeping a call to clean up.
6. Swedish Meatballs
So, the tourists are still alive … but not in a great place. Iris has the two "Swedish Meatballs" locked up and is "flushing their system" with a combination of chicken liver, kidneys and oysters. Why? Iris believes the two girls are "junkies" because she found pills in their luggage. She needs to flush their system or they're going to "taste like s---."
Sally enters the room and manages to get Iris to leave the girls alone. It's not clear what Sally's end game is but she gives one of the women a chance to run. She makes it all the way to the front entrance but doesn't escape. Elizabeth slices her throat and leaves her to die.
7. Father-Daughter Bonding Time
John Lowe and his wife Alex (Chlöe Sevigny) appear to be going through a hard time. When Alex, a pediatrician, leaves for work, Lowe uses the time to bond with their daughter. However, a text for help from Alex cuts their night short. He races to the address she messaged him and tells another officer at the scene to keep an eye on his daughter in the car. But Lowe's daughter doesn't stay in the car. She follows her father into the house and discovers two men hanging from a bed post with their intestines hanging out.
8. Holden
A flashback to Santa Monica in 2010 reveals that John and Alex Lowe had two children – a daughter and son, Holden. Holden disappeared while riding a merry go round.
Cut to present day, New York fashion designer Will Drake (Cheyenne Jackson) visits the hotel with his son. He's looking into buying the hotel, something that the residents and employees didn't realize was happening. While inspecting the building, Elizabeth takes Will Drake's son to a secret room. The room is full of little blonde children eating candy and playing video games … an one of their names is Holden.
9. The Mystery Of Sally
Everyone is upset about the sale of the hotel – especially Donovan and Iris. "I'm here because I need to see you everyday," Iris tells Donovan when he tells her to leave.
A flashback to 1994 reveals that Iris followed her son to Hotel Cortez. Donovan was shaking up with Sally, who was supplying him with heroin. When Iris was able to find him in room 64, Donovan had used Sally's needle to shoot up. He was unconscious and Sally didn't care. She left the room, leaving Iris to deal with her son. But Iris didn't stay with Donovan. She followed Sally into the hallway and pushed her out of an open window. Sally fell to her death.
Elizabeth was on the bed with Donovan when Iris returned to the room. "Who are you?" Iris asked. Elizabeth simply answered that Donovan has a "jawline for days."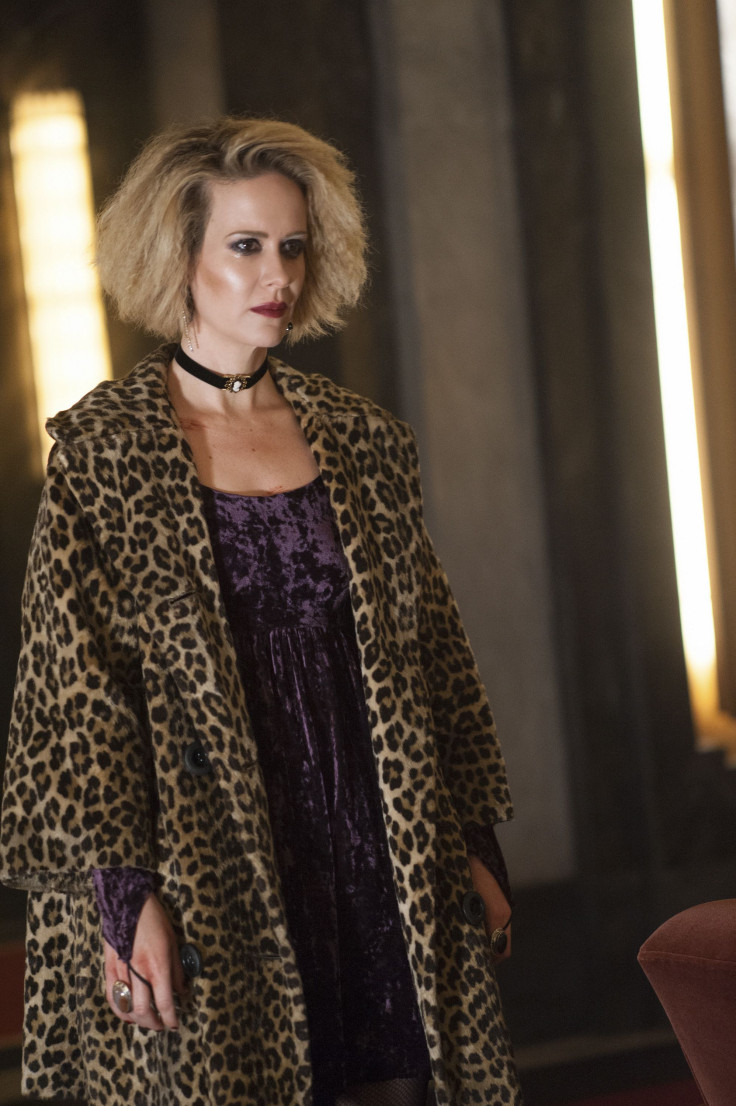 © Copyright IBTimes 2023. All rights reserved.