American Muslims Blast Mike Huckabee After Call For FBI Mosque Surveillance: 'Don't Treat Us Like Suspects'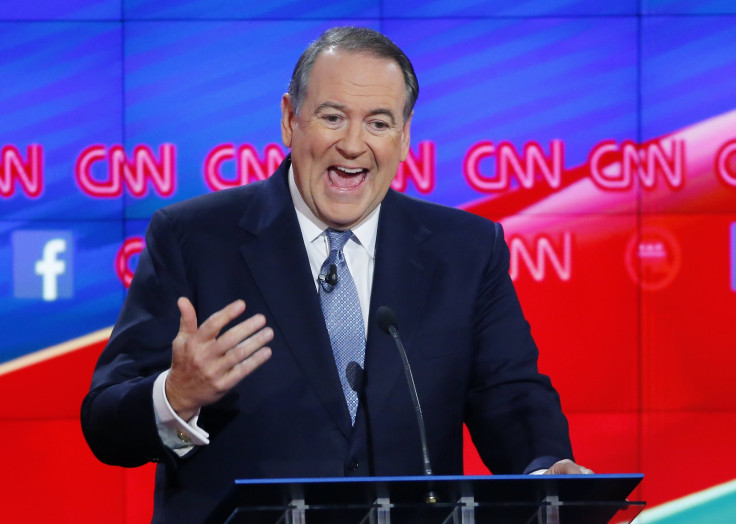 Ever since Donald Trump suggested that surveilling mosques in the United States is a necessity to keep Americans safe, the issue has been a mainstay talking point among Republican presidential candidates. Former Arkansas Gov. Mike Huckabee weighed in Tuesday, arguing that surveillance of mosques does not infringe on the First Amendment rights of American Muslims -- because mosques are open to the public.
"If it's a public place and people are invited to come, how does it violate anyone's First Amendment rights if somebody shows up because they might just want to listen and see, is there something that is a little nefarious?" said Huckabee during CNN's GOP presidential undercard debate in Las Vegas.
"If there is, then you take the second step of getting a search warrant and do whatever you have to do," he added. "If Islam is as wonderful and peaceful as its adherents say, shouldn't they be begging us all to come and listen and bring the FBI so we can all convert to Islam?"
But American Muslims say they've wanted the wider community to engage with their mosques for years. The problem, critics say, is that law enforcement focuses on undercover surveillance that treats the entire Muslim community as suspects.
"Anybody is welcome to go to a mosque and listen to a sermon. In fact, we've had multiple mosque open house campaigns throughout the years inviting other Americans to visit a local mosque and meet Muslims," said Ibrahim Hooper, national communications director of the Council on American-Islamic Relations (CAIR), an advocacy group.
"If law enforcement wants to come to a mosque, that's fine. But they should come through the front door, not the back. They should announce themselves. The problem is the surreptitious monitoring of religious institutions absent any probable cause of wrongdoing," said Hooper. "That has a very chilling effect on religious freedom."
Such programs have made news in recent years, like the New York Police Department's special unit that focused on surveilling mosques in the city. Since it became public in 2011, the unit has been the subject of several lawsuits that challenge the program's constitutionality.
Hooper points to other instances in which the FBI has installed "agent provocateurs," he says, to incite terrorist activity. In 2006 and 2007, former FBI informant Craig Monteilh posed as a French Syrian at a mosque in Los Angeles. His behavior made members of the mosque so nervous, they took out a restraining order against him.
"The fact is, American mosques are moderating influences on the community that discourage extremism and violence. The more you go to a mosque in America, the less likely you are to fall into extremism," said Hooper, who added that candidates like Huckabee are not actually focusing on national security but rather pandering "to the lowest common denominator."
Other critics add that law enforcement should work hand-in-hand with the American Muslim community to thwart attempts at violence and terrorism.
"Engagement with the Muslim community should not be a 'sneak and peak.' If there is something happening in my mosque that is of a security concern, I want to be an ally rather than an assumed accomplice," said Johari Abdul-Malik, an imam and director of outreach Dar Al-Hijrah Islamic Center, a mosque in Falls Church, Virginia. It was recently targeted by a man who left a hoax bomb at the mosque in an apparent hate crime.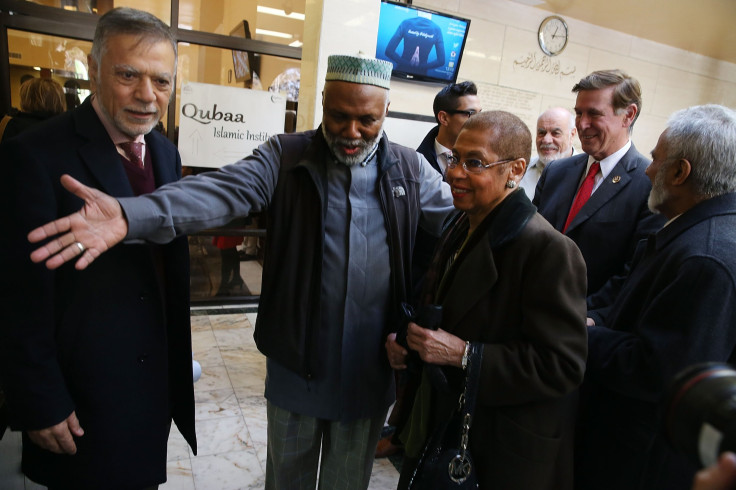 "I'm not a person who has a problem with undercover police work," added Johari. "It's been a proven method, like when the Ku Klux Klan was infiltrated by the FBI. The only issue is that we're not the KKK. We should be America's brightest prospects and not America's greatest suspects. We know statistically, from the disruption of potential violent extremists who happen to be living in the Muslim community, that American Muslims are on the front lines of informing law enforcement that something unusual is happening. When you have that 'sneak and peak' approach, it hampers engagement rather than helps it."
Johari recalled a case in 2012 when the FBI apprehended Amine El Khalifi, an illegal immigrant from Morocco who had plotted to detonate a bomb at the U.S. Capitol. El Khalifi had occasionally attended prayer services at Johari's mosque, but Johari had no idea that he was a suspicious character. The FBI later told Johari that they had been following El Khalifi, adding publicly that he had not been influenced by any ideology at Johari's mosque.
"If there's [FBI] coming in through the back door, I should know what's going on, as the leader of the institution. If I'm going to be your partner, tell me what's going on," said Johari. "I have every reason to want to be a part of the solution because my community is at risk from such individuals."
Other Muslims say that they have accepted the reality of surveillance.
"For reasons of national security, if there is a particular mosque of concern, it is the right thing to do to monitor them," said Harris Zafar, who serves as a spokesperson for the Ahmadiyya Muslim Community USA, a reformist Muslim group. "We have absolutely nothing to hide, which is why our international leader, His Holiness Mirza Masroor Ahmad, has even said to go ahead and monitor our mosques and listen to our sermons if you would like."
But, Zafar says, undercover surveillance -- which he suspects is happening in mosques all over the U.S. -- is problematic when it becomes the only relationship law enforcement has with the American Muslim community.
"What I hope Governor Huckabee and others will realize is that we as American Muslims are not your enemy, nor are we suspects. We are the greatest allies America has in this fight against extremism," he said. "I found Governor Huckabee's blatantly sarcastic tone in discussing the peacefulness of Islam troubling. That's not going to build the relationships we want. I'd like to see more candidates talking about what they can to to partner with Muslims to overcome fear and hysteria and also address the problem of radicalization."
© Copyright IBTimes 2022. All rights reserved.
FOLLOW MORE IBT NEWS ON THE BELOW CHANNELS