Americans' Confidence In The US Economy Slipped In July To Lowest Since March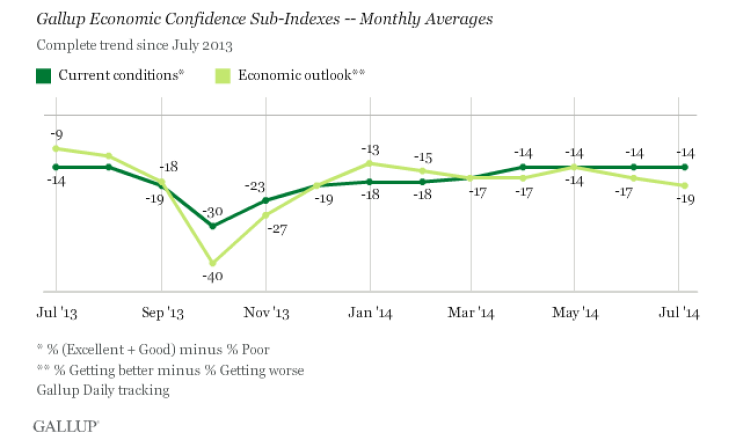 Americans' confidence in the U.S. economy fell last month to its lowest point since March on souring views of the economy's direction, Gallup's Economic Confidence Index indicated. To measure confidence, Gallup averages Americans' ratings of current economic conditions with their perceptions of whether the economy is getting better or worse.
In July, 20 percent of the 15,000 Americans interviewed by phone said economic conditions were excellent or good while 34 percent said they were poor, a proportion unchanged since April. Fifty-seven percent of Americans said the economy is getting worse, the most since December.
July's reading slipped largely because of an edgy week for financial markets, the week of July 21, when stocks tumbled after pro-Russian separatists in eastern Ukraine shot down Malaysia Airlines Flight MH17 and increased the likelihood of tighter Western sanctions against Russia. Other international events, like a debt crisis in Argentina, may have contributed to lower confidence.
Despite continued drops in the stock market, Americans' confidence rebounded in the last few days of July and beginning of August, amid positive reports of U.S. gross domestic product and job creation.
Middle- and lower-income Americans (earning less than $90,000 a year) led the decrease in confidence while upper-income Americans' (earning more than $90,000 a year) confidence remained the same as it was in June.
This year, economic confidence has remained generally stable, up from a dive in October during the federal government shut down.
The survey's responses are based on calls made throughout the month of July, with a random sample of 15,193 adults 18 and older, with a 1 percent margin of sampling error.
© Copyright IBTimes 2023. All rights reserved.