'The Americans' Reaches Season 4; Why More People Are Not Watching And Why FX Does Not Care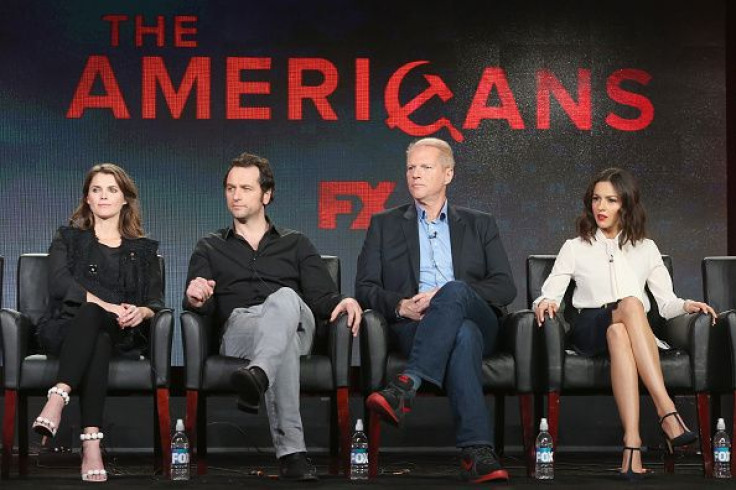 The typical fan of FX's "The Americans" usually has only one complaint about the critically acclaimed spy drama: No one else is watching.
As "The Americans," a Cold War-era spy drama co-created by a former CIA agent, gears up for its fourth-season premiere Wednesday night, the water cooler remains a bit lonely. The show has averaged under 3 million viewers per episode through its first three seasons. TV critics, however, continue to name it among the best shows on TV, if not the very best. For FX, the enthusiasm gap is just fine as it looks to build its brand as a prestige network and appeal to the high-end consumers that advertisers love.
"I always loved the idea of taking a spy show and turning it on its head. Everything you have seen in this genre before is a very popcorn-y, action-adventure kind-of thing, at least on TV. This show is something different," said Eric Schrier, FX's president of original programming, who explained that the nature of the series made it inherently niche. "All of the things that make the show dark and great also go against what makes the genre fun and exciting. I think there is a level of the audience that wants that element of the show and 'The Americans' is not for them. They do not want a hard drama."
"The Americans" follows Philip and Elizabeth Jennings (Matthew Rhys and Keri Russell), sleeper KGB agents living a seemingly normal married life in the suburbs of Washington, D.C. The show forgoes any James Bond-like fun and games for a more Jason Bourne-influenced dose of hyperrealism and gritty violence. What sets "The Americans" apart is how Philip and Elizabeth handle the delicate task of raising a family in the shadow of that violence, turning the show into one of TV's best explorations of marriage and family. It is also a period piece, saturated with 1980s cultural references and Cold War tension.
The period element of the show may be responsible for turning away some potential fans. Data from Nielsen reveals that viewers watching "The Americans" skew much older. Of the nearly 2.4 million viewers who tuned in to Season 3 on average, over 1.3 million of them were over 50 years old; fewer than 250,000 viewers between the ages of 18 and 34 were watching. In fact, no season of "The Americans" has ever averaged over a million viewers 18 to 34 years old. Season 1 came the closest with 795,000. Younger viewers, it seems, are just not all that interested in the Cold War.
What millennials do want is their shows to be available where and when they want them. That presents a problem for FX. The network's back-end distribution rights are anything but streamlined. Some shows end up on Netflix and Hulu, while others, like "The Americans," land on Amazon. Amazon reaches far fewer viewers than Netflix — Nielsen has estimated that Netflix is in more than twice as many households as its competitor — which means a far smaller pool of fans who can catch up on previous seasons and join the live broadcast.
AMC darling "Breaking Bad" toiled with low ratings for most of its five-season run before Netflix helped the show surge. Season 1 averaged fewer than 1.5 million viewers, according to Nielsen. The final season averaged nearly 5 million.
"It's true that we sold the back-end rights to the bulk of our content, and one of the things that's really driving that, frankly, is that we have a fiduciary responsibility to that content and the content creators to maximize the value of their content and to pay them profits," FX President John Landgraf told the Washington Post last August.
That means in order to financially reward the talent behind "The Americans" and other shows, FX sold off the rights to its content — as opposed to holding on to those rights to make its catalog easily available to viewers in one place.
None of that adds up to better ratings, but then again, FX has other priorities. "Best Show on Television" is a very marketable slogan, one FX loves to work into montage ad spots of its entire slate. Schrier also says many advertisers want in with "The Americans" despite its modest ratings because the association connotes quality. And the older, educated and wealthier demographic that watches the show is a coveted one for advertisers.
"We are in the portfolio business," said Schrier. "I don't want every show to be like every other show. I think 'The Americans' is extremely valuable to our brand. That people think it is the best show on television is very valuable to us as a brand. It may not have the highest ratings, but it has benefits to us in other ways."
In some ways, FX is thinking more like a streaming service, or a premium cable network, like HBO, that operates on the assumption that consumers trust their content judgment, that their viewership does not live or die on one show. During the Television Critics Association press tour in August, Landgraf made it clear that FX is making its brand the priority.
"A contention that people watch shows, not networks, I think, does have some validity, but as technology evolves and people consume television through different modes of delivery than channels, brands will become increasingly important as mediating filters for the overwhelmed viewing public," he argued. "Brands make consumers' lives easier. They are signposts that point to their favorite choices."
It's a risky strategy for an ad-supported network, but that train of thought also explains why FX has stayed so loyal to "The Americans," sticking with the show for four seasons amid low ratings. Schrier explained that when discussing renewal, FX looks at three core factors: whether the critics love a show, whether the audience loves a show and whether they love a show. He says only two of the boxes need to be checked for the network to keep a show alive.
"Do I expect the viewership to rise? No, I don't. I expect the show to do about what it did last year," said Schrier. "I'm fine with that."
© Copyright IBTimes 2023. All rights reserved.