Amtrak Crash Philadelphia: Human Error Caused Derailment Of Train 188, Report Says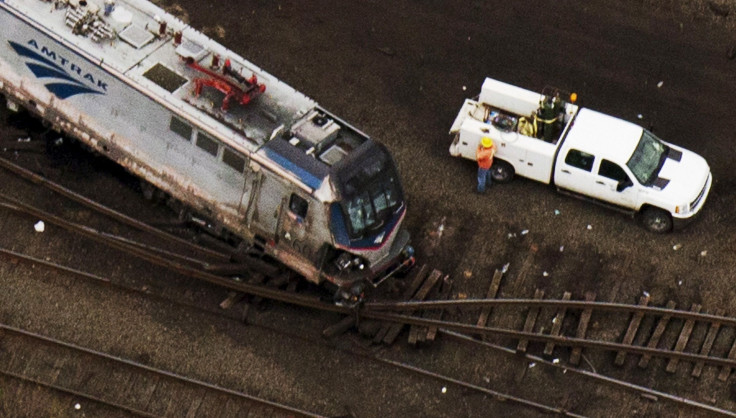 Updated as of 9:21 a.m. EDT: Action News at ABC 6, a local Philadelphia television news station that first reported human error played a role in the derailment of Amtrak's train 188 last week, has retracted that claim. The investigation into determining the exact cause of the derailment was still ongoing.
Original story: It turns out human error may have played a role in the Amtrak 188 derailment after all. The May 12 incident, which killed eight people and injured another 200, occurred as a result of human error, rather than structural problems with the track or an error with the train itself, reported Action News at ABC 6, a local Philadelphia television news station. The train came off the tracks as it rounded a corner at 106 miles per hour, more than twice the speed it should have been traveling.
This news is likely to shine the spotlight back on Brandon Bostian, the train's engineer who sustained a concussion and injuries to his legs during the crash. Bostian, who sat for an interview with the National Transportation Safety Board (NTSB) for an hour and a half last week to relay his side of the story, told NTSB officials he had no memory of the incident.
Determining who is at fault will be a key element in a number of lawsuits expected to be filed. Two Amtrak employees have already brought suit against the train company, and legal experts expect that the vast majority of the derailed train's passengers will sue as well. Up to $200 million could be paid out in damages, though some lawmakers are already calling for the limit to be raised to $500 million.
Over the past week, the story has been picked up and used as a talking point for a number of different groups. Some have framed it as an indictment of America's inadequate investments in infrastructure. Others have used it as a cudgel to beat Republican lawmakers who were looking to cut funding to Amtrak before the incident occurred.
Train service resumed Monday on the affected line, which Amtrak calls the Northeast Corridor. Philadelphia Mayor Michael Nutter tried to boost passenger confidence as the trains came back in service on this line, the Associated Press reported. "I just wanted to be here to see those first passengers, give them an additional sense of confidence about what has happened here," he told a crowd of passengers. "Just make sure that everyone gets off in a positive way leaving Philadelphia today."
© Copyright IBTimes 2023. All rights reserved.