Anderson Cooper Giggles Uncontrollably On Air… Again! [VIDEO]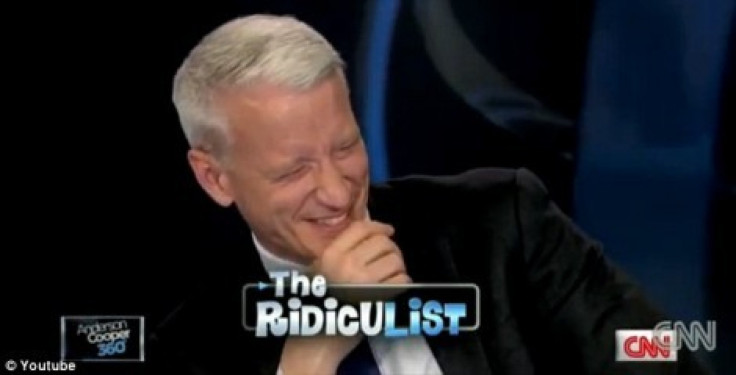 Anderson Cooper might be one of the most renowned journalists in broadcast journalism but he is not immune to a case of the giggles.
The CNN host fell into a fit of giggles while reciting The RidicuList on his Wednesday night show, Anderson Cooper 360°, which included the festival of Dyngus Day. Dyngus Day is a Polish-American festival celebrated at the end of Lent.
Cooper held it together while describing some details of Dyngus Day. But when it came to discussing the Dyngus Day ritual of boys sprinkling girls that they fancy with water, and the girls striking back with a tap from a pussy willow branch, Anderson Cooper erupted in giggles.
The host attempted to step off-camera, saying to his crew, I'm not gonna let you do this. He then came back to his seat and let the giggles roll.
Just gotta let it out, he said.
This is not the first time Anderson Cooper has erupted into giggles on air. In August, Cooper lost it when he recounted French actor Gerard Depardieu urinating in the cabin of a plane.
Check out the hilarious video of Anderson Google giggling below.
© Copyright IBTimes 2023. All rights reserved.