Andrew Gillum Compares Trump To Pig After President's 'Stone Cold Thief' Comment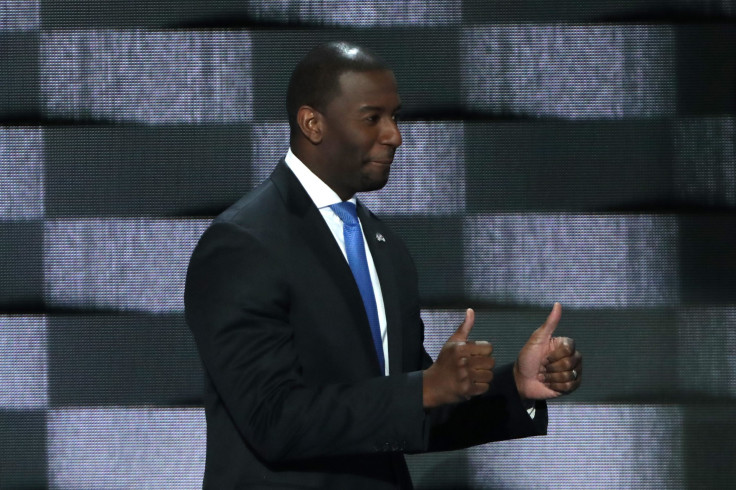 Andrew Gillum, the Democratic nominee for Governor of Florida, has responded to President Donald Trump's Monday night tweet where he said the Tallahassee Mayor should not be allowed to take part in the elections and called him a "stone cold thief."
Trump was taking part in an exclusive interview with Fox News' Laura Ingraham on Monday night when he made the comments about Gillum among other things. The president said Gillum should not "be allowed to continue on with the race," after the state ethics commission released documents which showed that the father of three accepted tickets to the Broadway musical "Hamilton" from an undercover FBI agent in 2016.
In response, Gillum said Trump was lying about him in the interview and urged people to ignore the president and vote in the upcoming midterm elections, which will be held on Nov. 6. He even compared the POTUS to a pig.
"Well, the FBI offered him tickets at $1,800 apiece and he took them — he took a trip with the same FBI agent — I guess he was posing as a developer or something — the man stone cold took this stuff," Trump said in the interview. "I don't even think he should be allowed to continue on with the race." He also said Gillum was a "stone cold thief."
The president said similar things in a tweet Monday morning before the interview.
"In Florida, there is a choice between a Harvard/Yale educated man named @RonDeSantisFL who has been a great Congressman and will be a great Governor — and a Dem who is a thief and who is Mayor of poorly run Tallahassee said to be one of the most corrupt cities in the Country!" Trump said in the tweet.
Gillum responded with a tweet of his own where he called out Trump for not tagging him in the post.
Earlier this month, Gillum responded to the accusations against him about accepting the ticket at a debate.
"My wife and I take vacations and we pay for our own vacations … I don't take free trips from anybody," he said at the time.
CNN reported that no one connected to Gillum or the investigation has been charged with a crime yet. Gillum himself has repeatedly said FBI told him he was not the main focus of the probe.
Gillum's campaign on Monday dismissed claims that he was under FBI investigation in a statement. "These desperate falsehoods make it clear the Trump Administration is more concerned with saving the failed gubernatorial campaign of its loyal lapdog Ron DeSantis than it is with the truth," the statement said.
"It's simply wrong to say Mayor Gillum is under FBI investigation—he's not under FBI investigation and the FBI has confirmed it. Conspiracy theories aren't true just because President Trump and Ron DeSantis pretend they are," it added.
"This man [Trump] has a responsibility to stand up and to speak out against hatred and division. And instead every single day he gets on Twitter and goes to rallies and he stokes fear. His only goal is to make us afraid of each other so that we don't trust one another so that we don't respect each other's humanity anymore," Gillum said Monday, according to a Fox News report.
© Copyright IBTimes 2023. All rights reserved.