Android 4.0 ICS Update: Leaked Image Reveals Droid RAZR/Maxx and HTC Rezound To Get Scoop Next Week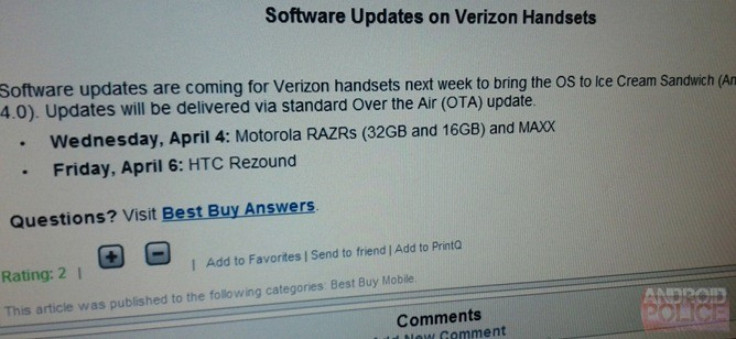 Joining the Samsung Galaxy Nexus and Nexus S are three more Android smartphones, namely the Verizon Droid RAZR, RAZR Maxx and HTC Rezound, which will apparently get Android 4.0 Ice Cream Sandwich (ICS) update as early as next week.
According to Android Police, it had obtained a leaked document from Best Buy Mobile terminal that clearly showed the dates on which the phones are scheduled to get the software update. As per the leaked image, Wednesday, April 4 is slated to be the day when both Droid RAZR and RAZR Maxx will get the Android 4.0 update. While the HTC Rezound will get the update on Friday, April 6.
Android 4.0 ICS Update: Leaked Image Reveals Droid RAZR/Maxx and HTC Rezound to Get Scoop Next Week. Credit: Android Police
In November last year, HTC announced that it would bring Android 4.0 to a number of handsets by early 2012. But a Facebook update by the company earlier this month said that most of the models won't receive ICS until later this year.
The company said that the Sensation, Sensation 4G, Sensation XE and Sensation XL would receive the upgrade in March, while other handsets like the Rezound, Vivid, Amaze 4G, EVO 3D, EVO Design 4G, Incredible S, Desire S and Desire HD would have to wait a bit longer than previously thought, The Verge reported.
If the latest information about the next week ICS update is true, that's definitely great news for Rezound owners. However, it doesn't bring any comfort to Droid Bionic owners.
In October last year, Motorola confirmed via Twitter that Droid Bionic would be getting updated to Ice Cream Sandwich along with the RAZR and Xoom tablet. But there haven't been any details as to when the update will finally arrive. In addition, Verizon also recently confirmed that at least 14 of its devices would get the ICS update, but didn't say when.
Meanwhile, Sony has announced that Android 4.0 ICS upgrade is coming to 2011 Xperia smartphones starting mid-April.
The first Xperia models to receive the upgrade will be Xperia arc S, Xperia neo V and Xperia ray. For these first models, the rollout will start mid-April and continue over 4-6 weeks, reads an official blog post.
Other devices that will receive their ICS scoop starting from the end of May and early June include Xperia arc, Xperia PLAY, Xperia neo, Xperia mini, Xperia mini pro, Xperia pro, Xperia active and Sony Ericsson Live with Walkman.
Update:
Must Read: iPhone 5 Release And Features Rumors: Will These Patents Debut On The Next Apple Smartphone?
FOLLOW MORE IBT NEWS ON THE BELOW CHANNELS