Android 4.4 KitKat Update Arrives: Sprint Galaxy S4 Receives New OS; Kernel Source Available
Will Android 4.4 accessory incompatibility still be an issue?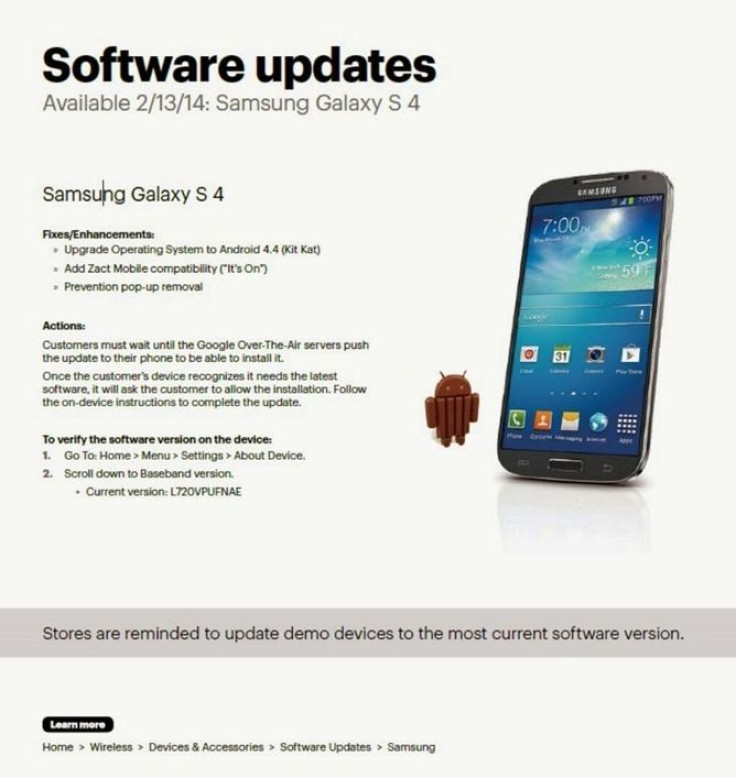 The Android 4.4 KitKat update for Samsung Galaxy S4 U.S. carrier models has officially begun with the Sprint Galaxy S4 now receiving the new operating system.
The over-the-air rollout begins soon after Samsung released the Android 4.4 kernel source for the Sprint Galaxy S4. Tech website Android Central also shared Wednesday evening a leaked internal document indicating that the Sprint Galaxy S4 Android 4.4 update would begin Thursday.
Sprint promptly updated its change log for the Galaxy S4 Thursday morning with all the information needed about this model's Android 4.4 update. As said, the L720VPUFNAE build software is now available over-the air, and includes such enhancements as the removal of the Prevention Information alert message and compatibility with Zact Mobile.
Other Android 4.4 KitKat features include "immersive mode," an updated lock screen design, "always on" hands-free navigation, decreased fragmentation with Project Svelte, an updated dialer and caller ID, text message and Hangouts integration, a complete emoji keyboard, updated NFC powered features, cloud printing and storage, TV and Bluetooth compatibility as well as screen recording.
Users can also prompt the Android 4.4 update manually by accessing Settings > General > About device > Software update on their Sprint Galaxy S4 handsets.
Sprint is often among the first U.S. carriers to begin updating its devices to new Android models. Now that updates have begun in the U.S., many will wonder which carrier will update its Galaxy S4 model next; more so, when will other Samsung Galaxy devices begin updating to Android 4.4? Rumors indicate that the Samsung Galaxy Note 2 and Galaxy S3 will begin to update to Android 4.4 around March. Additionally, Android 4.4 firmware for the AT&T Galaxy S4 and AT&T Galaxy Note 3 leaked not too long ago. This may be an indication that AT&T will soon be ready to push out its own updates. Barring any major bug issues, other Galaxy S4 models at least should begin to update soon.
However, there is one issue that owners of Samsung Galaxy devices may have to deal with once the Android 4.4 update is rolling out onto more handsets. Notably, the Samsung Galaxy Note 3 has been updating to Android 4.4 since January and with the new OS came an incompatibility with various accessories such as smart covers. Though Samsung has stated that the glitch will be addressed with software updates, there has been no indication of whether a fix has been applied to Galaxy handsets that are now updating to Android 4.4, including the Sprint Galaxy S4 and the Galaxy S4 LTE-A in Korea. Users will likely not know the status of this matter until their handset updates.
Are you a Sprint Galaxy S4 owner? Is your handset updating to Android 4.4 KitKat? Let us know in the comments below.
© Copyright IBTimes 2023. All rights reserved.